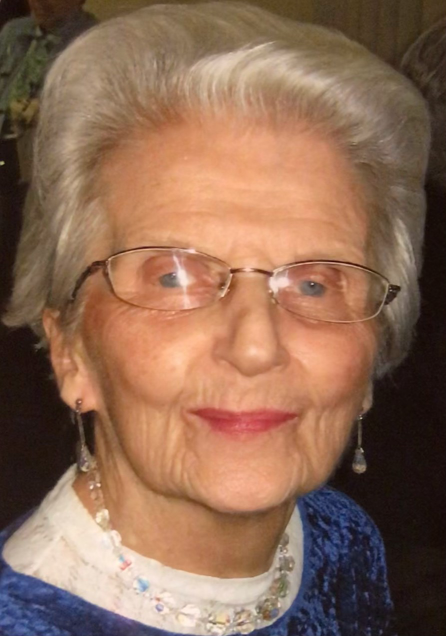 Sept. 12, 1924 – Dec. 22, 2020
Looking back at her work during World War II assembling the C-46 Commando for Curtiss-Wright, Margaret Ann Vullo said in August, "you wonder how you did it."
But she was one of a generation of women who did it, stepping in for male factory workers who went off to fight, at a time when defense production was desperately needed.
At age 18, she and a high school friend began working at Curtiss-Wright. Both women met their husbands on the job – Vincent "Jim" Vullo wooed the girl who caught his eye with Hershey bars and Lorna Doone cookies, which were difficult to get due to rationing.
"A sweet story of romance," said their daughter, Marlene Anita Vullo-Martinez, who described her mother as loving, kind, vivacious, generous, thoughtful, witty and feisty, with an "I can do it" positive attitude appropriate for a "Rosie."
Mrs. Vullo died four days after being admitted to Buffalo General Hospital for complications of congestive heart failure. The Buffalo resident was 96.
She was born Margaret Ann Howlett in Freedom to Orrel Marble and Charles Howlett. She attended school in Arcade through 12th grade, graduating in 1942. She moved to Buffalo, working briefly at a local title company and at Colonial Radio Corporation before her defense work beckoned.
She and Mr. Vullo married on July 20, 1946, in Freedom, and moved to the West Side of Buffalo.
When the Vullos thought about buying a house, Mrs. Vullo sought out the advice of a person she trusted – James Cash Penney Jr., the millionaire founder of the JCPenney stores.
After Mr. Penney answered her letter, advising her to buy a house with as much cash up front as possible to have a smaller mortgage, the Vullos bought a home on West Avenue in Buffalo in 1957.
"We grew up there enjoying a very good family life," said her daughter. "Big house – lots of extended family get-togethers."
Mrs. Vullo sold Avon products from around 1960 to 1975, winning many sales awards and enjoying meeting people. She also worked at the polls during elections.
For many years, the Vullos enjoyed bowling in a weekly league at Roc-Mar and spending weekends in Freedom.
In late 2009, the Vullos, both 85, moved to the Baptist Manor on Linwood Avenue.
In less than a month, Mr. Vullo died, and for a decade Mrs. Vullo lived alone on the 15th floor.
"She would look out the window there, facing Niagara Falls, which you could see and she called it her kingdom," Vullo-Martinez said.
Mrs. Vullo participated in many programs there, including a Bible study, Wii bowling league, writers and singers groups, a lecture series, exercise and yoga classes, Canopy of Neighbors events and field trips.
Mrs. Vullo also hosted lunch every Wednesday for her children and "any other family members who might pop in on any given Wednesday to visit," her daughter said.
About a year ago, Mrs. Vullo moved in with her son Joseph, and also stayed with her daughter.
She attended First United Methodist Church, where she was president of the Women's Society of Christian Service for almost 20 years. She sang in the choir and taught Sunday school and Vacation Bible School to three generations.
"She signed a temperance pledge to never drink alcohol and she never did," her daughter said. "I think she would attribute her faith in God as her greatest accomplishment, and her love of family."
For the past eight years, Mrs. Vullo attended Kenmore Baptist Church.
Besides her daughter, Mrs. Vullo is survived by two sons, Roger Vincent and Joseph Charles Vullo; seven grandchildren, 15 great-grandchildren and one great-great-grandchild.
She donated her body to University at Buffalo's Anatomical Gift Program. A memorial service will be held next summer in Freedom.