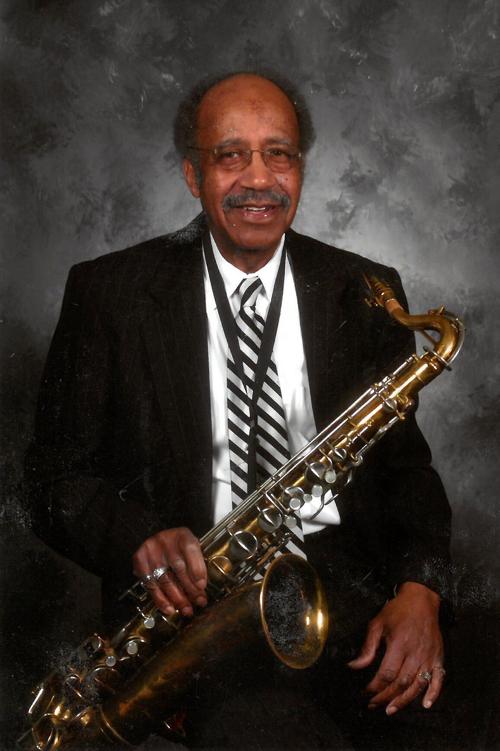 Jan. 22, 1930 – Oct. 8, 2020
Macy Favor, who was inducted into the Buffalo Music Hall of Fame in 2002, made his musical mark in many ways.
A jazz saxophonist, he led a 16-piece big band that performed regularly at the Colored Musicians Club.
As president of the club for more than 10 years, he helped guide it to its official designation as one of Buffalo's cultural landmarks.
For decades, he also could be heard weekly on WBFO-FM as host of the Jazz Favorites Hour, bringing in touring jazz stars for interviews and inviting prominent local public figures to chat about and play the music they liked.
Also a teacher and a manager with the Internal Revenue Service, he died Oct. 8 in his Cheektowaga home after a period of declining health. He was 90.
Born in Pittsburgh, the youngest son of two graduates of historically Black colleges, Hugh Macy Favor excelled as a student at Peabody High School in Pittsburgh and played in the school's marching band.
He rubbed shoulders with Pittsburgh jazz greats like Ahmad Jamal and paid his first visit to Buffalo at the age of 18, when he and another musician took a bus here and went straight to the Colored Musicians Club. The city's bustling entertainment scene prompted him to move here.
"Buffalo had some exciting music," his wife, Brenda, said, "and the clubs stayed open later than they did in Pittsburgh."
During the Korean War, he played in an Army band and was stationed in Hawaii.
Returning from service, he married the former Jacqueline DuPree in 1954 and worked various jobs while studying for a bachelor's degree in accounting at the University of Buffalo. He later completed a master's degree in urban affairs at UB.
He was successful at Loblaws, becoming the first African-American supermarket manager in the Northeast. Loblaws transferred him to Pittsburgh as a store manager for a year, then returned him to Buffalo.
Mr. Favor joined the IRS in 1962 as a revenue agent and retired as an appeals team manager in 2007.
He taught accounting as an adjunct professor at UB, Canisius College and Erie Community College. He also taught adult education classes for the Kenmore-Tonawanda schools and Sunday school at Faith Baptist Church in Buffalo.
He encouraged many players as a mentor and bandleader at the Colored Musicians Club. His orchestra was regularly featured there and had a weekly open rehearsal.
His orchestra and his smaller ensembles, notably the Macy Favor Plus Four, performed at Artpark, the Albright-Knox Art Gallery Summer Jazz Series, the M&T Plaza Event Series and numerous festivals.
He won Buffalo Music Awards for Top Jazz Big Band in 2001, 2002, 2003 and 2005.
The Afro-American Historical Association of the Niagara Frontier honored him in 2012 for supporting the preservation of African American history.
He also contributed articles to the city's African American newspapers, the Buffalo Criterion and the Challenger, and lectured on jazz history.
He first was heard on WBFO as a guest on Bill Besecker's weekly "Jazz Favorites" show.
"Since he was an I.R.S. guy, we'd always have him on before April 15," Besecker said.
Besecker said he recommended Mr. Favor to succeed him as host on the show in 1990, when he had to step down after taking a new job.
On his radio show, which continued until WBFO merged with WNED in 2012, Mr. Favor interviewed leading figures in jazz such as Grover Washington Jr. and the Marsalis family and closed with a signature sign-off, "Keep on swinging."
"Such a gentleman, such a professional," former WBFO program director David Benders wrote on Facebook. "So many loved the Jazz Favorites Hour."
"To know Macy was to love him," longtime deejay Jim Santella said. "His jazz format was perfectly suited to his personality – a gracious, soft spoken and knowledgeable friend of jazz. Chatting with him was easy and whenever we met in the WBFO hallways, I knew I'd get home late."
He served on the board of the Niagara Frontier Association for Sickle Cell Disease and on the entertainment board for Buffalo's Juneteenth Committee.
His travels included return trips to Hawaii and visits to many destinations in the Caribbean and most of the 50 states.
He particularly enjoyed annual jazz cruises, where he became reacquainted with musicians who had been guests on his radio show. He took his last jazz cruise in January to celebrate his 90th birthday.
His first wife, a teacher's aide in Buffalo schools, died in 2001.
He was remarried in 2003 to the former Brenda Cartwright, a retired health insurance company customer service representative.
Surviving are two daughters, Sharon Favor and Dietra Steed; a son, H. Macy Jr.; a stepdaughter, Dawn Jamison; eight grandchildren; three stepgrandchildren; three great-grandchildren; and four step-great-grandchildren.
Services led by Bishop Darius Pridgen will be held at 11 a.m. Saturday in True Bethel Baptist Church, 907 E. Ferry St.