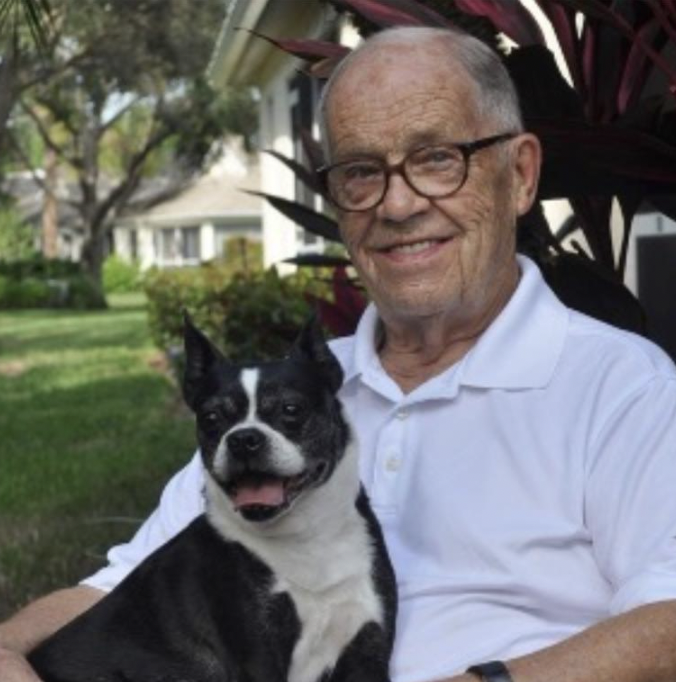 Aug. 2, 1929 – Aug. 17, 2021
John R. Webb, the creative mind behind Buffalo's Crowley Webb marketing communications agency, needed just a few tools to bring his ideas to life.
"He was old school in a good way," said his daughter, Jane Anne Webb. "A pencil and his creative brain were the tools of his trade. He was one of a kind."
Mr. Webb, who moved to Bonita Springs, Fla., in 2008, died in Windsor at Celebration Assisted Living in Kissimmee, where he had lived for just over a month. He was 92.
In a post on the Crowley Webb website, Chairman and CEO Jim Hettich wrote that he was hired three months after Mr. Webb retired, so he missed "witnessing him working on designs at his desk with just two triangles – no T-square, no drawing table, and definitely no Mac."
Hettich also lauded Mr. Webb for his "warm yet imposing presence around the office," for making employees "feel good about themselves and even better about their work," and demonstrating "how to dress, how to present, how to behave as a creative."
"I missed all that," Hettich wrote, and although the two were never co-workers, they became friends of 20 years. "But I am fully aware of its impact on who we are as an agency today."
Mr. Webb was born in Hamilton, Ont., the only child of Marvin and Gertrude Dickenson Webb. 
At age 16, before graduating from Delta Collegiate High School, Mr. Webb said he was 17 and enlisted in the U.S. Army.
He didn't join the Canadian army because "he used to tell me the forts were all up in Northern Canada, he said it was cold up there," his daughter said. After boot camp, Mr. Webb was trained at Fort Knox, Ky., for Armored Force assignments, but the war ended before he was sent into battle. He served in California and was assigned to Japan with the Allied occupying forces.
After returning home, Mr. Webb attended night school to earn his high school diploma, then graduated from the Ontario College of Art in Toronto and the Institute of Design in Chicago.
On Oct. 8, 1956, he married Sheila Walsh.
Mr. Webb started work as a graphic designer with Skinner Studios/Russell T. Kelley, an advertising agency in Hamilton. His work took him to Richmond, Va., where he was executive art director at Cargill Wilson & Acree, then to Boston, where he was senior vice president and executive creative director of the Provandie, Eastwood & Lombardi Agency.
In 1971, Mr. Webb was hired as a partner, senior vice president and creative director of Ellis, Singer & Hall Ltd., a Buffalo advertising agency. The agency was renamed Ellis, Singer & Webb Ltd.
In 1980, Ellis, Singer and Webb opened an office in Orlando, Fla., to handle the company's accounts in that state. The partners took turns staffing the office, Jane Anne Webb said. In 1982, Young & Rubicam of Manhattan, the nation's largest advertising agency, purchased the Orlando office.
With that purchase, Mr. Webb left Ellis, Singer and Webb to become senior vice president of the Young & Rubicam Orlando office. But he soon realized the job was more administrative and less creative, his daughter said, and so in 1984 or 1985, he returned to Buffalo, joining the ad agency Levy, King & White.
There Mr. Webb met Joseph J. Crowley, and in 1986, the day before Mr. Webb's 57th birthday, they formed the Crowley Webb agency.
"In 1986, John was at a point in his career when most people would be thinking toward retirement. John was thinking about his legacy," Hettich wrote.
Mr. Webb was "an accomplished designer and art director" and Mr. Crowley was "an account guy," Hettich wrote.
"John and Joe had a client before they had an office and used a phone booth on Chippewa Street to do business," Hettich wrote. "But they stuck with it. And they parlayed this one relationship into another and another," hiring employees and opening an office.
Mr. Webb received many awards for his work and served on many boards in Western New York. He was recognized as the David I. Levy Communicator of the Year by the Professional Communicators of Western New York.
Mr. Webb retired in 1997. He wintered in the Fort Myers area of Florida for many years, where he enjoyed attending the Boston Red Sox training camp. In 2008, he moved permanently to Bonita Springs.
"Witty, engaging, caring, he loved life and lived it to the fullest," his daughter said. "He was especially happy when the Red Sox won."
His wife of 38 years, Sheila Webb, died in 1995.
Mr. Webb is survived by a daughter, Jane Anne Webb; and a son, David Webb.
Celebrations of Mr. Webb's life will take place in Buffalo and in Bonita Springs at a future date.