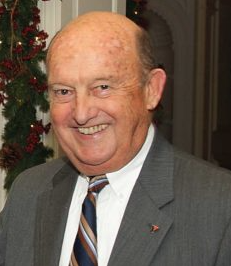 April 30, 1931 – Dec. 23, 2020
John C. Travers Jr. was a people person.
That was clear from his success as an insurance executive, where he served generations of clients, and his dedication to his family, a large contingent of whom ran with him each year in the YMCA Turkey Trot.
But it was his devotion to people he didn't know that set Mr. Travers apart. He worked tirelessly for Catholic Charities, Crime Stoppers WNY and the YMCA Buffalo Niagara, which honored him with two awards to recognize his six decades of service.
His charitable work was the one part of his life that the outgoing man "was always really quiet about," said his daughter, Mary Travers Murphy.
Mr. Travers was 89 when he died in his Hamburg home after a period of declining health.
"Mr. Travers' love of jokes and jazz, family and fun, love and laughter are his legacy, along with his lifelong passion to serve the community," his family said.
"There could be 30 people for dinner on any given Friday, Saturday or Sunday night" at the Travers' beach house over the years, said Travers Murphy.
Born in Buffalo, the older of two sons of Katherine Young Travers and John C. Travers Sr., Mr. Travers was a graduate of St. Joseph's Collegiate Institute and earned a bachelor's degree in 1954 from St. Bonaventure University.
He served for four years in the U.S. Army, including an 18-month deployment to Germany, and achieved the rank of first lieutenant.
After returning home in the late 1950s, Mr. Travers followed his father into the insurance business. When the senior Mr. Travers died on Oct. 6, 1960, he was believed to be "the dean of casualty claim managers" in the area, The Buffalo Evening News reported.
When they were teenagers, he met Mary Louise Coleman, who was president of her Holy Angels High School class, through mutual friends. Mary Louise so impressed Mr. Travers' mother that when she didn't answer Mr. Travers' letters from college, Mrs. Travers intervened, saying to her, "Just give him a chance when he comes home."
"So my Grandma Katherine orchestrated that little romance," said Travers Murphy. The couple married on Oct. 12, 1957, in Kenmore. 
Mr. Travers joined the Hartford Accident & Indemnity Co. briefly before going to work for the Buffalo Fire Office Inc. in June 1958. He eventually became a partner, and when the company was sold, joined Walsh Duffield, retiring in 2017.
His involvement with the YMCA began in the 1950s, when he began walking to the downtown branch on his lunch hour. 
The branch's executive director recruited him to serve on the branch's board of management, and he became board chair in 1971.
When the downtown branch closed, Mr. Travers served on the board of directors at the association level. He was the chairman of the board of directors from 1982 to 1983 and from 1988 to 1990, and then joined the board of trustees. From 1998 to 2003, when he was chair of the board of trustees, he was instrumental in building the Southtowns Family YMCA.
In 1985, Mr. Travers received the Gold Key Award, the YMCA'S highest honor, and in 2016 he was honored with the organization's Lifetime Service Award. In his citation, the YMCA wrote that "his leadership has resulted in significant growth throughout YMCA Buffalo Niagara." Mr. Travers was described as "always the life of any board meeting or YMCA event, known to bring the laughter, and most importantly, a mission-driven attitude."
His final role at the YMCA was as trustee emeritus, representing the trustees at board meetings.
Mr. Travers was an avid runner who, for 40 years, spent Thanksgiving morning completing the annual YMCA Turkey Trot with his children, a crowd of relatives and friends, and eventually his grandchildren.
Mr. Travers was active in Crime Stoppers of WNY, where he served on the board of directors for many years in the 1990s. He also spent decades on the board of the annual Catholic Charities fundraising appeal, serving as chair of the regional organization in the 1980s.
Mr. Travers enjoyed summers at his Lake Erie beach house on Hanford Bay, where he became a leader of the Hanford Bay Association in the 1960s. He enjoyed water skiing.
An avid tennis player, Mr. Travers helped establish what is now the Quaker Aurora Tennis Club in East Aurora. He and his wife hosted hundreds of parties, including get-togethers for Buffalo Bills games, Super Bowls and the annual Hanford Bay Kentucky Derby soiree.
In addition to his wife of 63 years, he is survived by four daughters, Mary Travers Murphy, Kathleen McCrone, Susan Worth and Jennifer Marrano; three sons, John, Tom and David Travers; 12 grandchildren; and one great-grandchild.
A celebration of Mr. Travers' life will take place in the summer at Hanford Bay.