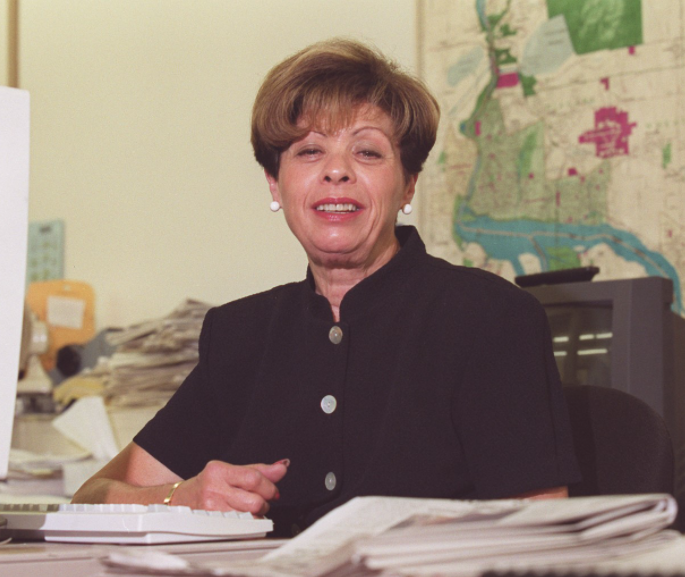 Jan. 17, 1946 – March 21, 2021
Joann Scelsa's work covering Niagara County for The Buffalo News from the late 1970s until 2005 set a high standard for her readers and competitors alike.
When Bruce Andriatch, now an assistant managing editor at The News, was a Niagara Gazette reporter from 1986 to 1989, he said, "I was sometimes called on to cover Niagara Falls City Hall when our regular reporter was off, and doing so, and seeing Joann in action was a lesson in how to be a reporter. She was knowledgeable, aggressive and persistent, but always fair."
From 2002 to 2005, Andriatch was her supervisor at The News. "When I got to work with her in the News Niagara Bureau, I was delighted to see that her approach had not changed one iota," he said. "She was the definition of the reporter holding those with power accountable."
Joann Scelsa, 75, of Lewiston, died in Mount St. Mary's Hospital after a three-day hospitalization.
Born in Niagara Falls, she was the second of two daughters of Anthony and Concetta Vitarelli Pastore. A graduate of Madonna High School in Niagara Falls, she earned a bachelor's degree in English at Niagara University, where she took one journalism class and was editor of the Niagara Index, the campus newspaper.
On June 29, 1968, she married Frank S. Scelsa at Niagara University. Mrs. Scelsa completed the coursework for a master's degree in English before giving birth to her daughter. 
In the 1970s, she worked as director of public relations at Artpark in Lewiston. After leaving Artpark in 1979, she started work as a stringer for The Buffalo News.
In a very short time, Mrs. Scelsa was hired full-time.
As a reporter in The Buffalo News' Niagara Bureau, Mrs. Scelsa covered the Niagara County Legislature, the Lewiston-Porter Central School District, councils in the Town of Lewiston and the City of Niagara Falls, and the mayor of Niagara Falls, among other assignments. 
She was respected for her comprehensive reporting on the Love Canal crisis, as well as on the administrations of Niagara Falls mayors Michael C. O'Laughlin, Jacob A. Palillo, James C. Galie, Irene J. Elia and Vince Anello.
"She was an impeccable interviewer," said her husband. When she worked from home, "she would be on the phone here, arguing with Vince Anello or arguing with Jim Galie, and pressing them, and she would always get a comment from them."
Mrs. Scelsa retired in 2005.
For the past decade, she and her husband enjoyed several months each winter in the French Quarter of New Orleans.
She designed a New Orleans-style garden at the 1830s-era home on North Fourth Street, where she and her husband lived for 35 years.
"It had a courtyard with a fountain in the center and all kinds of perennials, a waterfall at one end and the floor of the garden was gravel," her husband said. "She worked on that in the winters, reading about what she wanted to do, and she chose all of the flora, and she made sure that there was always something in bloom from season to season."
Because she loved white flowers, many of the blooms were white. "In the evenings, the white flowers stand out, they are luminous," Scelsa said.
Passersby who stopped to compliment the Scelsas on their front garden would be astonished when they were shown the back garden. "The garden in the front was impressive, but in the back it was like a secret garden, a revelation," Scelsa said. Mrs. Scelsa's gardens were featured on several local garden tours.
An avid reader, she enjoyed entertaining and traveling.
Her family said Mrs. Scelsa "was known for her keen eye, creative arrangements, impeccable sense of style, and uncanny ability to make just about anything look great."
A talented seamstress, she made clothing and drapes, and "one of the joys of her life," her husband said, was to make Halloween costumes for her grandson, Bruno Antonio Scrufari, 10.
In addition to her husband of 52 years, Mrs. Scelsa is survived by her daughter, Lisa M. Scelsa Scrufari; a grandson; three nephews; and several cousins. 
A Memorial Mass will be held at a future date.