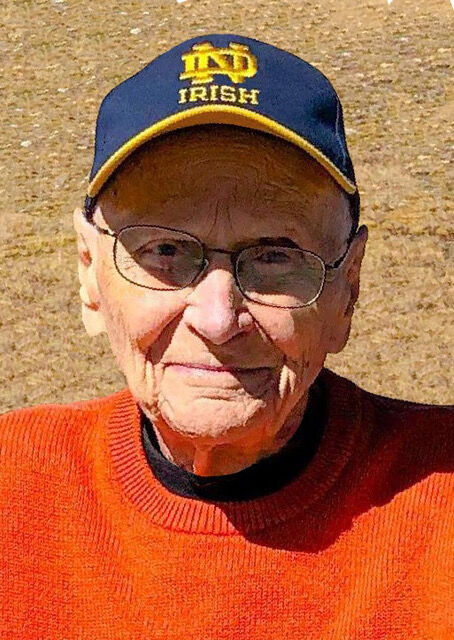 June 5, 1926 – Dec. 5, 2020
James J. Jacobi Sr., who headed a locally based chain of men's clothing stores for 25 years, died unexpectedly Dec. 5 at the home of his daughter in Centennial, Colo. He was 94.
Born in Buffalo, he contracted polio when he was 2 years old and required several surgeries through his early 20s. Nevertheless, he was a varsity wrestler at Amherst High School and a starter during his senior year on the 1944-45 championship basketball team.
He attended the University of Notre Dame for three years, then left to join the family business, Jacobi Bros. Men's Clothiers, which was founded by his father and uncles in 1919. Its flagship store was on Main Street in downtown Buffalo next door to the Century Theater.
Known to all as Jim, Mr. Jacobi was a buyer and salesman until 1962, when his father retired. He then became president and his brother Don became co-owner.
He guided Jacobi Bros. through several transitions. In 1966, it was one of the first retail merchants to accept the Interbank card, predecessor to MasterCard, after it was introduced as a national credit card by Marine Midland Bank and other banks.
As business declined downtown, he closed the flagship store in 1973 and concentrated on the company's half dozen suburban branches. Changes in the clothing industry, which speeded up traditional cycles of buying and selling, obliged him to make day trips to suppliers in New York City every week until he retired in 1987. Two of his sons then operated the business until it closed in 1991.
Until 2010, he was co-owner with his wife Beverley of a children's clothing store, Victoria's Child, in Williamsville.
He was a competitive golfer in his youth at Transit Valley Country Club and was a longtime member of Wanakah Country Club.
A devoted fan of NBA basketball, he attended Knicks games whenever he was in New York City on business and was a season ticket holder for the Buffalo Braves.
He also was an avid duplicate bridge player. A Life Master, he competed for many years at the Buffalo Whist Club and the former Amherst Bridge Club. He continued playing online until his death.
He moved from East Amherst to live with his daughter Erin Jacobi Haislett in Colorado in 2018 after the death of his wife of 41 years, the former Beverley R. Lunman. His first marriage to the former Patricia E. O'Shea in 1948 ended in divorce.
Survivors include four sons, James J. Jr., Jack J., Jerome J. and Joseph J.; two other daughters, Joyanne Jacobi Elliston and Dana Savaglio; and many grandchildren and great-grandchildren.
A memorial service will be held at a later date.