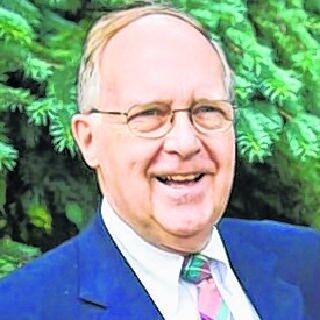 April 8, 1941 – Nov. 2, 2020
J. Keith Alford spent nearly all of his working years in the family business.
You might know that business as Adam Meldrum & Anderson Co., the preferred department store of Western New Yorkers for generations, the eight-story downtown flagship renowned for its glittering Christmas window displays and cozy Yankee Doodle Room.
Mr. Alford, of Amherst, died after a period of declining health. He was 79.
"He loved working with people," said Mr. Alford's daughter, Ann Alford, who said he described AM&A's as a "challenging and exciting place to work."
Mr. Alford was best known among his many friends for his easygoing nature.
"People repeatedly talk about what a kind, gentle, honest and even-tempered man he was, and many people remember his great laugh," his daughter said.
Born in Buffalo, Mr. Alford was the middle child of Mary-Louise Kittinger Alford and Dr. J. Edwin Alford.
He attended Campus School, then Nichols School, and spent his final two years of high school at Williston-Northhampton School in Easthampton, Mass., graduating in 1960.
On June 14, 1963, in Trinity Church, Mr. Alford married Wende Stevens Adam, the daughter of Robert Borthwick Adam III, grandson of the founder of AM&A's and the store's top executive.
While the couple had "known each other forever," their daughter said, they had their first date at a New Year's Eve party at the urging of their younger siblings, who were close friends.
He graduated in 1964 with a bachelor's degree in English from Syracuse University, where he belonged to Phi Delta Theta fraternity.
From 1965 to 1966, Mr. Alford worked as a salesman for the Kittinger Furniture Co. in Buffalo. He then went to work for AM&A's, first as receiving and marketing manager, then as merchandising contractor. From 1969 to 1980, he was vice president of operations, guiding AM&A's through its expansion heyday. From 1980 to 1994, he was president and chief operating officer, the start of a gradual transition of the company's management, said CEO Robert Borthwick Adam III, Mr. Alford's father-in-law.
"Instead of a one-man show, it's been a two-man show since 1980," Mr. Adam told The News in 1989.
In 1989, Mr. Adam stepped down as CEO of the company, making Mr. Alford his successor and remaining as chairman.
Under Mr. Alford's leadership, the downtown AM&A's store defied trends by outselling its nine suburban stores. In May 1994, AM&A's was sold to The Bon-Ton Stores, a regional retailer based in York, Pa. 
Mr. Alford worked as a consultant for The Bon-Ton for a while, then joined his longtime friend Stuart Hunt in the Hunt Commercial Real Estate Corp. as a shopping center and retail consultant/licensed agent. 
Through the years, Mr. Alford was a member of the board of directors of Marine Midland Bank Western Region in Buffalo, of McCurdy & Co. in Rochester and of Frederick Atkins, Inc., in New York City.
A trustee of Buffalo General Hospital starting in 1985, he was secretary to the board from 1991 to 1996. He was a member of the board of directors and executive committee of the Greater Buffalo Partnership between 1993 and 1995.
A member of the Western New York Retail Merchants Association and its board of directors from 1980 to 1992, he belonged to the Buffalo Area Chamber of Commerce and served on its board from 1983 to 1985.
He also served on the board of AAA of Western and Central New York, the Albright-Knox Art Gallery and the United Way, and was chair of Buffalo Place and the Buffalo Niagara Convention and Visitors Bureau. He was on the board of directors of the Greater Buffalo Development Foundation in 1990.
Mr. Alford was dean of the Saturn Club in 1984 and director of the Buffalo Yacht Club from 1995 to 1998.
He was listed as a noteworthy department store executive by Marquis Who's Who.
His major volunteer commitment was to the Salvation Army, where he served on the advisory board for 40 years, starting in 1976. He was secretary of the board of directors from 1984 to 1985, vice chairman in 1989 and chairman in 1990.
Especially after retirement, Mr. Alford enjoyed visiting his family's property, Longhouse, in Muskoka, Ont. He was an avid sailor and skier and belonged to the Buffalo Ski Club in the 1970s. He also enjoyed antique cars, woodworking and traveling.
Mr. Alford was a member of North Presbyterian Church in Amherst, and served on its Session before becoming ill.
He was devoted to his wife and family, said his daughter, and was "a fantastic 'Poppie' to his seven grandchildren, all of whom adored him."
Besides his daughter, Ann Alford, Mr. Alford is survived by his wife of 57 years, Wende Adam Alford; two sons, Scott and James Alford; a sister, Gail Gundlah; a brother, Bryant Alford; and seven grandchildren.
A private family service has been held.
Obituaries Newsletter
Sign up to get the most recent local obituaries delivered to your inbox.