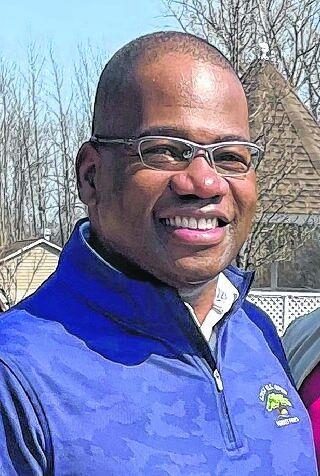 June 14, 1956 – May 1, 2021
"I am much more than my name. I am much more than my company," insurance executive Greg Hawk declared to graduates of Randolph Academy at their commencement in 2017, then went on to encourage them become all that they could be.
Administrators were so impressed with his address that they posted it on YouTube and invited Mr. Hawk to join the School Board. He accepted enthusiastically.
Frequently called upon as a motivational speaker, he made it his mission to bring out the best in people. In tributes following his death May 1 at the age of 64 after a battle with colon cancer, the parents of a youngster that he coached wrote, "He taught our son not only golf etiquette, but also how to win and lose gracefully."
Born in Chicago, Gregory Ledon Hawk grew up in the Garfield Park neighborhood on the city's West Side. He was a 1974 graduate of all-male college preparatory Lane Technical High School, where he was a standout athlete.
He was a member of the track team and was captain of the freshman basketball team, earning all-city honors. His best sport, however, was football. He played end on the varsity team, was captain and was a citywide Golden Helmet Award recipient.
As a member of the Lane Tech choir, he also appeared twice on "Bozo's Circus," a popular long-running children's TV show in Chicago.
He went on to the University of Illinois at Urbana-Champaign, where he played football and earned a bachelor's degree in sociology and administrative law in 1978.
Mr. Hawk worked for insurance companies in various capacities, becoming an agent for State Farm in Albany and an agency manager in Rochester.
He was national marketing manager for urban markets for Chubb Insurance in New Jersey from 1998 to 2001, helping minority business owners in marketing and sales strategies.
After coming to Buffalo and working as a business consultant, he joined Wright Insurance Group, the largest insurance provider for school districts in New York State. Since 2006, he had been assistant vice president for marketing and subscriber support for the company's NYSIR (New York School Insurance Reciprocal) Division, working with school administrators to solve problems unique to educational institutions.
He frequently gave presentations at programs with NYSIR's association partners, including the New York State Council of School Superintendents and the Association of School Business Officials New York. He also was often called upon as a commencement speaker.
"He had such a positive effect on so many people," NYSIR executive director Robert Lulley wrote on the organization's website. "Regardless of whether you were talking about risk management or golf, you always had the sense that he was looking for ways to help people in any way he could.
Golf was his passion as a player and an instructor. He founded Hawk-True Golf, a nonprofit organization that provides equipment and instruction for youngsters. In 2002, he established the Hawk-True Golf Achievement Award to honor outstanding young golfers of color who also are successful academically.
On his Hawk-True website, he states: "When it comes to kids, golf is the foundation and the sky is the limit! We make sure that the lack of golf equipment is not a barrier or excuse for a kid not getting involved in the golf game."
He became a volunteer assistant coach for the Lancaster High School boys golf team in 2006 and became the team's nonfaculty coach in 2015.
A certified golf instructor, he taught fundamentals of the game at Harris Hill Golf Course in Bowmansville. He was a member of the United States Golf Association regional affairs committee and a member of the Lancaster Country Club, Briarwood Country Club and Tan Tara Golf Club.
He was a volunteer for National Kidney Foundation and Multiple Myeloma Research Foundation. With his team, the Myeloma Milers, he biked in the annual Ride for Roswell.
Survivors include his wife of 23 years, Gina R. Mayo-Hawk, an executive account manager in marketing and sales for Managed Care Network; a son, Chamus F., a rapper and video artist; two stepsons, Stephen Hicks and Geoffrey Hicks; his mother, Grace Hawk-Williams; a brother, Theron; and two grandchildren.
Services were held May 15 in Chicago.