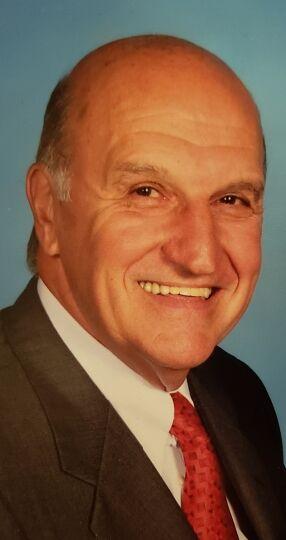 Jan. 3, 1939 – Dec. 30, 2020
Gerald R. Baldelli, who served as a principal and assistant superintendent during his 36 years with Frontier Central Schools in Hamburg, died Dec. 30 in his home in Lake View. His family said the cause was a heart ailment. He was 81.
Born in Lackawanna, he attended Bethlehem Park Elementary School in Lackawanna and was a 1956 graduate of Lackawanna High School, where he was a varsity basketball player.
He earned a bachelor's degree in mathematics education from the University of Buffalo in 1961 and his master's degree in math education at Canisius College in 1966. He later completed advanced study in school administration at Niagara University.
Mr. Baldelli began teaching math in the Frontier Schools in 1961, and served for six years as math department chairman.
He was named principal of Frontier Junior High School in 1971 and two years later became high school principal. He also served for six years as director of continuing education.
He was named assistant superintendent of personnel in 1984.
Coach of the varsity basketball and varsity volleyball teams for six years in the 1960s, he also was varsity tennis coach for three years.
Mr. Baldelli coached Lakeview Little League baseball for seven years.
After he retired in 1997, he served for as principal of Southtowns Catholic School in Lake View from 1999 to 2002 and was an assistant professor of mathematics at Erie Community College.
Mr. Baldelli was elected to the Frontier Central School Board in 2004 and served for five years, three of them as president. He chaired the marketing committees for two successful multi-million dollar bond issues.
He was president of the Erie County High School Principals Association and the Western New York Association of School Personnel Administrators.
He served for six years as president of the Erie County Interscholastic Athletic Conference and for six years as chairman of the Section VI Basketball Committee. He was chairman of the Section VI Extended Eligibility Committee from 1985 to 2014.
He also was principals' representative to the New York State Public High School Athletic Association for eight years and served for two years as a member of the Task Force on Athletics for the Buffalo Public Schools.
He was inducted onto the Lackawanna Public Schools Wall of Fame in 1996 and the Walls of Fame at Frontier Central School, Southtowns Catholic School and Section VI, NYSPHSAAA.
Frontier Central Schools named a gymnasium in his honor in 2019.
He received the Outstanding Young Educators Award from the Hamburg Junior Chamber of Commerce in 1966, and an award for Outstanding Commitment to Interscholastic Athletics in New York State in 1988. He was honored by the Town of Hamburg in 1996 and 2002 for his service to youth.
Active in his church, he attended Mass daily. He was a past president of the Holy Name Society at St. Anthony's Church in Lackawanna and served for more than 30 years as an officer of the Holy Name Society at St. John Paul II Parish, formerly Our Lady of Perpetual Help, in Lake View.
He was a president of the Parish Council at Our Lady of Perpetual Help and served as chairman of the 75th anniversary celebration committee and the building committee.
He enjoyed walking, golfing, swimming, landscaping, reading, musicals, plays, concerts, sudoku puzzles and especially dining out.
Survivors include his wife of 56 years, the former Marie Sessa, a retired legal secretary; two sons, Gerald Jr. and Mark; two daughters, Carla Williams and Elizabeth Hanley; a brother, Neal; and four grandchildren.
A Mass of Christian Burial will be offered at 10 a.m. Monday, Jan. 4, in St. John Paul II Catholic Church, 2051 Lakeview Road, Lake View. The Mass will be streamed live on his memorial page at kaczorfunerals.com.