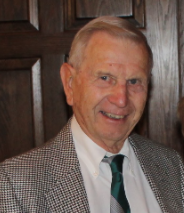 Nov. 18, 1931 – Jan. 10, 2021
The family business operated by Frank Leonard Jarmusz Jr. was equal parts family and business. 
"I remember road trips with my Dad in a station wagon filled with parts to deliver and meet with customers," said his oldest son, Donald, who would become the third generation to own the Jarmusz company. "Those six-hour road trip talks were full of life lessons and a great opportunity to learn the business."
Mr. Jarmusz died after 10 months in the Wells House hospice unit at Beechwood Continuing Care Center, where he had lived for 20 months.
In August, his wife of 64 years, who had only been able to visit with him through a window since March, sold her home in Williamsville and moved to Asbury Pointe to be closer to him. Three days before he died, his wife was dressed in protective gear and allowed to sit at his bedside and hold his hand.
"It meant everything to her," said their daughter, Maureen Wydysh.
Mr. Jarmusz was the second of four children born to Frank L. Sr. and Clara Lewandowski Jarmusz. Three years before his birth, his parents started Buffalo Washing Machine Repair Co. in their garage at 178 Sweet Ave.
Mr. Jarmusz graduated from Corpus Christi Elementary School in 1946 and St. Francis High School in 1950. He earned a bachelor's degree from Canisius College in 1954, then joined the family business.
He and Louise "Judy" Curtin met at a Canisius Glee Club dance, an encounter their daughter Kathleen Mye said was "love at first sight."
They married on June 9, 1956, in Holy Spirit Roman Catholic Church.
Mr. Jarmusz's favorite part of his work "was meeting with the customers," said Donald Jarmusz. "Dad had a knack for connecting to customers that made the business successful, as well as making numerous lifelong friends."
After their father died in 1967, with his brother Leonard J. Jarmusz, Mr. Jarmusz refocused the company on appliance parts distribution. The company added a second store in 1974, eventually operating eight locations between the Tonawandas and Binghamton. They built a new headquarters on William Street in 1977.
By 1982, the company was representing 15 major appliance manufacturers and was renamed Appliance Parts Distributors. It merged in 1995 with Wagner Appliance Parts of Allentown, Pa., and with 16 stores in four states, became the largest appliance parts distributor in the Northeast. Three locations in Canada were added, and the company received many excellence awards from General Electric, Maytag and Whirlpool. 
"I always appreciated my Dad's good business sense and passion for the distribution industry," said Donald Jarmusz. "He was a great mentor in business and in life."
Mr. Jarmusz retired as president of the company in 1994. The company was sold to a venture capital group in 2006.
Mr. Jarmusz served on the board of the Appliance Parts Distribution Association, and that group's conventions, as well as those of appliance manufacturers, took the Jarmuszes all over the world, including Hong Kong, Australia and Hawaii, as well as Tucson, Phoenix and New Orleans.
For 30 years, the couple wintered in their home at the PGA National Golf Club in Palm Beach Gardens, Fla., to which he belonged. An avid golfer, he was "so proud of the hole-in-one at the PGA National in his 70s," his son Robert said.
Mr. Jarmusz was also a member of Brookfield Country Club. 
He loved welcoming friends and his growing family to visit the couple's Florida home.
In retirement, he and his wife continued to travel. Their son David said, "He was a reluctant world traveler but listened to my mom" and took a cruise with the family to Norway, Finland and Russia. "He had a great time."
The couple were extraordinarily close before they were separated by restrictions of the Covid-19 pandemic.
"There wasn't anything my father did without my mother; it was heartwarming," said Maureen Wydysh.
Up until a few years ago the couple continued their yearly road trip with their friends to their favorite New York wineries.
Mr. Jarmusz was an active parishioner of St. Gregory the Great Church for 52 years and a Eucharistic minister. He also delivered holiday meals and had been a school volunteer.
He enjoyed playing the piano, tennis, bridge and watching the Buffalo Bills.
Besides his wife, Louise "Judy" Jarmusz; Mr. Jarmusz is survived by three sons, Donald, David and Robert Jarmusz; two daughters, Kathleen Mye and Maureen Wydysh; a brother, Leonard Jarmusz; 14 grandchildren and five great-grandchildren.
A private Mass of Christian Burial has been said at St. Gregory the Great Church. A celebration of Mr. Jarmusz's life will be held in the future.