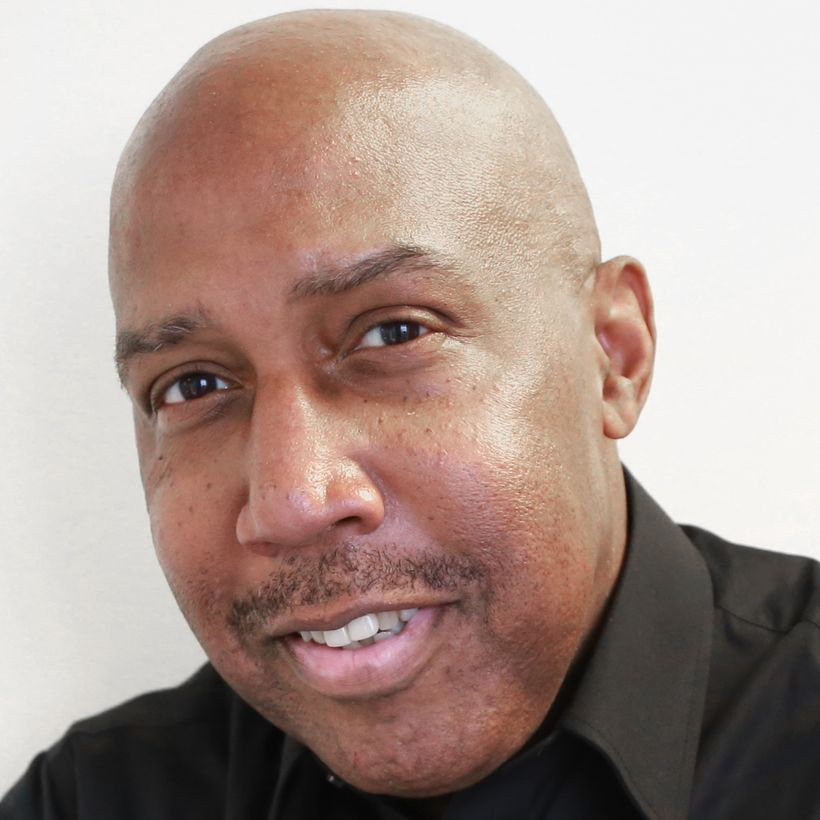 June 13, 1953 – April 27, 2021
Jazz lovers locally got to know Eulis Cathey in the 1980s, when his warm, smooth voice and his vast knowledge of the music were on display on the overnight show on WEBR.
They had a chance to rediscover him in recent years on satellite radio, hosting shows on the Real Jazz and Watercolors channels on SiriusXM.
In the interim, Mr. Cathey worked in the record business in New York City – first in promotion, then as a producer – and became a major figure in the world of jazz. On the annual jazz cruises in the Caribbean, which are billed as music festivals at sea, he was the host and one of the attractions.
He died unexpectedly April 27 in his home in Buffalo, having returned here in 2017. He was 67.
Eulis Merle Cathey Jr. was born in Buffalo, the older of two children. His father, Erie County's first African American probation officer, had a vocal quartet in Topeka, Kan., that performed with opera singer Marian Anderson in the 1940s. His mother, Ruth H. Cathey, was a physical education teacher and girls' basketball and track coach at Grover Cleveland High School.
He attended School 53 and won the Buffalo Public Schools Richmond Speaking Contest. From fourth to eighth grade, he also was a member of the Buffalo Public Schools All City Band. He was admitted to the band a year early because of his talent on the clarinet.
Enrolled at Nichols School, he was president of his freshman class and was an outstanding athlete in three sports.
He was a receiver on the football team, which went undefeated during his senior year. He was captain of the basketball team and, playing his final game as guard, scored 30 points. On the track team, where he also was a captain, he was part of the 880-yard relay team that broke the school record in 1971.
" 'Three Sport Varsity' was a big deal back in the day, particularly for a sophomore to do it," his classmate T. E. Caulfield said. "You don't see it much these days. Two-sport captaincies were a big deal, too, as it speaks to the respect his teammates had for him."
He also was a member of the Nichols Glee Club and performed a particularly memorable rendition of "He Ain't Heavy, He's My Brother."
He enrolled first at Ohio Wesleyan University, then transferred in his junior year to the University of Dayton, where he graduated with a bachelor's degree in communications.
His first radio experience came in college, hosting jazz shows on the student radio stations at Ohio Wesleyan and UD. He also had a paid job in broadcasting at WDTN-TV in Dayton, writing, producing and scheduling all of the station's on-air promotions.
After moving back to Buffalo in the late 1970s, he worked as a counselor at Allentown Youth Service while hosting "Jazz in the Nighttime" in WEBR.
"During our time working together, I very much admired his devoted and scholarly attention to the music he loved so much," said Al Wallack, operations manager at the station and founder of the overnight show.
Writing in 2017, Buffalo News critic Jeff Simon praised him as "one of the greatest jazz radio voices in Buffalo history."
The relationships Mr. Cathey developed with jazz musicians prompted him to move to New York City in 1987. He joined the urban promotion staff at Island Records, then went on to be Great Lakes regional promotion manager for urban music at Virgin Records.
He became director of A&R (artists and repertoire) at Verve Records, the storied jazz label, in 1990 and held the post for two years.
He was nominated for a Grammy Award in 1994 as co-producer on tenor saxophonist Jimmy Heath's Verve release, "Little Man, Big Band." Other artists he worked with included Joe Henderson, Cyrus Chestnut, Regina Carter and Gary Bartz.
Mimi Gaber Kantor, who worked for Verve's sister label Polygram in the 1990s, recalled on Mr. Cathey's Facebook page that she "would run into him everywhere at all different times of the night. If I did run into him, I knew I was in whatever the coolest place was at the time and would end up having a fantastic conversation. He could put everything in perspective in an instant."
A friend, Mark Gaston Pearce, noted on Facebook: "What a treat it was to hang with Eulis and see him approach jazz greats with such familiarity. ... Yet, Eulis was part of our crew, a regular, not above talking trash ... while debating the latest NBA trades."
After Verve, he was national director of jazz promotion for Atlantic Records for three years, then in 1996 became part of a start-up company, N2K Encoded Music, later N-Coded Music. Founded by Dave Grusin and Larry Rosen, who had established the jazz label GRP, it was the first record company to offer digital downloads of its music.
Mr. Cathey was vice president for promotion there until 2003, working with artists that included Jonathan Butler and Candy Dulfer. He also produced several of the label's jazz compilation albums.
He was nominated multiple times for Promotion Executive of the Year by industry publications Radio & Records and The Gavin Report.
He returned to radio in 2006 at WBGO-FM in Newark, N.J., the only jazz station in the New York metropolitan area, and was host of the "Sunday Night Music Mix" show until 2017.
He described it on the WBGO website as "a four-hour musical journey that provides listeners with an opportunity to experience a variety of musical genres: jazz, contemporary jazz, jazz fusion, Latin jazz, Brazilian, classic R&B and more. The program is unique, I think, in that it offers music that, in many instances, can't be found on the airwaves any more."
He also did voice-overs, worked as an independent record producer and was a consultant in promotion and marketing.
In 2007, he became a program host on Sirius XM Satellite Radio and continued broadcasting until his death.
Since returning to Buffalo, he was a host of the Pappy Martin Masten Jazz Festival and a board member of the Pappy Martin Legacy Jazz Collective. He also served as a consultant for JazzBuffalo.
Survivors include his mother; his sister Patrice, a poet, interior designer and director of the Liberty Partnerships Program at SUNY Buffalo State; and three nephews.
Services will be held at noon Saturday in the Alan Core Funeral Home, 1933 Kensington Ave.