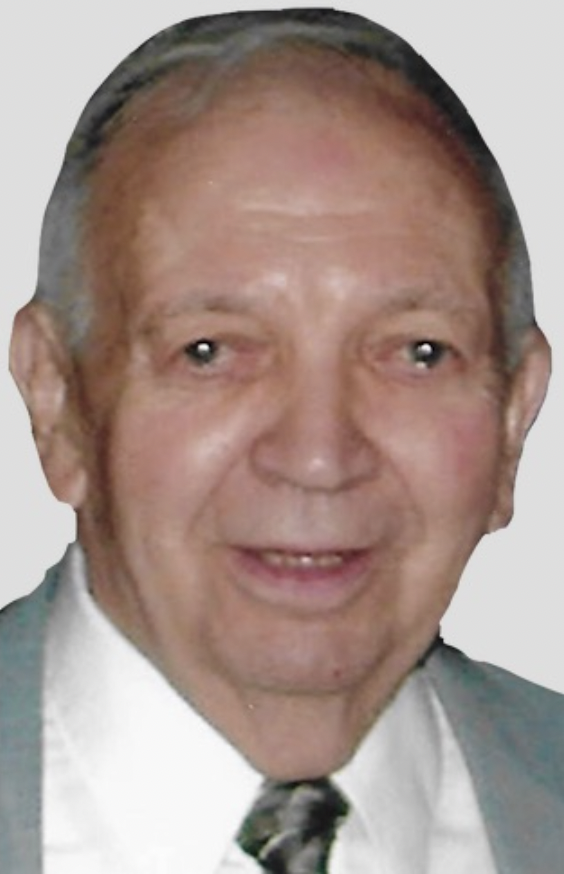 Dec. 3, 1923 – Sept. 2, 2021
Edward F. Dziedzic didn't talk much about his service in World War II.
But a history of the 16th General Hospital in Liege, Belgium, where he served as a clerk, tells a harrowing tale.
The 16th General Hospital was within a few miles of the front lines of the Battle of the Bulge, a ferocious Nazi offensive that stretched from the last two weeks of December 1944 to the end of January 1945 in the Ardennes. The hospital was buzz-bombed three times and bombed and strafed on Christmas Eve. Thousands of wounded soldiers poured in for lifesaving care.
Mr. Dziedzic, known as "Deeds" to colleagues during his lengthy sales career, died in Brothers of Mercy Nursing Home in Clarence, where he had lived for about four months. He was 97.
Born in Buffalo, he was the second of two sons of Rose Kulczyk and Lawrence Dziedzic. He graduated in 1942 from Hutchinson Central High School, where he made the Merit Roll and the Honor Roll.
He was working in his family's grocery store on Bristol Street in the Broadway-Fillmore neighborhood when he was drafted into the Army on March 12, 1943. He served as a clerk with the 16th General Hospital for two years and nine months, and besides Liege, Belgium, was stationed in England and France.
Mr. Dziedzic was honorably discharged on Dec. 28, 1945, with the rank of sergeant. He was awarded the Good Conduct Medal, European-African-Middle Eastern Service Medal and World War II Victory Medal.
Mr. Dziedzic was a frequent, welcome visitor to the East Side home of his first cousins. 
"He was very good to us when we were kids," said Marie Urbanski, who recalled Mr. Dziedzic's generosity and kindness to her, her brother, Joseph Kulczyk, and sisters, Christine Mruk and Esther Surowiec.
Mr. Dziedzic enrolled in the University of Buffalo, where he belonged to the Phi Omega Chi Fraternity and graduated with a bachelor's degree in Business Administration in 1949.
He was a salesman, first with the Alfred A. Baker Co., which manufactured men's neckties; then with the Rugby Knitting Mills, which made knitted clothing; and finally for S. Gumpert Co. Inc., a supplier of wholesale bakery products.
Particularly in his final job, he traveled widely, Urbanski said.
After retiring in 1982, Mr. Dziedzic enjoyed fishing, bowling and became an avid golfer.
He was a devout Roman Catholic and a longtime member of Holy Apostles SS Peter & Paul Church on Smith Street in Buffalo. He served as president of the Parish Council, and was a member of the Holy Name Society and church choir. A life member of the SS Peter & Paul Athletic Club, he served as vice president and chairman of the board.
In 1986, he received the St. Joseph the Worker Award from the Diocese of Buffalo.
"He was very social, but he chose his friends very carefully," Urbanski said. "He avoided confrontations, so they had to share his religious beliefs and his politics."
For about 13 years, Mr. Dziedzic lived at StoneGate Apartment Homes in Clarence, where he enjoyed participating in the creative writing group. He lived in Harris Hill Nursing Home for four years before moving to Brothers of Mercy.
He is survived by his cousins.
A Mass of Christian Burial will be offered at 10:30 a.m. Wednesday in Nativity of the Blessed Virgin Mary Catholic Church, Main Street at Harris Hill Road, Clarence.