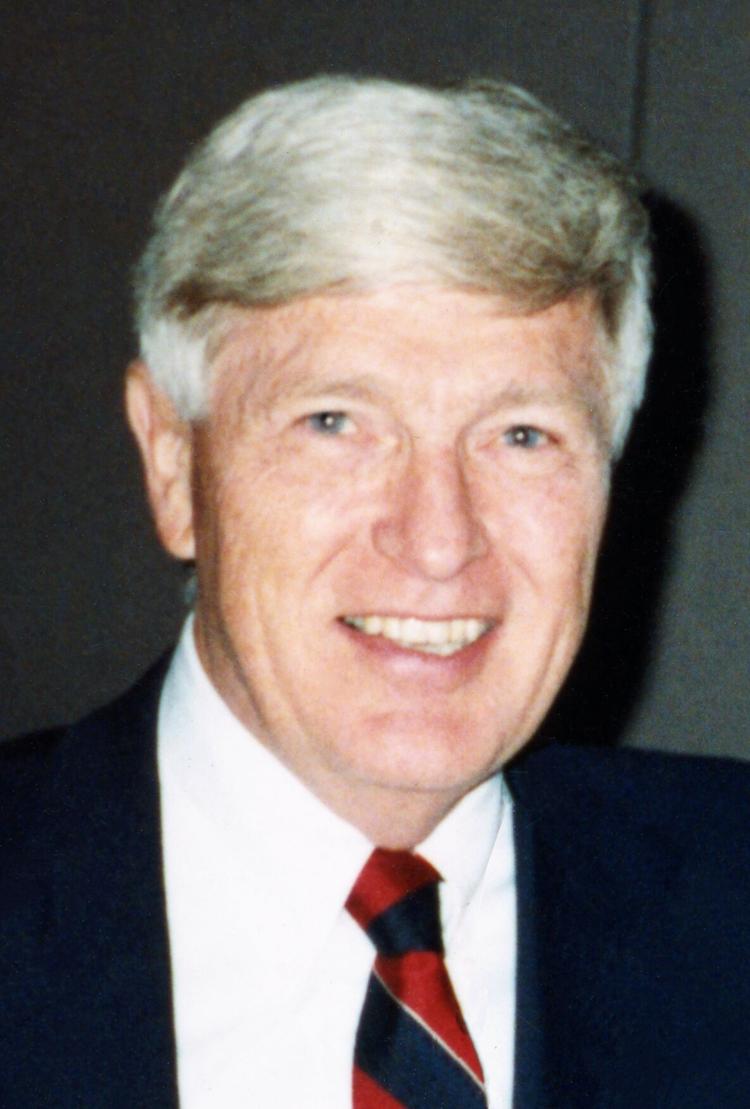 Sept. 6, 1928 – Dec. 11, 2020
Dr. John E. "Jack" Helfrich, widely praised for rebuilding academic achievement during his 13 years as superintendent of the Kenmore-Town of Tonawanda schools, died unexpectedly Dec. 11 at his home in Burbank, Calif. He was 92.
During his tenure, 12 of the district's 13 schools were designated as New York State Schools of Excellence and seven were named National Schools of Excellence. School and district representatives were honored at the White House.
In recognition of his success, he was named the first New York State Superintendent of the Year in 1988. He also received the first Governor's Excelsior Award for quality in education from Gov. Mario Cuomo in 1992.
Dr. Helfrich brought computer technology to the schools and introduced cooperative learning and new curricula for reading and math.
He also helped establish two programs that continue to assist teachers – the Mentor Program for new faculty members and the Staff Development Center, which provides advanced training for teachers and staff.
A tribute to him on the school district website said: "One of the things Dr. Helfrich was best known for was bringing people together and celebrating their work, whether through personalized notes to staff, bonding over coffee and doughnuts at morning meetings, cruises, luncheons and Hawaiian-themed parties in his backyard."
"The whole district has changed," Ken-Ton School Board president June Curley said in accepting his retirement in 1994.
Born in Crestline, Ohio, one of three children, he was a 1946 graduate of Crestline High School, where he was a member of the football team and junior class vice president.
He began attending college at Miami University in Ohio, where he played on the football team, then completed his undergraduate studies at Bowling Green University, where he also earned a master's degree. While at Bowling Green, he met Rita J. Gamble, a librarian and secretary, and they were married in 1951.
Drafted into the Army during the Korean War, he was stationed in Puerto Rico and taught English as a second language there. He returned to teach in Bowling Green; Shaker Heights, Ohio; and Grosse Point, Mich.
After earning a doctorate in curriculum development and educational leadership from Wayne State University in Detroit, he served as an administrator in Honolulu, Hawaii, from 1963 to 1969, then returned to the mainland.
"Both of them were in love with Hawaii," his daughter-in-law Alexandra Helfrich said, "but he was excited about education and he had all these ideas."
Dr. Helfrich joined I/D/E/A, the Institute for the Development of Educational Activities, in Dayton, Ohio, to do public policy work as assistant director.
He went on to become assistant director of the National Reading Center in Washington, D.C., and director of the American Bar Association's Clearinghouse for Offender Literacy.
Returning to work in school districts, he was assistant superintendent in Pelham, N.Y., and superintendent of schools in Bronxville, N.Y., before he came to the Ken-Ton schools in 1981.
In retirement, Dr. Helfrich went on to serve as a senior fellow and consultant to the Graduate School of Education at the University at Buffalo and was co-director of UB's Center for Continuing Professional Education.
His honors in retirement included the Distinguished Service in Educational Administration Award from the New York State Council of School Superintendents and the Excellence in Educational Leadership Award from the University Council for Educational Administration.
He also was honored for his advocacy for hiring women as school administrators.
In retirement, he traveled extensively and returned to Hawaii for lengthy visits every year.
A devoted Buffalo Bills fan, he was delighted with their current winning season.
He moved to California after his wife died in 2011.
Survivors include three sons, Mark E., Karl W. and Kurt W., and six grandchildren.
A memorial service will be planned in Hawaii.