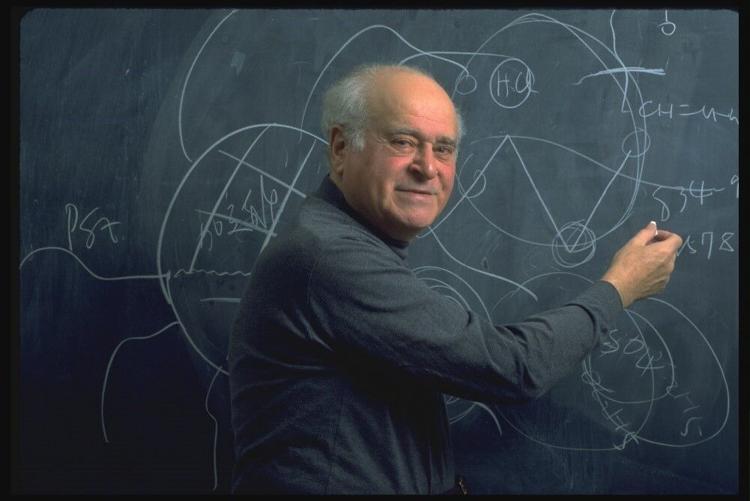 Aug. 13, 1925 – Sept. 30, 2020
Although the awards that filled the walls of his office on the University at Buffalo North Campus in Amherst didn't include the Nobel Prize, Dr. Eli Ruckenstein received its American equivalent.
A SUNY distinguished professor and world-renowned chemical engineer, he was presented with the U.S. National Medal of Science by President Bill Clinton in a White House ceremony in 1999.
"What counts in science is novelty," he told Buffalo News reporter Karen Brady at the time. "I am interested mainly in new ideas, which I try to develop and, if possible, find useful applications. However, I don't squeeze them forever. This is what keeps my work exciting."
Noted for his many achievements in turning theoretic science into practical uses, he held 10 patents. Among his inventions were polymers for use as membranes in filters and a paste that improves conductivity and heat resistance in computers.
An Amherst resident for many years, Dr. Ruckenstein died Sept. 30 after a short period of declining health. He was 95.
Born in Botosani, a rural town in northern Romania, he was expelled from public school at the age of 14 after laws were imposed against Jews.
The Jewish community responded by opening a private high school, which he attended, but he was pressed into forced labor during his last two years. After carrying bricks from 5 a.m. to 5 p.m. six days a week, he nevertheless studied independently and completed his exams.
Possessed of a near-photographic memory, his high test scores gained him entry in 1944 into the chemical engineering program at the prestigious Polytechnic Institute in Bucharest, where he continued to study outside his regular classes.
After earning his degree in 1949, he became an assistant professor of chemical engineering at the Polytechnic Institute, despite not being a member of the Communist Party.
Although he won major scientific awards in Romania and published more than 100 scientific papers there, it took 15 years before he was promoted to associate professor. He was not permitted to complete his doctorate until 1966, after the requirement to pass a challenging test on Marxism-Leninism was lifted.
Once his research was allowed to be published in the West, he became widely recognized. In 1969, he was invited to spend six weeks at University College and Imperial College in London, then received an invitation from the U.S. National Science Foundation to be a senior scientist at Clarkson University.
That was followed by an offer of a full professorship at the University of Delaware, where he greatly expanded his research.
Having been forced to leave their teenage children behind in Romania, it took him and his wife two years to bring them to the U.S. He did not return to his homeland until 1993, when he accepted an honorary doctorate from his alma mater in Bucharest.
He was recruited to UB in 1973 by William Gill, dean of the School of Engineering and Applied Sciences, who had been a colleague at Clarkson.
Dr. Ruckenstein became a SUNY distinguished professor in 1981 and brought national attention to his department. He continued his research and writing long after his retirement in 2011. He produced more than 900 publications at UB, 50 of them after his 90th birthday.
During the past decade, he worked with former students and colleagues to publish eight volumes which summed up the many aspects of his research.
He was elected to the National Academy of Engineering in 1990, America's highest honor for an engineer, and received its Founders Award in 2004. He was inducted into the American Academy of Arts and Sciences in 2012.
He was a fellow of the American Institute of Chemical Engineers, which designated him as one of the 50 Eminent Chemical Engineers of the Foundation Age of Chemical Engineering.
The institute previously recognized him with its Alpha Chi Sigma Award in 1977 for his work in transport phenomena, its Walker Award in 1988 for his research on catalysis and its Founders Award, its highest honor, in 2002 for his overall contributions.
He received several major awards from the American Chemical Society.
UB honored him twice in 1999, when he received the Dean's Award for Engineering Achievement and the Chancellor Charles P. Norton Medal. He was honored with UB's Walter P. Cook Award in 2003. Since 2009, the Department of Chemical and Biological Engineers has hosted an annual lecture in his name.
Widely traveled as a lecturer and researcher, he visited universities and institutes around the world.
Survivors include his wife of 72 years, the former Velina Rothstein, also a chemist; a son, Andrei; a daughter, Lelia Ruckenstein; and two grandchildren.
A graveside service was held Oct. 2 in Forest Lawn Cemetery.