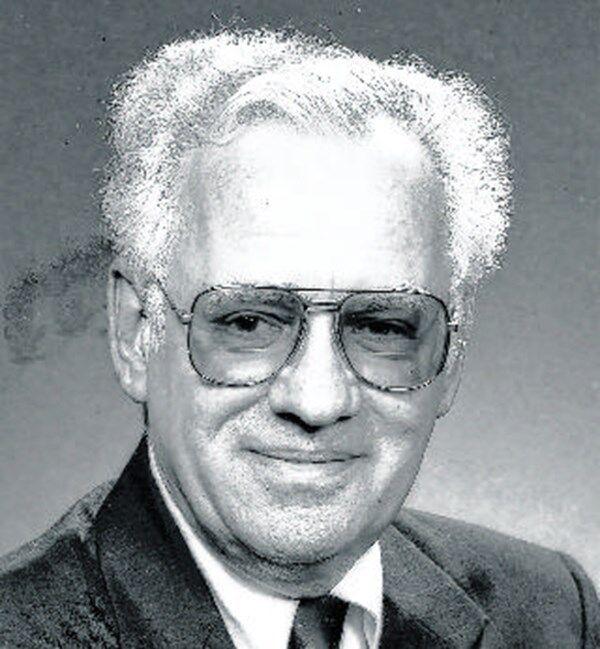 Feb. 7, 1923 – Sept. 7, 2021
Donald W. Boyd Jr. was prominent in public relations, publications and marketing management here for many years, but his greatest satisfaction came from volunteer work.
"I volunteer because it fills a space in my life that money, possessions, titles and awards have never been able to do," he wrote. "I volunteer because each day on this Earth is a gift, and the least I can do is to give back in return."
A recipient of the J. C. Penney Golden Rule Award for Outstanding Volunteer Service in 1993, his citation declared "his hands-on style and boundless commitment has enriched the lives of countless others and inspires others to be their best."
Often his leadership in volunteer organizations led to the creation of new events and programs, which he also volunteered to lead.
At St. Mark Catholic Church in North Buffalo, where he was a director of the Holy Name Society, he co-founded and co-chaired the church's first Lion Heart Auction.
A resident of The Amberleigh retirement community in Amherst in recent years, he established the Amberleigh Learning Academy and hosted a weekly speaker series since 2015.
He died Sept. 7 in Buffalo General Medical Center after a short illness. He was 98.
Born in Buffalo, he was a 1939 Amherst High School graduate and was active in student publications at Colgate University, where he earned a bachelor's degree in 1943.
During World War II, he was supply and disbursing officer aboard a transport ship in the Pacific, attaining the rank of lieutenant junior grade. He later co-edited a book about the ship, "A Pictorial History of the U.S.S. Barnett (APA-5)."
Discharged from service, he became assistant director of public relations at Champlain College in Plattsburgh, then from 1947 to 1952 was public relations director for Clarkson College of Technology, now Clarkson University, in Potsdam. He was credited with renaming the athletic teams as "The Golden Knights" and wrote lyrics to a school song, "We'll Remember Clarkson."
Mr. Boyd returned to Buffalo in 1952 as manager of the University Press Division of William J. Keller Inc., and a year later became assistant development director at Canisius College. He edited the college's alumni magazine and branched out into freelance editing in 1959 and 1960.
He produced publications for the Durez Division of Hooker Chemical Corp., Rugby Knitting Mills, the Technical Societies Council of the Niagara Frontier and the Purchasing Management Association of Buffalo, among others.
He was executive secretary of the Purchasing Management Association of Buffalo, a post he held for 20 years, when he left Canisius in January 1963 to start his own firm, Editorial and Association Services, later Professional Program Management. Headquartered on Hertel Avenue, at first it provided executive secretary and publishing services for professional and technical associations, then branched out into managing trade shows.
From 1976 until he retired in 1997, Mr. Boyd produced more than 150 trade shows in New York, Pennsylvania and Ohio in cooperation with professional societies. For bringing business to the city, the Buffalo Niagara Partnership named him a Buffalo Ambassador.
He served for several years as executive secretary of the Buffalo-Niagara Sales and Marketing Executives, the Greater Buffalo Advertising Club and the Professional Skaters Guild of America. He also was a director of the American Association of Industrial Editors for four years and was appointed executive secretary of the AAIE in 1965, a position he held for five years.
Ranked first on Buffalo's civil service list for public relations directors in 1974, he was a charter member of the Public Relations Association of Western New York and a former treasurer of the Graphic/Communications Council of the Niagara Frontier. He served for two years as president of the Niagara Frontier Editors Association.
He was listed in "Who's Who in the East," "Who's Who in American Education" and "Who's Who in Public Relations."
A recipient of the Kiwanis International Distinguished President and Distinguished Secretary Awards, he was a past president of the Kiwanis Club of North Buffalo, the Hertel-North Buffalo Business Association and the North Buffalo Business Development Association. He was founder and first president of the TipClub of Buffalo, a business networking organization.
An antiques aficionado, his collections included vintage typewriters, one of which he used for notes to family and friends. He was co-managing partner of the former Courtyard Antique Center in Clarence and was a leader in the Clarence Hollow Association for more than 10 years.
Mr. Boyd was instrumental in founding the Clarence Hollow Farmers Market and provided the impetus for the designation of the Clarence Town Park Clubhouse as a historic site.
After moving to Clarence in 2007, he was a director of the Rock Oak Homeowners Association.
Active in the Buffalo Philharmonic Orchestra Society, he was a director and president of the Philharmonic Junior Committee. He also served on the boards of Crisis Services and the Food Shuttle of Western New York.
His volunteer work extended to youth. An Eagle Scout and member of the Order of the Arrow, as an adult he was scoutmaster of a Boy Scout troop for eight years and a Girl Scout troop leader, a Boy Scout district commissioner and a member of the board of directors of the Girl Scout Council of Buffalo and Erie County. He also was a longtime director of Junior Achievement of Western New York.
Active in the Western New York Railway Historical Society since 1980, he held membership card No. 1 and recently was honored for leading fundraising campaigns for the restoration of the Williamsville Depot and the Lehigh Valley Historic Site.
He received many recognitions and awards, including the Lion Heart Award from St. Mark School in 2002. The school also has honored him with a memorial marker on its walkway.
Survivors include his wife of 66 years, Winifred G.; a daughter, Nancy Boyd Haley; two sons, Donald W. III and Geoffrey G.; five grandchildren and two great-grandchildren.
A memorial service will be held at 6:30 p.m. Wednesday in Beach-Tuyn Funeral Home, 5541 Main St., Williamsville.