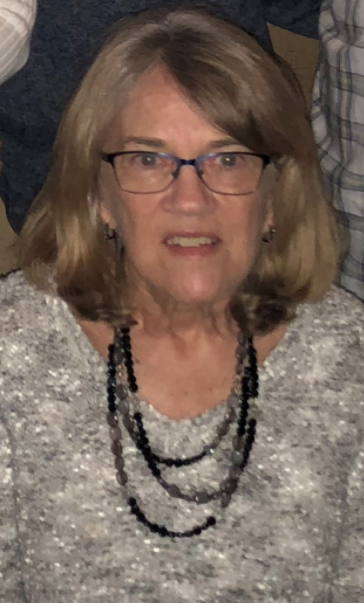 Sept. 15, 1949 – Jan. 3, 2021
Deborah M. Patti was an adept organizer, an expert in spelling and grammar and a warm person who loved children.
Therefore, she was able, under the unassuming title of "promotions coordinator" to smoothly run The Buffalo News' Books for Kids, the News Neediest Fund, Jingo and the annual spelling bee and editorial cartoon contest, among others, for 35 years.
"She was super detail-oriented and had a passion for kids, so I know she really, really enjoyed the spelling bee," said her daughter, Samantha Mitri.
Deborah M. Patti died at home in the Amberleigh in Amherst after being diagnosed with Lewy body dementia seven years ago. She was 71.
"Her attention to detail was amazing," said Buffalo News Assistant Managing Editor Bruce Andriatch, who emceed The Buffalo News Spelling Bee for five years. 
"She not only organized and executed an event that went off without a hitch every year, but she made what had to be a very tense situation for the spellers and their families extremely welcoming and comfortable. After the event, when people would thank me, I would always point to Deb and say 'That's the person you should be thanking. She deserves all the credit.' Because she did."
Born in Buffalo, the fourth of eight children of Charles and Georgianna Buchheit Besch, she spent childhood summers at a Thunder Bay, Ont., cottage owned by her parents. She met her husband, Nicholas R. Patti, through mutual friends in Canada when he was 13 and she was 12.
She was valedictorian of the Class of 1967 at St. Mary's Seminary in Buffalo and attended Niagara University before leaving to marry on Feb. 24, 1968.
The Pattis lived in the North Buffalo/University Heights area for 45 years.
Mrs. Patti was hired to lead tours at The News in 1980 when her daughter went to kindergarten, "because she was looking for something to do," said Mitri. When the newspaper added the promotional contest Jingo, she assisted with that, then "it just kind of snowballed," said her daughter. "She was also very involved with NeXt."
Her husband said Stanford Lipsey, longtime publisher of The News, always asked Mrs. Patti to proofread the material he wrote, ranging from letters to articles. "She worked very, very closely with Stan," her daughter said.
She retired from The News on Sept. 21, 2015.
After her mother died in 2000, Mrs. Patti and her husband purchased the family cottage.
She was an avid pinochle player, especially with lifelong friends with whom she enjoyed games in Canada up until a few years ago, her family said. 
An expert seamstress, she made curtains and all kinds of clothing, including formal dresses for her daughters. She also did some reupholstering.
Besides her daughter Samantha Mitri and her husband, Mrs. Patti is survived by a son, Christopher; two other daughters, Kimberly Pettit and Michele Patti; four brothers, Michael Besch, George Besch, Charles Besch and Jack Besch; two sisters, Carolann Besch and Sandra Schor; and five grandchildren.
Catholic services will be held after Covid-19 restrictions are lifted.