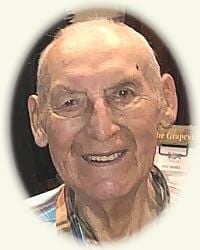 Jan. 3, 1927 – Dec. 2, 2020
Chief Kenneth Patterson, a leader in the Tuscarora Nation and an authority on tribal history and heritage, died Dec. 2 in his home on the Tuscarora Reservation. He was 93.
He became a chief of the Wolf Clan in 1954 and had a lifelong interest in preserving the history of the Tuscaroras. He spoke the Tuscarora language and was the keeper of the enrollment books for the Tuscarora Nation, which hold the genealogical records for the tribe.
For more than 20 years, Chief Patterson also lectured on the history of Native Americans at Niagara County Community College and was the college's coordinator of Indian education.
Among his duties as a member of the Tuscarora Council of Chiefs, he maintained Mount Hope Cemetery, the Tuscarora Gymnasium ("the Old Gym") and the picnic grove where the annual Tuscarora picnic is held.
Born at home on Tuscarora land, one of eight children of Chief Harry Patterson, he grew up on his family's farm and attended LaSalle High School. As a youth, he was a member of the 4-H Club on the reservation, took flying lessons and enjoyed basketball, lacrosse and water skiing.
In 1950, with authorization of the Tribal Council, he revived Mount Hope Cemetery, leveling the ground, expanding it and organizing the records and the graves, which contain remains of Tuscaroras who were born as far back as the late 1700s.
After serving in the Army during the Korean War, he worked for Moore Business Forms for 24 years and for Prestolite Battery for more than 14 years. He retired in 1987.
In 1971, he started the Tuscarora Clan basketball league.
He was a member of the Tuscarora Baptist Church, the Tuscarora Temperance Society and the Sanborn Historical Society.
He was a Scottish Rite Mason, a past master of the Ransomville Lodge 551, F&AM, and a member of the Ismailia Shrine.
An avid photographer, he enjoyed traveling, especially to areas related to native history.
Survivors include his wife of 61 years, the former Florence Rickard; three daughters, Joanie Smith, Cathy Curtis and Sharon Foy; 10 grandchildren; and seven great-grandchildren.
Services will be private.