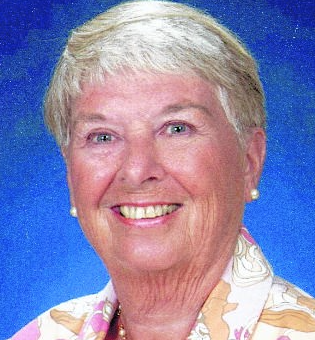 Oct. 1, 1932 – March 27, 2021
While she was studying at Slippery Rock State Teachers college in the 1950s, Beverley Rae Carr was chosen to meet Eleanor Roosevelt, the former first lady and human rights advocate.
Because of her leadership activities or her academics, Mrs. Carr was invited to a tea in Washington, D.C., said her son, Bryan Carr.
"She was just awed and thrilled," said her son, remembering the story his mother often told of taking the train to Washington. "She was very inspired by Eleanor Roosevelt, so she did take leadership roles in the YWCA when she was at school and she was also a coach. She liked bringing ideas to the table."
A former physical education teacher at Westfield Academy and Central Schools in Chautauqua County, Mrs. Carr died in the Garden Gate Health Care Facility in Cheektowaga after several years of declining health. She was 88.
She was born in Millcreek, Pa., the oldest of four children of Dana V. and Anita M. Bickerstaff Moon.
Mrs. Carr was a 1952 graduate of Millcreek High School, where she was active in Girl Scouts, YTeens and was an accomplished baton twirler with the school's majorette team.
She earned her bachelor's degree in physical education from Slippery Rock State Teachers College in 1956. During college, she was active with the Girl Scouts and spent summers working as a lifeguard at Presque Isle State Park.
Upon graduation, inspired by her uncle, Alan Tripp, Mrs. Carr began work as a high school physical education teacher at Westfield, where she also coached gymnastics and the girls' volleyball team.
She met her husband-to-be, David Carr, in the spring of 1958 when one of her students, who was the daughter of the state police troop commander at the Westfield barracks, suggested a blind date with a state trooper her father supervised.
The two were married on Aug. 1, 1958, in First Presbyterian Church of Westfield.
Mrs. Carr served on the YWCA board of directors in Westfield and was instrumental in the startup of Welch Field's pool facilities and recreational programs. She also supervised the lifeguards during the pool's first year of operation and organized swimming lessons for children.
"She was always involved in the waterfront scene," said her son Bryan. "Because Westfield is on Lake Erie, she thought it was important that every kid learned how to swim, because she knew it would save their lives."
Mrs. Carr continued her post-graduate education at Ithaca College and New York University, studying in England and Italy, which allowed her to attend some of the 1960 summer Olympic Games in Rome.
She left teaching in the late 1960s and in the early 1970s was hired as the director of recreation at Peek-n-Peak Resort, managing the pool and tennis court facilities until it closed in the late 1970s.
In 1990, Mrs. Carr was asked to return part time to Westfield Central School, teaching adaptive physical education to children with disabilities. She modified her lessons, such as setting up a bowling alley that could be used by children in wheelchairs.
"She was pretty creative, she knew all the sports inside and out and came up with her own ideas," said Bryan Carr. She worked part time for about four more years.
"She inspired a lot of girls in gymnastics," he said. "Her real love was gymnastics and dance. Those were her passions. Even at weddings, she would grab my dad and they would hit the dance floor. She knew all the moves."
The Carrs were longtime members of the Rotund Squares Dance Club of Westfield, which gathered monthly in the winter.
They enjoyed traveling the United States and visited Central America, Africa, Europe, Scandinavia and the British Isles. In 1980, the family hosted an AFS student, Thomas Vallazza from Austria.
Mrs. Carr was an accomplished seamstress and enjoyed painting, knitting, quilting, baking pies and working on her home decor. She enjoyed weekend picnics and visiting New York and Pennsylvania state parks, where she went camping, canoeing and cross-country skiing. The family spent summers at her parents' cottage at Brule Lake in Eastern Ontario.
In 2017, she and her husband moved into the Amberleigh in Amherst, then she moved to Eden Heights and later Garden Gate as her health failed.
Besides her son Bryan, Mrs. Carr is survived by her husband of 62 years, David L. Carr; a daughter, Cynthia Rodrigues; two brothers, Paul and David Moon; four grandchildren; and a great-granddaughter.
A service was held  in Mason Funeral Home in Westfield.