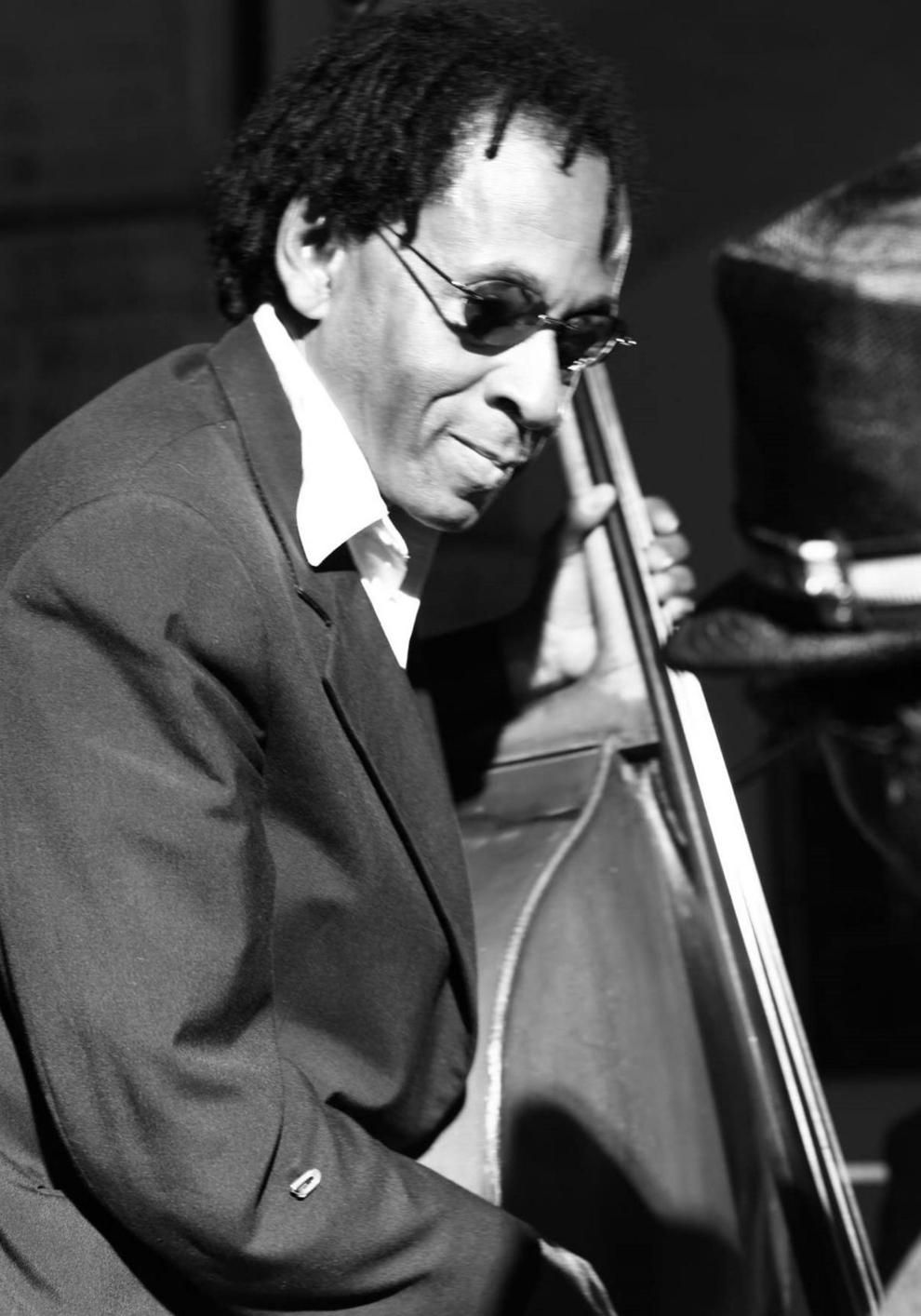 Feb. 12, 1948 – July 11, 2021
Arthur Edward "Juini" Booth was launched into the international world of jazz from Buffalo, where he had his roots and maintained a home base.
"He was a musical world citizen," said Mr. Booth's older sister, Mary Booth-Bowden. "He was an international musician and a world-class musician. He played in Europe, he played in Africa, he played in Japan, Amsterdam, Montreal, just everywhere."
Mr. Booth, a jazz bassist who achieved international acclaim in the genre, died Sunday morning in Kenmore Mercy Hospital. He was 73.
"He was a wayfaring traveler," said Mr. Booth's longtime friend, pianist Kevin Doyle, who recalled his friend's regular performances in Toronto and New York City, where he had a recurring gig at Nublu in the East Village.
Mr. Booth left a prominent footprint on the development of 20th century jazz. His recording and performing credits read like a who's who of jazz greats: Sun Ra, Chuck Mangione, McCoy Tyner, Gary Bartz, Steve Grossman, Albert Ayler, Elvin Jones, Coleman Hawkins, Pharoah Sanders, Tony Williams, Randy Weston, Chick Corea, Ron Carter, Sonny Sharrock, Freddie Hubbard and many more.
Mr. Booth had been in declining health for six weeks after suffering a broken hip in a fall at his home, his family said.
Though Buffalo has been a breeding ground for bassists across a variety of genres, including Billy Sheehan, Jerry Livingston, Rick James, Zuri Appleby and Robby Takac of the Goo Goo Dolls, Mr. Booth's deep ties to legends in the world of jazz and avant garde music make him unique.
Perhaps paramount among the hundreds of recording sessions and gigs is "Atlantis," the 1974 live album by pianist McCoy Tyner, revered as a pivotal member of saxophonist John Coltrane's greatest quartet.
The album's title track offers a master class in Mr. Booth's abilities, as he moves from deep, ostinato-based support into a solo that pushes the edges of the tune's harmony without compromising its rhythmic propulsion.
Mr. Booth was born in Buffalo, the younger of two children of Arthur Edward and Mary Walker Booth, and grew up on Chester Street in the Cold Springs neighborhood. He became "Juini" as a child because his sister couldn't say "Junior," she said, chuckling.
"My mother would say, 'Go call Junior!' and I would say, 'Juini!" Booth-Bowden said. "He would tell everybody, 'My sister named me!' "
Mr. Booth's first instrument was the family piano. He started playing the cello at about age 12, his sister said, then switched to bass and never looked back.
In 1964, he was a member of the string class and played bass in bands at East High School. The next year, he played in the orchestra at Lafayette High School. He moved to New York City around 1966.
"A lot of his musical development was at East High School and at Lafayette High School," said Doyle, who met Mr. Booth in 1976. As a student, he was already playing gigs locally and traveling to Rochester to play with Mangione and Joe Romano, "the real big shots," Doyle said.
After his death, friends shared a story about how Mr. Booth came to play with Art Blakey. "When Art Blakey came to Buffalo, Juini sat in with the band," Doyle said. "In one version of the story, Art Blakey told him, 'When you're in New York, look me up!' The story is that Juini got on a train the next day to go to New York, and showed up with a suitcase and a bass at Art Blakey's door, and that's how he started playing with Art Blakey's band."
While Mr. Booth's sister wasn't sure that story was true, she recalled Blakey having dinner with her family. 
Through the years, Mr. Booth played locally at many places, from the Pine Grill Reunion, the Calumet Arts Cafe and the Tralf Music Hall to the Ol' Wondermoth co-op house, and in 1995, at a rare solo recital to celebrate John Coltrane's birthday, in Borders bookstore in Cheektowaga.
Mr. Booth was the music director at Buffalo's Hallwalls Contemporary Arts Center from 1981 to 1982 and at the Niagara Arts Council in St. Catharines, Ont., in the early 1990s. He was also a composer of works for bass.
"Juini's contribution to the music we love was vast and deep," said musician and Hallwalls music director Steve Baczkowski. 
"Both musically and spiritually, his spirit really floated like the wind," Doyle said. "Every place that he landed, he left a very striking impression."
For Mr. Booth, music was much more than a job, Doyle said. "You have to work for money and survive in this culture, but he really was trying to get people to look away from the transactional nature of art, into the cultural part of community-building and self-examination and spiritual growth," he said.
In 1994, he combined bebop and hip-hop to come up with bop-hop, assembling an assortment of noted local musicians into the group Jazz-Jazz V.P., which combined old and new styles. They performed at the site of the Old War Memorial Stadium for the Funfest organized by the Buffalo Federation of Neighborhood Centers.
In 2014, while celebrating his 50th year as a performer, Mr. Booth played the Tralf with Stanley Clarke and headlined Nietzsche's with Juini Booth's Super Drum 'n' Bass. He then celebrated in Los Angeles with a show at the Zebulon Cafe that was described as "an improvisational performance of cosmic proportions."
His sister, who welcomed her brother into her Arizona home during the winter for 15 or more years, said after his death, she was "overwhelmed by the outpouring of love."
She also said, "Juini didn't have a real religion, but he thinks he did. Juini's religion was the treble-clef bass."
On his LinkedIn page, Mr. Booth wrote: "After 50 years as a professional I'm still a work in progress."
Besides his sister, Mary Booth-Bowden, Mr. Booth is also survived by a son, Chad. He was predeceased by his older son, Masai.
A funeral will be held at noon July 22 in the Thomas T. Edwards Funeral Home, 995 Genesee St. Buffalo NY 14211
A planned tribute in Buffalo and another in St. Peter's jazz church in New York City are still being arranged.