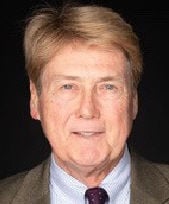 April 25, 2020 Lawrence (Larry) Sams was born and raised in Elma and Buffalo, New York. Inspired by his father's work as a Senior Inspector for US Customs, Larry followed in his footsteps, graduating from Daemen College with a degree in Government. He began his career in federal law enforcement in 1978 with the US Customs Service as a Patrol Officer in Rouses Point, New York. In 1983, he was promoted to Special Agent. Throughout his distinguished career, Larry investigated smuggling, drug trafficking, child pornography, white collar fraud, munitions export and internal affairs cases. From 1989 to 1992, he worked in the Strategic Investigation Division at Customs Headquarters in Washington, DC where he was responsible for assisting field agents in obtaining necessary military equipment and weapons for use in undercover operations. In his work he was responsible for exposing terrorist activities and other criminal enterprise involving the exportation of munitions and technology to enemies of the US government. In 2001, Larry was awarded the US Customs Service, Office of Internal Affairs, "Agent of the Year" award for his work in several internal investigations including, most notably, the recovery of stolen funds from the US Customs Service Buffalo Field Office evidence vault. From 2002 - 2004, he served as the Resident-Agent-in-Charge, Department of Homeland Security, Immigration and Customs Enforcement, Office of Professional Responsibility at JFK Airport. Larry retired from service in 2004. After his retirement, Larry continued his studies, graduating from Seton Hall University with a masters degree in Public Administration. He embraced many community-based activities, including serving on the Board of Directors of Crime Stoppers of WNY and president of Christ the King Senior Golf League, where he built many lasting friendships with several of its members whom he cherished. He was also a founding member of the St. Margaret's School, Class of 1964 alumni group, arranging monthly meetings with treasured friends. Most recently, he followed one of his lifelong interests of acting, working with the Frank Rossi Studio. He secured various roles in national commercials, and a lead role in a locally produced movie, "White Demise" which premiered in January of this year and in which his son, Christopher, also had a supporting role. He was also selected as an Extra for the film "Quiet Place 2." Larry's greatest love was for his family for whom he was its light and strength. He leaves behind his beloved wife of 21 years, Heather (Yannello) and his dearest children, Erinn (Valentine Stachowski, fiancé) and Christopher, all of Buffalo, NY. He was the loving son of the late Honor (Carroll) and Lawrence J. Sams, Sr., and cherished brother of Honor (William) Martin of Lockport, NY, Mary (John) Wideman of Akron, NY and Sheila (Edmund) Collum, of East Hampton, NY. He is also survived by many loving nieces and nephews, three grand nephews, a grand-niece and many cousins.
Obituaries Newsletter
Sign up to get the most recent local obituaries delivered to your inbox.