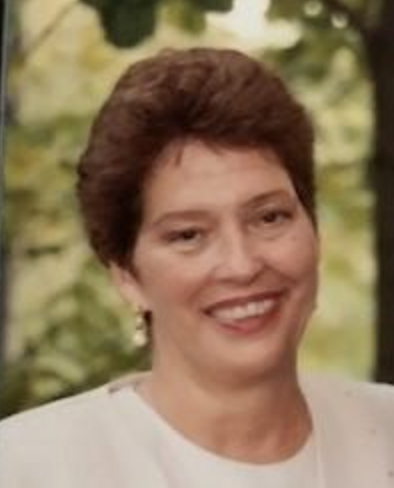 Aug. 5, 1935 – Nov. 8, 2021
When Franklin H. Fitch met Barbara Steinkirchner at a Catholic Youth Organization dance in 1954, he was immediately drawn to her.
"She was very good looking and had quite a sparkling personality," said Fitch, who four years later would become her husband, a bond that lasted 63 years. "Even then she was the life of the party," he said, and "the smartest woman I ever met."
Barbara A. Fitch, a Clarence resident, died in the GreenFields of Lancaster after a period of declining health. She was 86.
Mrs. Fitch worked as a public health nurse for Erie County for 18 years and a real estate agent for 15 years and was active in many community organizations.
She was born in Syracuse, the second of two daughters of Thomas P. and Loretta Dahm Steinkirchner. Her father was an accountant who moved the family to Rochester and then to Buffalo.
Mrs. Fitch graduated from St. Margaret's School and from Holy Angels Academy in 1953. At Holy Angels, she played basketball and participated in Sodality and the variety show for all four years. Her yearbook description included the information that she was "a wizard at math."
She earned a bachelor's degree in nursing from D'Youville College in 1957, graduating second in her class.
"She was brilliant," said her daughter, Kathleen M. Rumsey.
On June 21, 1958, the Fitches married in her family's church, St. Margaret's.
From 1957 to 1975, Mrs. Fitch worked as a public health nurse for Erie County, overseeing the cleft palate and rheumatic fever clinics.
"She enjoyed helping people, and she cared a lot for children," her daughter said.
Her children recalled occasionally accompanying her to work at Children's Hospital if she couldn't arrange care for them.
In 1975, Mrs. Fitch became an agent for Hunt Real Estate, a job she held until 1990. In that profession, she excelled because "she was a real people person," her husband said. "She enjoyed all the people that she met doing that work."
"She was very social and the life of the party," her daughter said.
The Fitches belonged to a group of friends who met for bridge and other card games.
Both the Fitches were active in community affairs. When he was president of the Jaycees in the mid-1960s, she was president of the Jayncees, the organization's women's group. She was a longtime member and past president of the Junior League of Buffalo and the Gyrettes, the women's group of the Buffalo Gyro Club, an international fraternal organization.
Mrs. Fitch was also active in the D'Youville College Alumni Association.
The Fitches, who moved to Elma in 1978 and lived there for 32 years, also had a house in Hobe Sound, Fla., for three decades. They moved to Clarence about 14 years ago.
Mrs. Fitch enjoyed playing tennis and was an avid golfer. She was a past member at Lost Lake Golf Club in Hobe Sound, Fla., Bridgewater Country Club in Fort Erie, Ont., and Fox Valley Country Club in Lancaster, where she once hit a hole in one. She did work at her golf game, but also benefited from innate talent, her family said.
Her family chuckled as they recalled her frequent saying, the simple words, "Uh, hello," which, depending on her tone, could mean different things. "She could use that in any number of circumstances, to get your attention, or it could mean that you were in a conversation with her and she questioned the point you were raising," her son Thomas P. Fitch said.
She is survived by her husband of 63 years, Franklin H. Fitch; three sons, Franklin L., Jeffrey T. and Thomas P. Fitch; a daughter, Kathleen M. Rumsey; her sister, Mary Frueh; nine grandchildren and two great-grandchildren.
A Mass of Christian Burial will be celebrated at 10:30 a.m. Friday, at Nativity of the Blessed Virgin Mary Church, 8500 Main St. at Harris Hill Road, Clarence.