Aug. 31, 1923 – Feb. 5, 2017
Annette Cravens, a lifelong supporter of the arts who contributed major collections of artifacts to the University at Buffalo, died Sunday in her Buffalo home. She was 93.
Born in Buffalo, the former Annette McGuire was the daughter of Dr. Edgar McGuire, a protege of Dr. Roswell Park and his successor as a professor of surgery and medicine at UB. She attended the Franklin School and was a graduate of the Masters School in Dobbs Ferry. She received a bachelor's degree from Sarah Lawrence College in 1945.
She taught at the East Side Settlement House in New York City before returning to Buffalo to start a nursery school in East Aurora. After raising a family, she earned a master's degree in social work from UB in 1968 and was a social worker at Children's Hospital.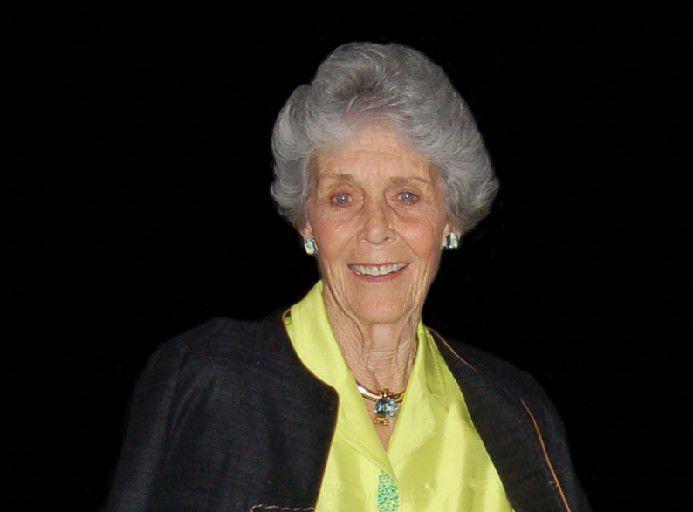 Mrs. Cravens nearly doubled the size of UB's collection of archaeological and ethnographic objects with a donation of 1,100 items, some dating back to 4,500 B.C., that she had acquired during 40 years of extensive traveling abroad. She also provided funding to make the collection accessible.
Many of the objects are on permanent display in "Cravens World: The Human Aesthetic," a special room at the UB Anderson Gallery that opened in 2010. Mrs. Cravens played in an active role in designing the exhibit, which allows visitors to view items from all angles.
The gallery also created facilities for study of the collection's archives and has displayed modern paintings, sculpture and prints from her personal collection.
Her philanthropy continues a family tradition begun by her step-father, Thomas B. Lockwood, who built the original Lockwood Library on UB's South Campus and donated his collection of rare books to the university.
Mrs. Cravens was a familiar face at local gallery and museum openings and performances at Torn Space Theater and Neglia Ballet well into her later years. She was well-known for her high standards and strongly held opinions about art.
Scott Propeack, associate director of the Burchfield Penney Art Center and longtime friend of Cravens, recalled asking her why she was so committed to seeing art she expected to dislike.
"Annette said, 'I may know in advance that I will not like something, but if I do not go out and see it, how can I be sure?'" Propeack wrote in a remembrance. "This was how she lived her life, as a participant in culture... she cared most when people were trying."
No dilettante, Mrs. Cravens was also a committed painter who applied the same harsh standards to her own work. One of her paintings from 1953, an abstract piece that carries echoes of her international travels, is in the collection of the Burchfield Penney Art Center.
Charles Clough, a co-founder of Hallwalls Contemporary Art Center, praised Cravens for supporting him and his fellow artists over many decades.
"Annette was one of only three collectors in western New York that I have known over the course of 45 years, who was an actual patron," Clough said. "Typically a collector will acquire a work or two by an artist and be pleased to say, 'I have this or that artist.' Patronage is an ongoing process that provides for an artist to continue working. This sustaining feature makes creation possible."
In 1984, Mrs. Cravens gave UB the original renderings of the Lockwood Library and helped establish a lecture series in the poetry collection in memory of her mother.
In honor of her father, she founded the Edgar R. McGuire Historical Medical Instrument Collection at UB, which contains more than 230 objects from the early Roman period to the late 19th century.
Her husband of 52 years, DuVal, an executive with Osmose Wood Preserving Co., died in 2001.
Survivors include a daughter, Constance; two sons, Philip and Curtis; and three grandchildren.
A service will be held in the spring.
Obituaries Newsletter
Sign up to get the most recent local obituaries delivered to your inbox.