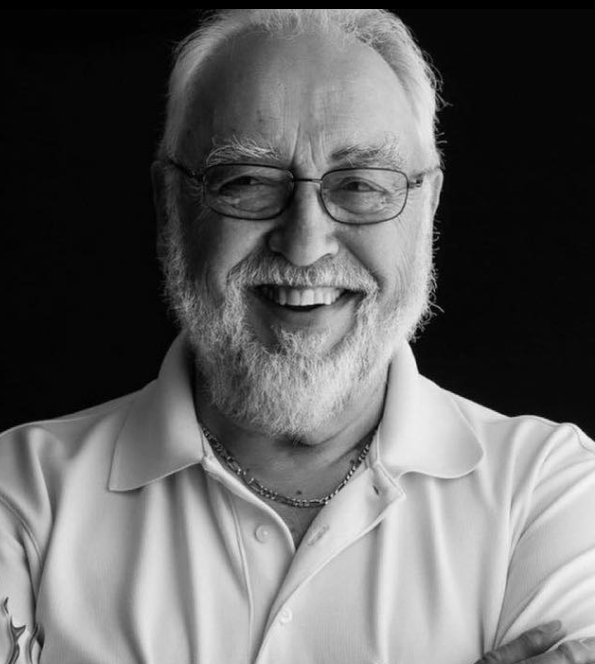 May 31, 1937 – June 2, 2021
For some 65 years, Alburn R. Sleeper designed and created graceful sterling silver, gold and copper jewelry and home decor. And all, while original, echoed and amplified the nature-inspired Arts and Crafts designs of East Aurora's Roycroft movement.
In a statement about his philosophy, Mr. Sleeper wrote, "I believe in the beauty of the Arts and Crafts Style. Its simplicity is and has been popular for decades. Pieces made in this style can be plain or complex and still retain their appeal."
His bracelets, necklaces, vases, frames and light switch plates were decorated with images from nature, including ginkgos, coneflowers, trillium, and the iconic Roycroft square Tudor rose and curved Dard Hunter rose. He was also known for his annual limited-edition collectible snowflake series.
The longtime East Aurora resident and retired industrial arts teacher died June 2 after a brief illness at Autumn View Health Care Facility in Hamburg. Known as "the Aurora silversmith," he was 84.
With Mr. Sleeper's death, "the Roycroft metal world lost a major link in the chain of knowledge," said a statement from the Roycrofters At Large Association, of which he was a founding member, past president, longtime board member and master craftsman.
As a teenager, Mr. Sleeper learned metalwork from Walter U. Jennings, an original Roycrofter who had worked with Elbert Hubbard as a coppersmith, silversmith and bookbinder.
Mr. Sleeper was the youngest of four children of Francis Bush and Merritt Sleeper. He grew up in South Wales and West Falls and graduated in 1955 from East Aurora High School, where he belonged to the National Honor Society, played junior varsity football and was a photographer for the yearbook.
He and Glenda Colebert, who were high school sweethearts, married on June 14, 1958, while they were undergraduates studying education at SUNY Buffalo State. They earned bachelor's degrees together in 1958 and Mr. Sleeper was hired by Newfane Central School as an industrial arts teacher.
He resigned in 1960 to take a job teaching industrial arts at Herbert Hoover Junior High School in the Kenmore-Town of Tonawanda school system, and he taught there and at Benjamin Franklin Junior High School for the rest of his career.
Mr. Sleeper also earned a master's degree in education from SUNY Buffalo State.
When he was 19, after seeing Mr. Jennings' metalwork in a local gift shop, Mr. Sleeper visited Mr. Jennings in his home studio. Mr. Jennings demonstrated the tools and techniques used to make the classic Roycroft square Tudor rose, then gave Mr. Sleeper a chasing hammer and advised him to make his own tools and practice. Mr. Sleeper was eager to do so, and returned to meet with Mr. Jennings many more times.
Two years after Mr. Jennings died in 1963, Mr. Sleeper offered his metalwork to Eve Strong, who accepted his pieces to sell in the Roycroft Gift Shop. They continued to be sold as the shop changed hands twice.
What started as a hobby became a second career.
After he retired from teaching in 1993, Mr. Sleeper and his wife traveled to art shows throughout the country, selling his pieces. He also taught classes and workshops and gave demonstrations of metalwork.
Mr. Sleeper served in the United States Air National Guard, based at the Niagara Falls Air Reserve Station. He was activated with the 914th Air Force Troop Carrier Command during the Cuban Missile Crisis in October 1962. As a captain and training officer in the 107th Tactical Fighter Group, he was activated again in January of 1968, in response to a North Korean threat. He served for more than 20 years and retired as a lieutenant colonel.
"He had a huge personality," his son Mark said. "He was a big man, and all of the tributes that I've read talk about his belly laugh and his kindness. He was a kind, gentle soul."
Mr. Sleeper served as a deacon and elder in several Presbyterian churches, sang with the Shrine Chanters and was a Mason. He and his wife sang in the South Wales and East Aurora Presbyterian Church choirs and the Master Chorale of Western New York. He also acted and sang with the Aurora Players.
A self-taught guitarist, Mr. Sleeper later learned to play the mandolin and five-string banjo, adding music to family and church gatherings, his family said. He eventually joined a bluegrass band that played at churches and retirement homes throughout Western New York.
Besides his son Mark, Mr. Sleeper is survived by his wife of 62 years, Glenda; another son, Robert; four grandchildren and three great-grandchildren.
A memorial service will be held at 10 a.m. Saturday at Wood Funeral Home, 784 Main St., East Aurora.