John Ruffino, a retired sales manager, visits the YMCA five or six days a week for strenuous workouts.
Bill Zach, a retired guidance counselor who has lived alone since his wife died four years ago, heads to the gym almost as often, to socialize at least as much as try to keep in shape.
The two are among thousands of fitness enthusiasts who missed their big-box gyms and exercise studios after they closed in March because of the novel coronavirus, and look to strike a balance between wellness and health security now that they have partially reopened in New York State.
"It's worse to stay home and let your body atrophy," said Ruffino, 66, of Williamsville.
Gym reopenings have confounded health departments across the globe, including in New York, where fitness business owners who thought they would be part of a phase four reopening in June had to wait until Aug. 24.
Most of those owners laid off workers and offered online classes to scrape through the five-month indoor fitness furlough. In many cases, they spent thousands of dollars to improve air circulation, revamp floor space to adjust to state-mandated occupancy and workout guidelines – then brace themselves to see how many people will show up to work out in a mask.
It won't been easy. The back-to-the-gym equation tends to differ for those with chronic conditions or loved ones who could slide into precarious health should they become infected with the virus that causes Covid-19.
A recent Washington Post-University of Maryland national poll found that 78% of those questioned think fitness establishments should remain closed.
"A gym is the worst of the worst" of businesses to get right during the pandemic, said Dr. Joseph Izzo, chief of medicine at Erie County Medical Center. "It's because you're dealing with people exerting themselves and spraying droplets. This concept of spread through aerosolization is real. It is a big deal."
For now, fitness centers and studios in New York must limit indoor capacity to 33%. All who enter must pass a temperature check and complete a health screening. Sign-in is required in case coronavirus contact tracing becomes necessary.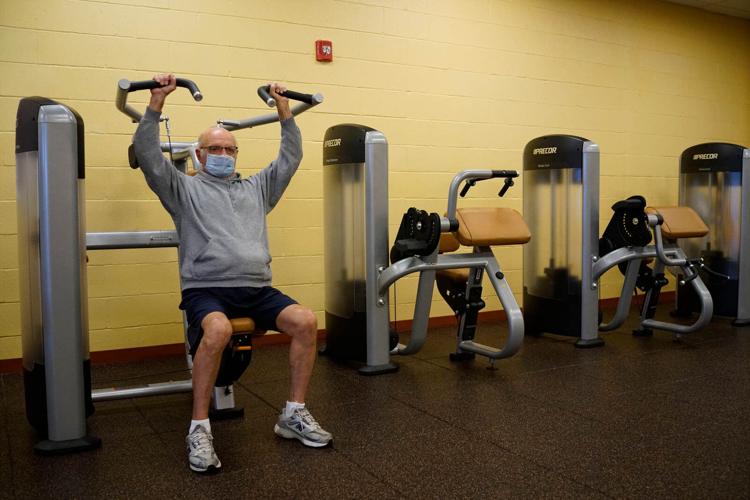 Masks or face shields are a must for patrons and staff, and need to cover both mouth and nose. People need to stay at least 6 feet apart. Fitness machines also must be placed that far away.
Signs must underline virus precautions. Cleaning protocols need to be followed and higher minimum air quality standards met.
"If it's not done right, it can be a problem and we've seen that," Gov. Andrew M. Cuomo said last month when announcing the partial reopening. "That's why we went slow on it. The gyms are going to say these are difficult guidelines. And they are."
The Town of Tonawanda Aquatics and Fitness Center was among fitness enterprises that closed, at least temporarily, after the standards were announced. Most facilities, large and small, soldier on. Here is how some of them will do so.
Most who want an indoor gym workout will have to schedule one but those who belong to the YMCA Buffalo Niagara can check out the Branch Capacity Dashboard to see if any of the six regional locations has room for them.
The dashboard so far has registered no more than 25% capacity at any branch. It has hovered at 15% or lower on many weekdays, which is just fine with Zach and Ruffino, who settled into their workouts Wednesday morning inside the Independent Health Family Branch YMCA in Amherst.
Pam Vetrano, branch wellness director, led a strength and conditioning class outside for a dozen members in the sprawling, almost empty parking lot that last year at the same time would have been at least half full.
Fewer than a dozen members used treadmills, recumbent bikes and other fitness equipment inside on the second-floor Wellness Center – which has room for 270 members – while Vetrano finished her class. Two people walked the indoor track nearby.
"We get a lot of people calling with a hundred questions and folks coming in the first time very nervous," said Greg Larson, executive director of the branch. "Once they get up here and see how we've distanced equipment, and the spray bottle availability and everything else we're doing, folks adhering to the mask guidelines feel pretty comfortable."
Zach, 78, who lost his wife, Jacqueline, to a severe infection four years ago, leaned on an abs machine as he chatted through a surgical mask to Karen Wiesmore, of Clarence, as she pushed weight on a forward press.
"I did not do one stitch of exercise before the gym reopened," said Wiesmore, of Clarence. "Now I'm here at least three mornings a week using the equipment and the treadmills. I feel better."
Zach, who has lived alone since his wife died, started riding a bike in the spring for the first time in 62 years. He met lots of people on rides through his Depew neighborhood, but dearly missed his friends at the Y.
"I do work out," he said, "but I come here to socialize."
The limited number of outdoor classes will move inside YMCA branches next week. Aquatics and Child Watch will start soon. Steam rooms, saunas and whirlpools will remain closed. Pickleball and basketball also are on hold.
Branch book, card and widows and widowers clubs have yet to resume, though Zach said some members of the latter club gathered outdoors for a few events this summer.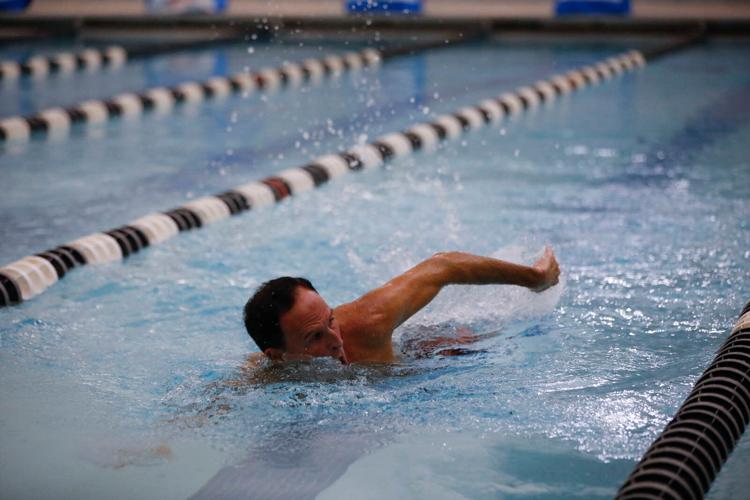 The pool is the lone place inside the branch where masks are not required. Reservations are a must for lap swimmers like Ruffino, a former University at Buffalo basketball player who spent his career with Polaroid and Coca-Cola. He used one lane Wednesday morning for the 45-minute limit after two hours of weight and cardio training in the Wellness Center.
Ruffino's wife, Carrie, died last year after a battle with stomach cancer. His sons, 31 and 34, moved in with him temporarily when the pandemic began. His dog, a 2-year-old black lab named Cupcake, also keeps him company.
The Y is keeping him strong.
"I was sitting home. I wasn't happy," said Ruffino, who battles a bit of arthritis and a torn left rotator cuff but is otherwise healthy. "When I work out, I feel 100% better and I feel healthier. It's more important to go get exercise and keep your body in shape, because then your body can fight off viruses, instead of staying home and feeling lousy."
Erika Brason, owner of Rebel Ride Indoor Cycling and Strength in Clarence, is among small studio owners who decided to start fitness and cycling classes in her parking lot when the state gave the go-ahead in July.
"After being cooped up for so long, with the gyms still not open, our members were so ready to come out to these classes," said Brason, a former television news anchor who opened her studio in fall 2017. "We've all just felt so much more normal."
Brason survived the pause by renting or selling most of her 40 3-year-old bikes, with the understanding that people who bought them also would pay for on-demand video or live streaming classes the studio started online.
Keith and Jennifer Schulefand, of Williamsville, left LA Fitness, three miles south on Transit Road, when Rebel Ride opened. They were taking up to five classes a week by the time the studio closed on March 16.
They soon got bikes for home and started the virtual rides, which helped some.
"When they pulled the bikes outside, the first time I came and saw the Sunday crew, I got tears in my eyes," said Jennifer Schulefand, a financial consultant.
Brason bought more bikes and borrowed others from a Rochester woman who was about to open her own studio as the New York pause began. The outdoor classes bolstered Brason's bottom line but only feature 19 bikes, compared to 37 lined up snuggly in the indoor cycling theater before the pandemic struck.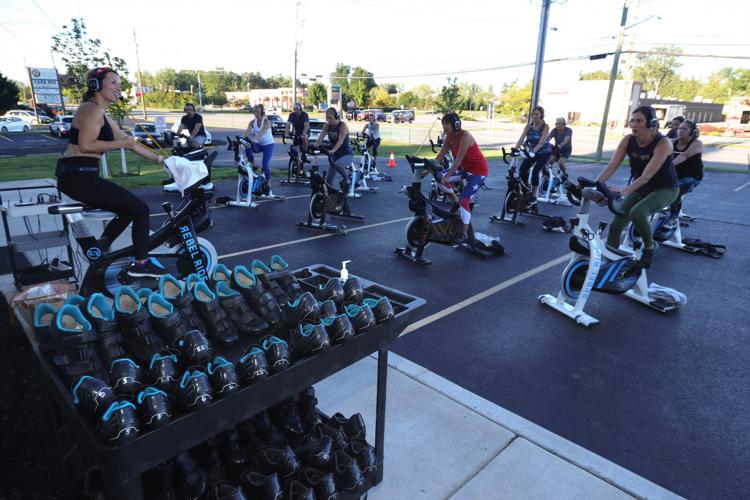 She and her instructors remain unwilling to offer indoor classes at one-third capacity and require those intensely exercising to wear masks.
"It's not like going into Wegmans," Brason said.
She plans to look into renting a canopy and heaters to keep outdoor classes going as long as conditions allow.
Alexandra Saia Leo, owner of BikeorBar in the Elmwood Village, doesn't have that option. Those who attend cycling, rowing, barre, boot camp and TRX resistance band classes, or combination sessions, must park on nearby streets. The grassy patch behind her 8½-year-old business is too small for outdoor classes.
"It's definitely a learning curve," Saia Leo said.
She laid off 19 fellow instructors, spent $5,000 on air filtration and other upgrades and, like many other fitness studio owners, took advantage of federal loans. She offers online classes and sold or rented bikes.
BikeorBar Facebook posts take a lighthearted approach to the pandemic, with an underlying message that it, too, shall pass. Meanwhile, Saia Leo worries about the mental and physical toll the coronavirus isolation exacts.
"The more you're on social media and the more you are away from people, I don't see that as a good thing," she said.
She looks to reopen in coming days – flinging open large doors and windows in her 2,400 square feet of studio space as the weather allows – after the Erie County Department of Health inspects BikeorBar.
Fitness trades can open as long as they request an inspection and affirm in writing to the state they will follow reopening guidelines.
Public health sanitarians have received 315 related requests and completed 69 inspections as of Thursday, department spokesperson Kara Kane said. Fifty-two initial inspections were satisfactory and all but seven so far made changes to comply at re-inspection. 
Owners of several boutique studios have promising news for those yet to open.
"People coming in are so grateful to be with their friends again," said Gail Nowak, who offers weight training, cardio, Pilates, yoga and cycling classes in her 6-year-old Revolution Fitness and Training in Lockport. "They're finding that it's really not that bad wearing a mask once you get busy. After a while, you don't even recognize that it's on."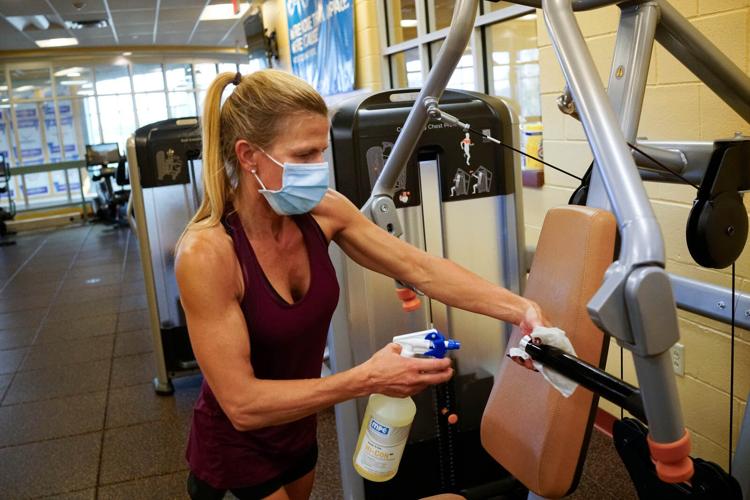 Like the YMCA and others, Revolution shortened in-person class lengths. It also offers online options for roughly half its members still uncomfortable returning to the boutique studio.
Some fitness industry experts predict one-third of related businesses could close in the wake of Covid-19. Others believe that an economic sector that saw robust growth during the last half-decade will continue on that path after the pandemic.
Analysts told Fortune magazine in June that Planet Fitness stock rebounded after 80% of members said they were likely to keep their memberships. Still, those forecasters said that people who got used to working out online at home are likely to continue to do so at least part of the time.
That is the good news. The reality is that many smaller gyms operated on a financial shoestring before the pandemic.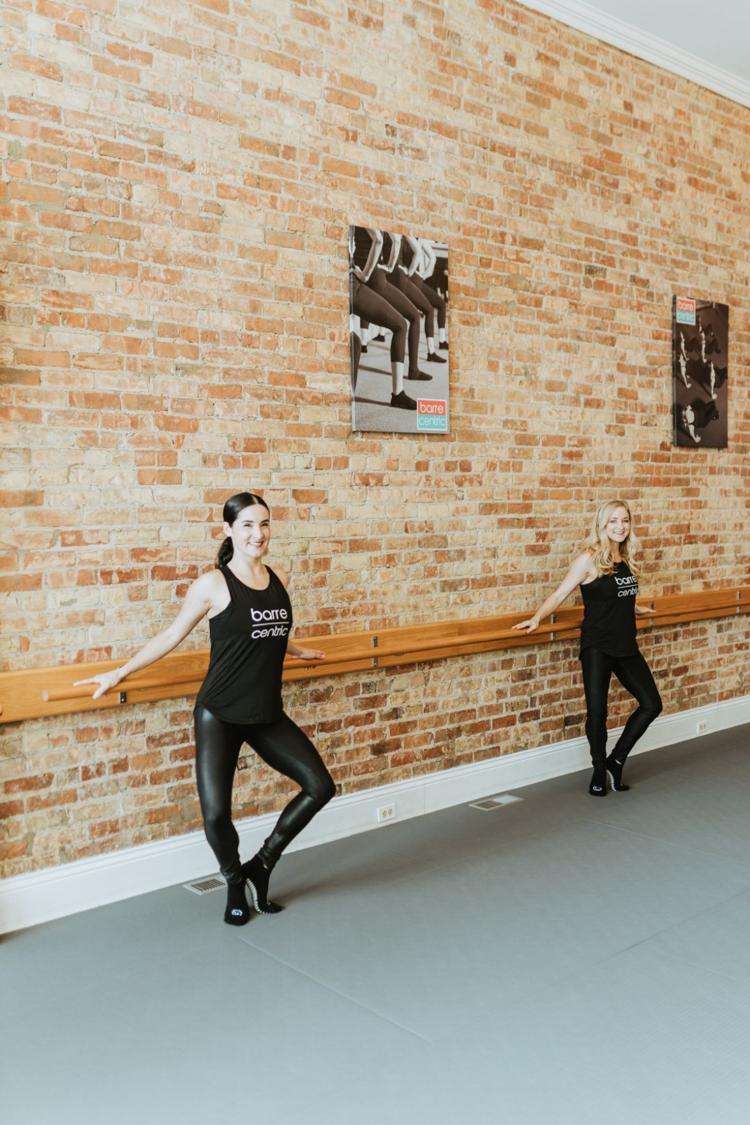 The rebound didn't come fast enough for Rachael Jarosz and Giavana de Zitter, who closed their downtown Buffalo Barre Centric studio – one of three they operate – last month when the lease expired.
Studios in Clarence and East Aurora remain open and have resumed indoor classes.
"It's a very, very tricky business model right now," Jarosz said. "When we leased this location, we never thought, 'We have to have everyone 6 feet apart.' "
Like others, Jarosz and de Zitter conduct live classes online – even serving former members that moved out of state – and found other ways to keep afloat as the pause dragged far longer than they first expected. They bought a trailer that can carry small trampolines, ballet barres and other equipment, and booked backyard pop-up birthday and bachelorette party classes they plan to continue.
"People coming back to the studios now are obviously understanding of the new guidelines," Jarosz said. "They're able to work out comfortably in a mask inside. Some of our members who have underlying health conditions or live with people who do are not coming back yet. They're trying to be extra cautious."
The owners hope to one day reopen a site near downtown after more stay-at-home workers return to their offices and school life becomes more predictable for parents and guardians who can slip away for a workout. This time, they may look to share space with another fitness studio owner looking to shore up expenses.
They will see the pandemic is a frame of reference for future decision-making, Jarosz said.
"The timing has to be right," she said. "This is a new business model. Between the bodies in the studio and between the virtual studio memberships, I feel like we're in a good place to get this business back up and running."