He remembers the gun one of the agents placed to his head. She remembers the red dots – from the laser sights – swirling across her torso.
Tension was in the air inside a Hamlin Park bungalow when DEA agents burst through the front door before dawn a year ago. They rousted Gertetta Green-Page and her grandson, Ka'Sean Anthony, from their bedrooms and told them to keep their hands in the air, the two remembered.
Then their wrists were zip tied behind their backs, and they were ordered to sit still as the agents rummaged the house in their search for illegal drugs.  
At one point, Anthony said, the agents asked if he knew why they were there. He did not, he said. They showed him their search warrant.
Signed by an Erie County Court judge, it authorized the agents to search the lower apartment at 43 Schauf Ave., which is near Buffalo's Northland Training Center. But the warrant was focused on a man named Guy Burt.
Anthony said he did not know a Guy Burt. The agents, he said, didn't seem to believe him.
"I think they thought I was trying to be smart," Anthony said.
When the agents were done, however, they had found no cocaine, or drug paraphernalia, nor "proceeds from illicit drug trafficking," which the warrant would have let them seize. 
Grandmother and grandson were not charged. The zip ties were cut off. There were no apologies, both said.
Instead, one of the agents loudly lamented that they should have brought a drug-sniffing dog, Green-Page said.
The dozen or so law-enforcement officials wore garb indicating they were with the Drug Enforcement Administration, Anthony said. The DEA said it had no comment on the matter because of an "ongoing criminal investigation."
Green-Page and Anthony said they never heard another word from a law enforcement agency. They think they might have heard apologies if they were white.  
"There should be some type of justice," Anthony said.
"Black lives do matter," said his grandmother.
Anthony, 20, has the thick shoulders and strong legs of a football player, which he was just a couple of years ago, during his playing days at Cheektowaga High School. He said he is now laid off from the Tesla plant at RiverBend, because of the pandemic. The zip tie left a burn mark still visible on his right wrist.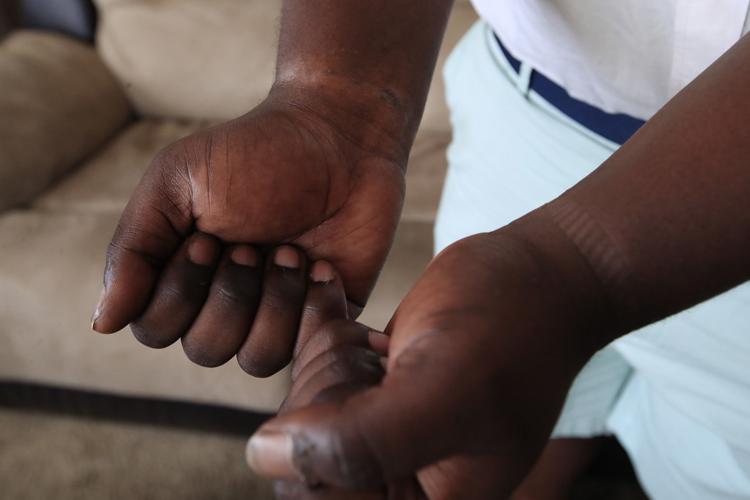 His grandmother, 55, speaks slowly, with a gentle manner. To her, it was physically difficult to maintain the awkward posture needed to sit with her wrists bound tightly behind her back, and she needed help getting up so the zip tie could be cut away.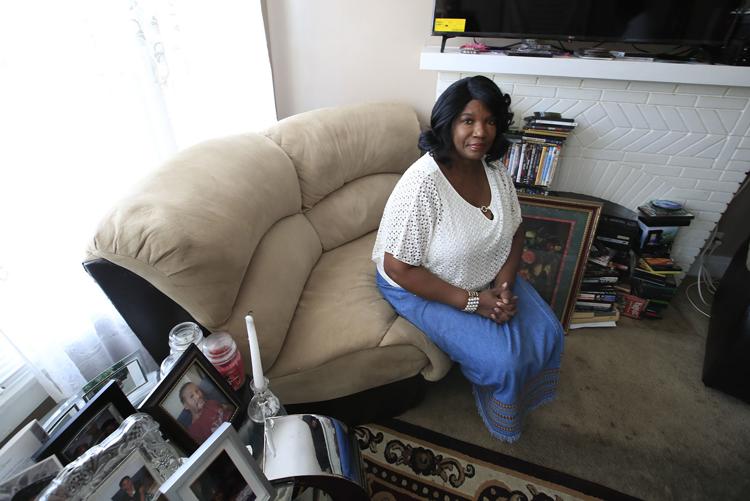 When police and federal agents raid residences, they don't always get it right. Buffalo police in 2008 used a battering ram to force their way into a West Side apartment, and threatened a family of eight with firearms, one of the family members, Schavon Pennyamon, said at the time. The police retreated when they realized they were to search the upstairs apartment, she said. A police official acknowledged the mistake in 2008 and chalked it up to the high volume of warrants the police were executing.
In 2013, Buffalo police burst into the West Side apartment of Adam Arroyo, an Iraq war veteran, and shot his pit bull, named Cindy, when Arroyo was not home. Arroyo alleged in a lawsuit that police raided the wrong upstairs apartment in the home on Breckenridge Street and were wrong to shoot his dog. Lawyers continue to haggle over the matter in federal court.
In 2011, federal agents battered in the back door of a Buffalo home. They accused a resident there of downloading child pornography and seized his computer. Agents returned the computer three days later, after realizing the pornographic images had been downloaded by a neighbor using the man's WiFi.
The homeowner told The Buffalo News at the time that no matter what he said, the agents, who had ICE emblazoned on their clothing, were convinced he was downloading child porn.
"For 90 minutes they treated me like there was absolutely no question or doubt that I was guilty," he said, on the condition that his name not be used.
Did the authorities wrongly raid the home of Gertetta Green-Page? Lawyers from the Hogan-Willig firm, who have filed a lawsuit on behalf of her and her grandson, obtained the search warrant. Signed by Erie County Court Judge Kenneth Case, it allowed a search of the lower apartment at 43 Schauf, Green-Page's residence.
But the warrant mentions neither Green-Page nor Anthony. The target was Burt, 36 at the time. Burt, also known as Lamar, was known to authorities. In 2014, he was sentenced to 18 months in prison after pleading guilty in federal court to a cocaine-distribution charge. Drug-related convictions sent him to state prison, too, and he was released just months before the raid, state records show.
Green-Page, who has lived in the apartment since 2013, and her grandson say they do not know Burt. The warrant also let the authorities search a white Cadillac Escalade registered to a woman named Tamara Burnett, whose residence was blocks away. Both the grandmother and grandson say they have never met Burnett, either.
When asked for the affidavit that laid out the need for a search warrant, the DEA referred The Buffalo News to the Erie County District Attorney's Office. The newspaper's Freedom of Information Law request for the affidavit is now pending with the district attorney's staff.
The warrant let the authorities enter the lower apartment "without giving notice of authority and purpose." Such "no-knock" warrants are under public scrutiny as the Black Lives Matter movement and public activists protest heavy-handed police tactics. Louisville has banned no-knock warrants after a resident there, Breonna Taylor, was killed during a police raid.
While no-knock warrants can surprise suspects, the officers typically enter with weapons drawn, barking orders and frightening anyone inside. Green-Page said she now needs sleeping pills to get through the night, and her grandson said he, too, takes medications to deal with the stress he still feels and his inability to sleep. He no longer lives with his grandmother.
"I think a ban on no-knock warrants is an excellent idea, ideally I think as part of a more comprehensive look at searches," said Sam Magavern, a senior policy analyst at the nonprofit Partnership for the Public Good, which has been studying and presenting proposals to change police practices.
"No-knock warrants are certainly a problem nationwide, and they seem to be a problem in Buffalo as well,'' he said, "but they are definitely part of this broader issue of the militarization of police and the use of SWAT teams and the explosive growth in search and seizure operations in general."
In addition to Louisville, Oregon, Florida and Utah have bans or limits on no-knock warrants. Magavern acknowledged that if local efforts succeed in freezing the use of no-knocks in and around Buffalo, the restrictions cannot be imposed on the federal law enforcement agencies that operate here. But he said just freezing their use by the Buffalo police "would be worthwhile."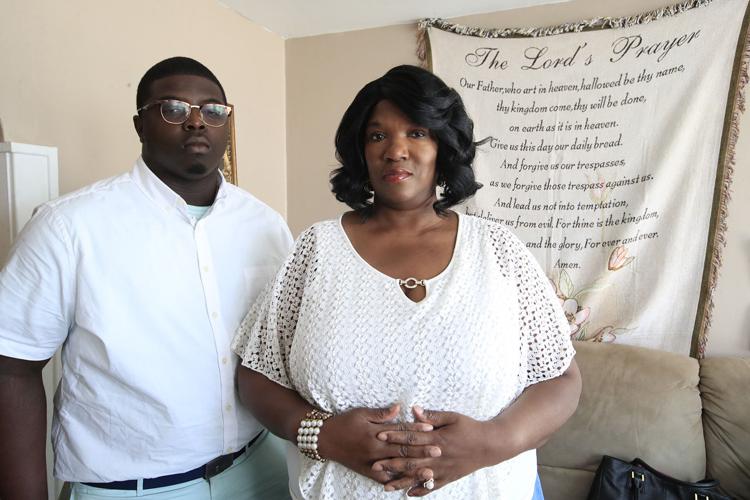 The lawsuit names as defendants the Buffalo Police Department and the Erie County Sheriff's Office, among others. But Hogan-Willig attorney William A. Lorenz Jr. says lawyers for both the city and county say their law enforcement personnel were not present during the raid.
The suit also names the FBI and the DEA, but Anthony said the only agency he saw represented, based on the clothing worn, was the DEA.
The search warrant was based on an affidavit by an Erie County deputy, Paul McMahon. Court documents in other cases describe McMahon as a member of Buffalo's DEA Task Force.
The lawsuit was filed in State Supreme Court but most likely will move to federal court because it names federal agencies as defendants.
Be the first to know
Get local news delivered to your inbox!