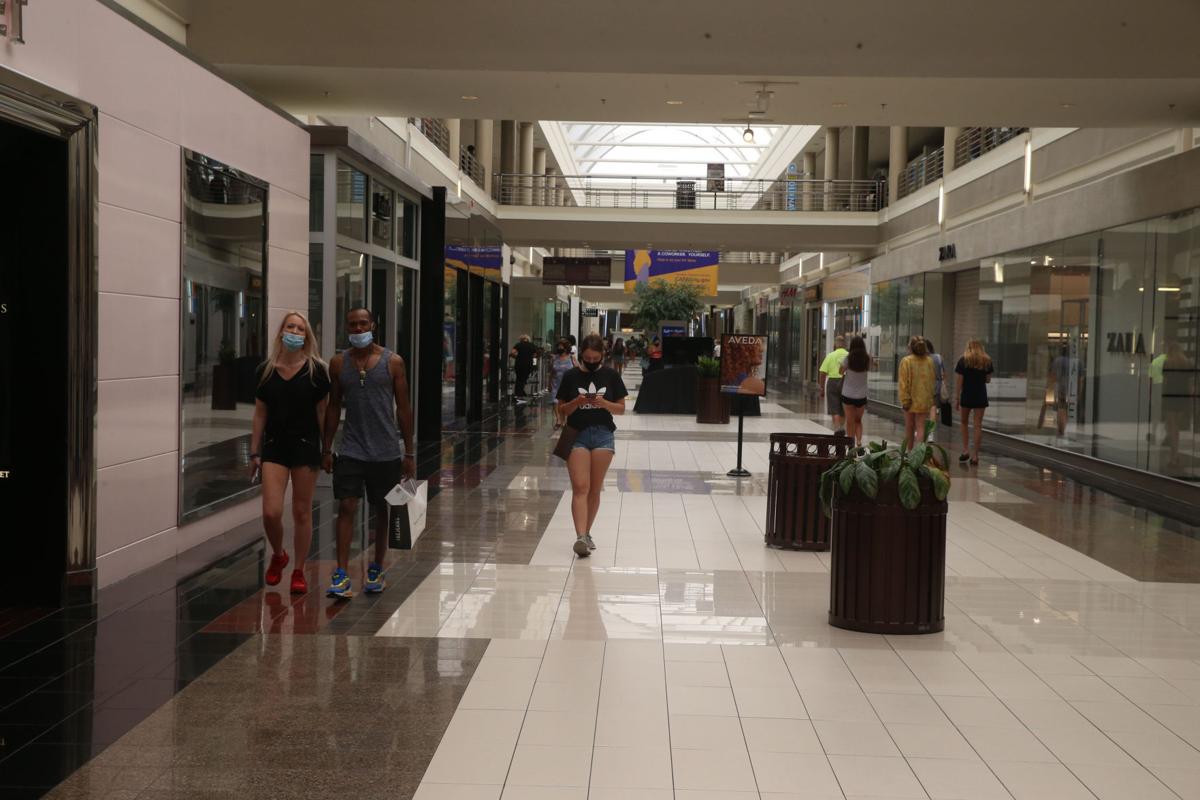 Rebecca Pinzel was eager for the Walden Galleria to reopen.
"I've been itching to shop," she said.
So it was no surprise to find Pinzel on Friday among the flock of early birds inside the Cheektowaga mall, along with her boyfriend, Kevin Felder. 
Pinzel had already picked up some clothes at American Eagle. Felder bought a tripod for shooting videos.
While Pinzel loves shopping, Felder had a different motivation for visiting the mall the first day it reopened.
"I wanted to feel the energy of everybody's excitement," he said.
The state allowed indoor malls in regions that have reached phase four of their reopening during Covid-19 to welcome back shoppers Friday, with upgraded air filtration systems. Mall stores with their own exterior entrances were already permitted to operate.
With temperatures hitting the 90s, it was a good day to stroll through an air conditioned mall. Customer traffic was light just after the mall opened its doors, but was increasing toward lunchtime. Mask-wearing shoppers discovered some changes since they last walked these corridors in late March.
The floors feature decals directing shoppers to follow one-way routes on opposite sides of the mall. The massage chairs were blocked off by tape. Signs reminding customers about six feet of separation were everywhere, including on the escalators. 
But there were also touches of the familiar: stylishly dressed mannequins in window displays, Rod Stewart and David Bowie songs flowing from the sound system, an announcement for a driver to move a car in the parking lot.
Many Walden Galleria stores had not yet reopened, but more were set to reopen over the next few days. Gov. Andrew Cuomo just gave the green light about malls on Wednesday, so some stores were still getting ready.
Indoor malls and their tenants were under competitive and financial pressure even before the Covid-19 pandemic forced them to temporarily close. Now they face a new challenge: getting customers back in the habit of coming inside to shop after more than three months on the retail sidelines. Some attractions that might help draw customers, such as the Regal Cinemas at the Galleria, aren't allowed to reopen yet.
The Boulevard Mall and Fashion Outlets of Niagara Falls also reopened on Friday, while the Eastern Hills Mall is set to reopen next week.
Bobby Hamilton came to the Galleria on a mission. He had been trying to buy a device called Atomic Cool, but hadn't been able to find it in other stores. It occurred him to that the As Seen on TV store might have it, so he showed up early at its Galleria location and bought one.
"I was the first one there," he said. 
A store employee told Hamilton it was one of two of the devices in stock. He also stopped at another store to get his phone serviced to round out his trip.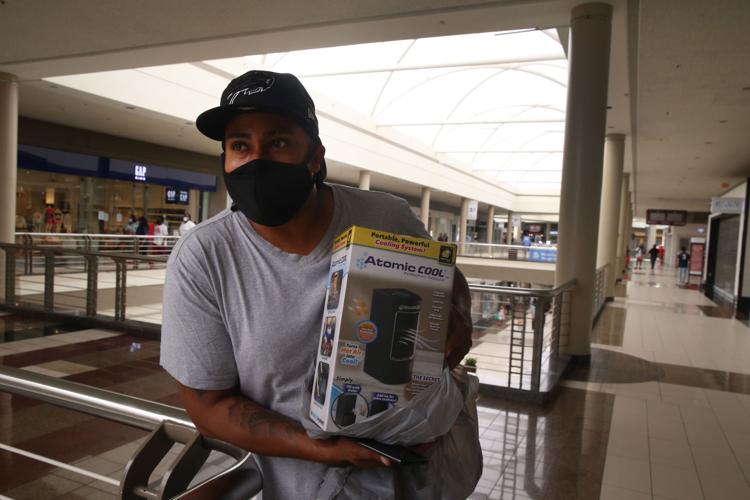 Keivon Harris and his friends were glad just to be back in the mall. They had stopped at Burger King for some food, but couldn't sit down in the food court to eat it. Mall officials said they were required by the state to remove seating from the food court and the surrounding common area. 
The young friends rattled off names of stores they had missed visiting. They've settled for online shopping instead.
"That's annoying," said Monika Tatum. "It's a hassle." She said she would rather decide what to buy in person and get it the same day.
Andrew Green and Fred Doug were wondering what kind of crowds they would have to contend with on the first day of reopening. "I thought it would be mobbed," Doug said. But there was still plenty of space to roam.
Green had been waiting for months to exchange a pair of shoes, and he was able to do that. Doug was surprised to find some of the stores he wanted to visit weren't open yet.
"Overall it was great coming back," Green said. "Things seem back to normal."
And they came away with some fast food.
"I've actually been craving Charley's for the past few months, too" Green said.
Laux was finally able to roll up the gate on its sporting goods store and greet customers. Interior mall stores had been expecting to reopen during the second phase, so they have had a long wait. Laux has also had to cope with youth sports leagues not holding their seasons, usually another source of business.
Store manager Jeff Bielecki was glad to see shoppers returning.
"I didn't think it would be that busy today, but I'm surprised," he said. "A lot of people are coming in."
Concerned about COVID-19?
Sign up now to get the most recent coronavirus headlines and other important local and national news sent to your email inbox daily.