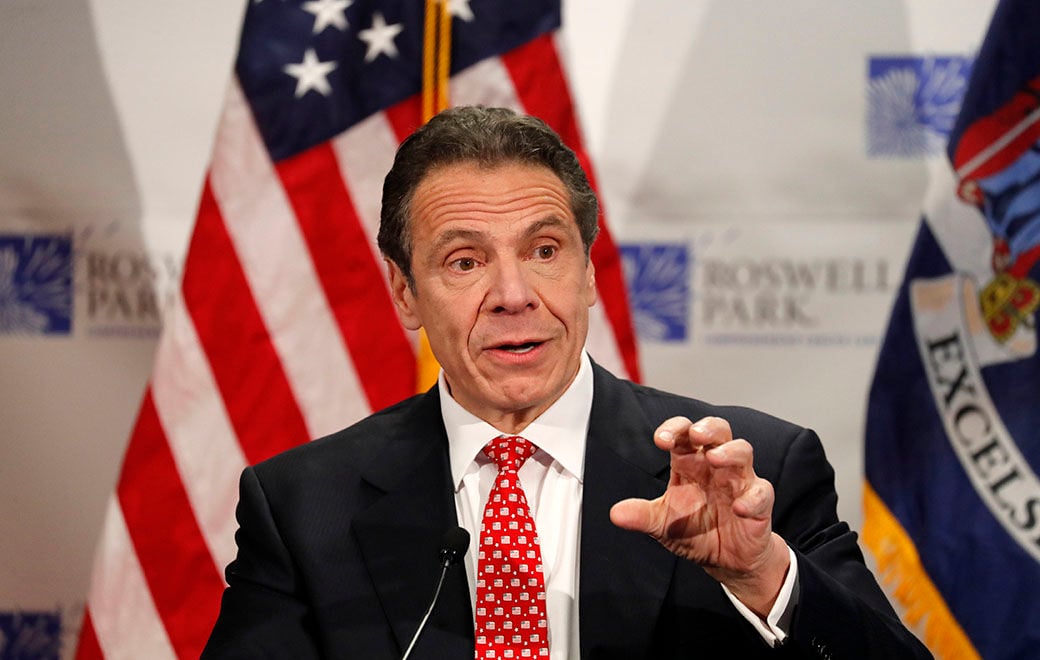 ALBANY – Since scandal after scandal began engulfing Gov. Andrew M. Cuomo this year, he's taken a new approach in an attempt to keep his face and words flowing directly to New Yorkers on terms and subject matters that he dictates.
It's like a Rose Garden strategy, but with a twist.
Lawmakers gave the governor extraordinary powers last March, but with the sexual harassment and nursing home scandals well underway, Democrats this week agreed to take back some of the historic authority.
Unlike presidents over the years who use the White House as a shield during political troubles, the governor, facing calls to resign from more than half the state Legislature, is still getting out of the Executive Mansion in Albany, as he did Friday in Buffalo.
But now, Cuomo regularly holds events throughout the state that do something remarkable in the modern history of New York governors: he bans news reporters from attending.
His stop at the Northland Workforce Training Center in Buffalo on Friday to tout new legislation that will broaden low-cost internet access across the state was the latest example. While supporters of the governor attended in person, reporters were asked to view it online and call in for a limited question-and-answer session. It followed an earlier stop this week at a Hudson Valley hard cider farm. And he has barred reporters from attending other recent stops at vaccination centers at Belmont Racetrack, the Javits Center convention hall in Manhattan and a Baptist church in Westchester County.
The legislative blows to Cuomo are coming from major and rank-and-file Democrats in the Senate and Assembly.
Hank Sheinkopf, a longtime Democratic Party strategist and crisis communications expert , said Cuomo's "cocoon" strategy is one politicians have long used when scandals erupt.
"Good crisis management means you control the settings, you control the discussion, you control the participation," said Sheinkopf, who has worked on major campaigns from Bill Clinton to Cuomo. "It's about control, and when you lose control of any crisis you can't recover in many cases."
Reporters on Cuomo's email list who are sent his daily advisory have encountered two words on many scheduled events in recent months: "closed press."
Cuomo halted in-person news conferences December 9, citing rising Covid-19 cases and new federal pandemic guidance.
That is in stark contrast to the height of the pandemic last year when Cuomo used regular, in-person press briefings to boost his national image. Those events, often carried live on television networks, earned him an Emmy award and a multi-million dollar book deal, the terms of which he has declined to reveal, which led to another investigation of the Democratic governor.
From downstate to Buffalo, Democrats took to emails, Twitter and phone calls to criticize the administration for its handling of the pandemic in nursing homes.
The briefings last spring were done in-person by Cuomo, with reporters in the room – mostly at the state Capitol as Covid-19 spread throughout the state.
In December, Cuomo's in-person briefings stopped. He turned to Zoom or telephone conferences, all of which run the same way: He speaks for generally more than 30 minutes, and then takes three to four questions from selected reporters, rarely from journalists who cover him on a daily basis. Typically, reporters can't ask a follow-up.
'The most bellicose' of all
Cuomo said the Albany press corps, otherwise known as the Capitol-based Legislative Correspondents Association, which includes outlets from across the state, is "the most bellicose" of all.
During his in-person briefings last year, Cuomo said he got hundreds of emails and calls from viewers "struck by the hostility of the questions." They railed, he wrote, about the "disrespect" shown him by reporters.
Then the scandals began mounting. Women, including current people on his staff, have leveled various sexual harassment allegations against him. He denies them. He was accused by state Attorney General Letitia James of undercounting the number of nursing home residents who have died from Covid-19, and is still facing questions over a March 25 order that nursing homes admit Covid-19-positive patients from hospitals.
All those, and others, are being examined in whole or in part by investigators for James, the Assembly Judiciary Committee and federal prosecutors and the FBI.
Meanwhile, Cuomo has been busy flying around the state. He goes to mass vaccine sites or gatherings with community leaders, where he makes an announcement. Press advisories announcing the events for months said reporters are being barred entry because of Covid-19. But, each feature people on a stage or around the microphone with Cuomo, as well as staff and an unknown number of audience members.
Cuomo's press shop this week dropped the line about Covid-19 being the reason reporters are not allowed into the events. A single event can involve dozens of people to plan, and costs taxpayers considerable amounts in staff time and travel costs for the governor and advisors. On Friday, for instance, he fired up the state plane to get him to Buffalo. He also has a helicopter at his disposal, which he took to an event on Long Island recently.
That the governor is trying to re-shape the narrative about him through some form of media control is a well-worn tactic by politicians in trouble.
"The governor is in a tough spot," said Risa Heller, a crisis control expert who runs a New York City communications firm who notes that Cuomo has the swirl of scandal around him while having to run the state during a pandemic.
"He has to put his scandals or investigations into a box and continue to run the state, or give the appearance of running the state," said Heller, whose past government jobs included top communications posts with U.S. Senator Charles Schumer and former Gov. David Paterson.
What most New Yorkers end up seeing are images and TV footage of a busy Cuomo making Covid-19 announcements or meeting with vaccination officials or community leaders or business executives trying to rebuild the economy.
"If you look at the images (of Cuomo) they look like ones that any normal New Yorker will see and say, 'Well, the governor is working.' They're not attuned to the fact, and don't care, that the reporters covering him day to day are not being given an opportunity to ask questions," Heller said.
Following the formula in Buffalo
The Friday event streamed live from the Northland Workforce Training Center in Buffalo had the same format as others Cuomo has been regularly holding for a couple months. His guests at the Cuomo head table to discuss a new expanded internet broadband program were two politicians: Assembly Majority Leader Crystal Peoples-Stokes, a Buffalo Democrat, and Buffalo Mayor Byron Brown.
Peoples-Stokes is the sole person of the Western New York Democratic delegation in Albany not to have called in recent weeks for Cuomo to resign. Brown is a former Cuomo handpicked state Democratic Party chairman.
"I trust Governor Cuomo's leadership," Brown said Friday during the event. Those comments were similar to others made by supporters during Cuomo's 'closed press' events across the state.
The other Cuomo guests were former Google CEO Eric Schmidt and former Infor CEO Charles Phillips; both were on a Cuomo internet advisory panel.
The one twist Cuomo took Friday with his Buffalo event was to hold a Zoom news conference immediately after the main event ended. Like other video conferencing gatherings Cuomo hosts, he dictates who asks the questions. He took questions from six reporters: One from a Buffalo News reporter and five from television reporters scattered around the state.