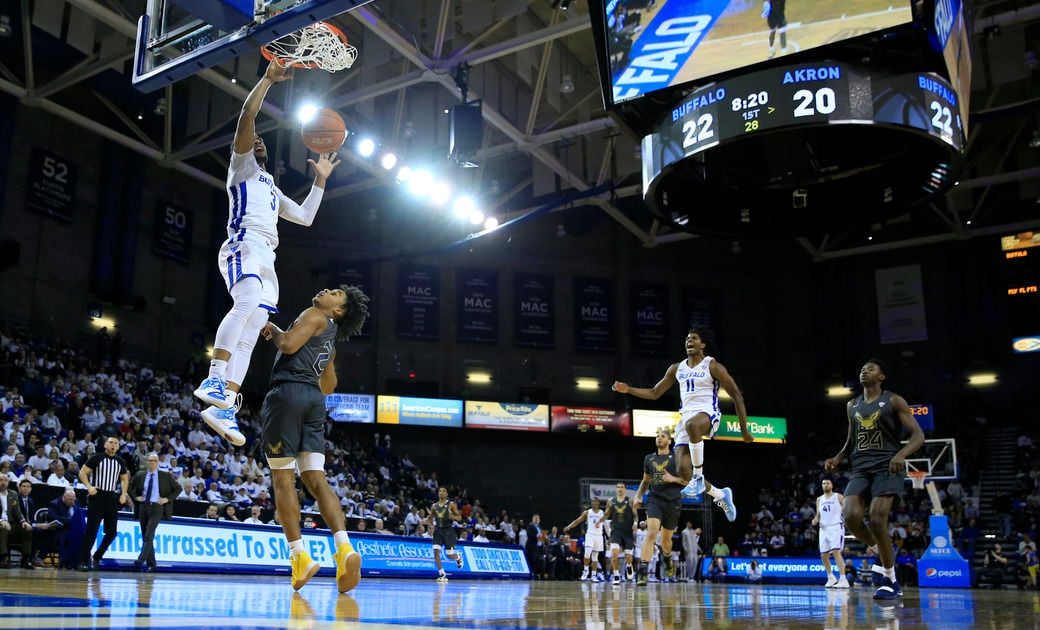 The start of offseason workouts has been delayed for the University at Buffalo men's basketball team.
A UB athletic spokesperson confirmed Tuesday to The News that the men's basketball program has not determined a report date for its players, many of whom live out of state.
"We are monitoring quarantine states and right now, we feel it's in the best interest of our players to remain home, than come here and quarantine for two weeks," the spokesperson told The News in a text message.
Individuals who travel to New York from 31 states where Covid-19 is spreading at a rapid pace must self-quarantine for 14 days, as a means to limit the spread of the virus. Currently, the number of positive Covid-19 tests in New York continues to drop, according the state department of health. However, other parts of the country, including those where some of UB's basketball players have lived since the school moved to online learning in March, have seen Covid-19 cases spike in the last month.
New York announced Tuesday that 10 new states have been added to the state's travel advisory list: Alaska, Delaware, Indiana, Maryland, Missouri, Montana, Nebraska, North Dakota, Virginia and Washington.
The addition of 10 states increases the state's travel advisory list to 31, which also includes Alabama, Arkansas, Arizona, California, Florida, Georgia, Iowa, Idaho, Kansas, Louisiana, Mississippi, North Carolina, New Mexico, Nevada, Ohio, Oklahoma, South Carolina, Tennessee, Texas, Utah and Wisconsin.
Of UB's 12 returning men's basketball players, six are from states that are on the New York travel advisory list, as well as an incoming freshman from Louisiana and a transfer from Florida.
Earlier this month, UB athletic director Mark Alnutt told local reporters on a Zoom conference call that men's and women's basketball players would begin returning to campus Monday. He was asked about the possibility of having to quarantine athletes who return from out of state, and said UB was arranging temporary housing for athletes who have to quarantine, as well as additional services such as meals and medical attention.
UB confirmed that the majority of the women's basketball team has returned to campus for offseason workouts, except for four international students.
St. Bonaventure was scheduled to return its men's basketball players to campus July 18-19, and its women's basketball players Saturday. The Metro Atlantic Athletic Conference announced last week that it will not allow campus access to basketball players until the full student body returns to campus, which impacts basketball players at Niagara and Canisius.
Concerned about COVID-19?
Sign up now to get the most recent coronavirus headlines and other important local and national news sent to your email inbox daily.