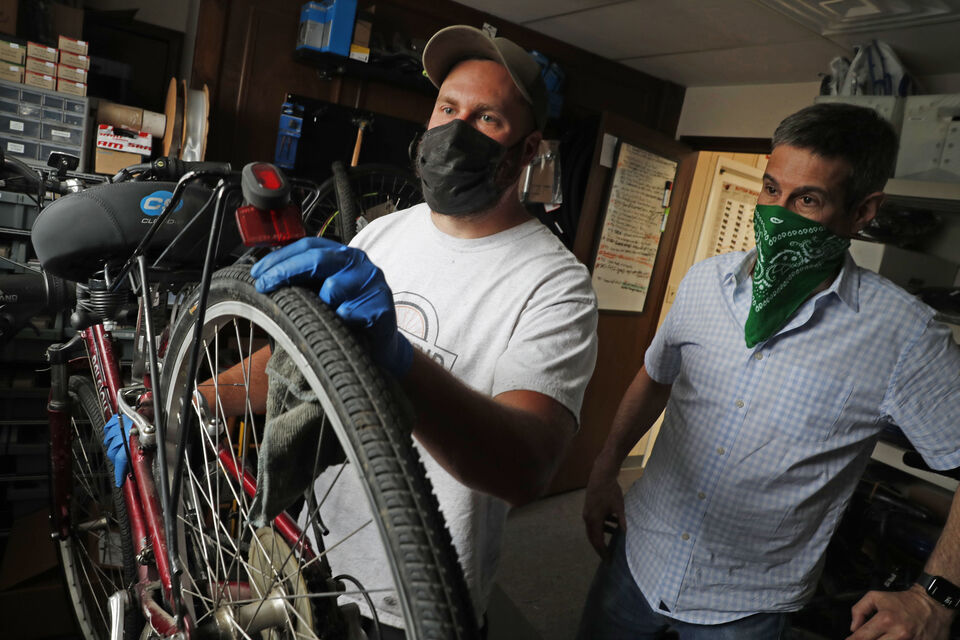 Ted Cincotti tries to manage customers' expectations as soon as they walk through the door at Kickstand Culture, a bicycle shop in East Aurora.
He lets them know that the single bike on the showroom floor is the only one he has. If they have a bike of their own that can't be repaired without new parts, he lets them know he can't help them.
"I'm telling them right up front, 'Your bike needs 26-inch inner tubes. There's nothing we can do to help you," Cincotti said. Otherwise, "They could be waiting for months."
It's not just toilet paper and hand sanitizer that are sometimes impossible to find.
Coronavirus has knocked supply chains out of whack around the world. Factories closed for months reopened to reduced capacity and halved staffing levels. Quarantined consumers sat at home, many with an extra $600 in unemployment money in their pockets, looking for ways to pass the time in isolation with their families.
That perfect storm has led to an unprecedented, global mismatch between supply and demand for consumer goods. Customers are seeing widespread out-of-stocks, the likes of which haven't been experienced for generations.
Good luck trying to find a kayak.
Skateboards are hard to find.
Finding lumber is a challenge, and so are swimming pools, as housebound homeowners look to spruce up their homes with decks and make them a more enjoyable place for a staycation.
Cincotti, co-owner of Kickstand Culture, said the shortage began with entry-level bicycles, then worked its way up to higher-end models. Less expensive bikes "started flying out the door right at the beginning of Covid" and, the longer people sat at home, the more willing they were to spend the extra bucks on something pricier but available.
"I think a lot of people are wanting to pay whatever it takes to get onto a bike, basically," he said.
As people rediscover the hobby, they are digging bikes out of their garages, some of which have been sitting around for years or even decades and have parts that are too far gone to be refurbished. But now, parts that were once common, such as 26-inch inner tubes for tires and and the derailleurs that switch a bicycle's gears "are incredibly hard to find. They're sold out everywhere," Cincotti said. 
There is stiff competition when parts do trickle in. Wednesday, Cincotti got an email that a distributor had parts in stock, but by the time he logged into its system 15 minutes later, they were gone.
"I'm spending literally hours per day scouring the internet just trying to find parts," Cincotti said. "Sometimes a small wholesaler will get something in and I'm just trying to be the lucky retailer who swoops in and buys some stuff."
Kickstand Culture has sold through its small inventory of bikes three times since Covid hit. As the store tries to reorder new ones, some distributors give no indication of when their stock will be replenished. Others give delivery dates as late as the end of August. It used to take two days.
Small businesses like Cincotti's carry just a few bikes in store and rely on distributors to hold inventory in their own warehouses, then ship them to the store as customers buy them. But that business model isn't working right now.
The manufacturing industry's shift to lean operations, low inventory and "just-in-time" production has worked well when conditions were stable, but the Covid shutdowns have shown just how fragile that method of operation can be when times are volatile, said Nallan C. Suresh, a distinguished professor and supply chain expert in the University at Buffalo's School of Management. 
"Basically, the industry was caught by surprise," he said. "The industry has gotten leaner and it has sacrificed resilience in the process."
And the world is only getting more volatile, he said.
During an isolated disaster such as a hurricane, damage is limited to one geographic area. Supplies can be brought in from unaffected areas to cover spikes in demand. Production can easily be ramped up to replace the unplanned losses. A number of disruptive events can be predicted and prepared for using ever improving forecasting software to help manufacturers further tighten supply, even in the face of natural disasters.
Not so during a global event such as the coronavirus pandemic.
At a time when manufacturers needed to scale up most, disease-prevention measures slowed production down: Social distancing, maximum occupancy protocols, restricted work hours and short staffing all are limiting how much manufacturers can make.
"All of our supply chains are over-reliant on China," he said. "Covid taught us how vulnerable we are. We need to diversify our supply sources."
Grocery shortages were able to bounce back more quickly because of domestic production and suppliers spread out over other countries, he said.
But even domestic producers are struggling to keep up with demand.
All of the kayaks that are sold and rented at Elevator Alley in the First Ward come from South Carolina, which gives owner Jason Mendola an edge over shops that source in China. Still, with production at the South Carolina factories cut by as much as 50%, it has not been easy to keep boats in stock.
"I have a list of 20 people who want kayaks," he said. "The phone is ringing off the hook."
The store's inventory sold out by Memorial Day.
Just half of his preseason order had arrived by then, and he's still waiting for the other half. Another order he placed in May "will probably arrive mid-August if I'm lucky," he said.
Fighting for space on trucks has been tough, too, now that so much shipping volume has been diverted to home delivery.
"It's a good thing we have the rentals," which are up by 30%, he said.
With team sports off the table this summer, parents are looking for ways their kids can get active outdoors by themselves or with one or two friends. That's bringing a lot of them back to skateboarding, said David Eoannou, owner of Moms Skate Shop.
Moms operates out of a Riverside warehouse and plans to open in the former Pastries by Camille on Hertel Avenue. Eoannou tried to open accounts with Nike and Vans to supply merchandise to the store but was told not to bother.
"They said don't even think about trying to order anything until 2021," Eoannou said.
Shutdowns in China and Mexico squeezed Eoannou's skateboard orders. Worsening the situation were shutdowns in California, home of the two biggest skateboard distributors. As a result, Moms' inventory is down by 75%.
When skateboard parts like trucks and wheels come available, manufacturers are bypassing small shops like Moms and the third-party East Coast sellers that service them, and going straight to big corporate chains. Or they might ask for a minimum one-case purchase, which can run $1,200. Before Covid, a small operation like Moms could place an order as small as $10.
Confer Plastics of North Tonawanda hasn't had problems getting supplies to make its pool ladders, but it has had its own problems meeting demand, said president and owner Bob Confer. The company has usually filled all of its customers' orders by this time and is heading into its slowest month of the year. Instead, because of New York's nonessential business shutdown, the factory is booked solid through September.
"Losing nine weeks of production was a killer for us," Confer said.
Dealers and distributors are sympathetic, since the rest of the pool industry is backed up, too. But Confer called it "a heartbreaker for consumers."
"They went out and bought a pool, but they won't have that pool and all its supplies until after summer," he said. "That's a summer of lost opportunity when they needed it most."
To hedge against next year, which could have more mandated shutdowns and staycations in store, Confer Plastic is investing in larger inventories, and looking for an additional 50,000 square feet of indoor and outdoor storage space to put it in.
And it's not just finished goods that are affected.
Some lumber suppliers are so strapped for pressure-treated wood that they've stopped taking orders from contractors altogether, while even major chains like Home Depot and Lowe's are receiving just a percentage of the lumber that would typically be delivered, workers at the hardware chains said. Those orders wouldn't cover the stores' normal demand, let alone the surge among homebound do-it-yourselfers spending vacation funds on home improvement projects.
That has left both professionals and amateurs unable to build decks and fences, has delayed production of wooden fence panels, and set contractors' projects back by as much as a year.
With the four to five weeks of lead time the United States had to prepare for Covid's effects on the country, it should have been able to observe customer behavior in other countries and do a better job stabilizing shortages in the grocery and medical supplies, according to Suresh at UB. But those flaws, and ones in the raw material and consumer goods supply chains need to be addressed.
"Covid is teaching us many useful lessons for our supply chain design. But people have short memories," he said. "We need to remember the lessons Covid is teaching us and make fundamental changes to our supply chains."