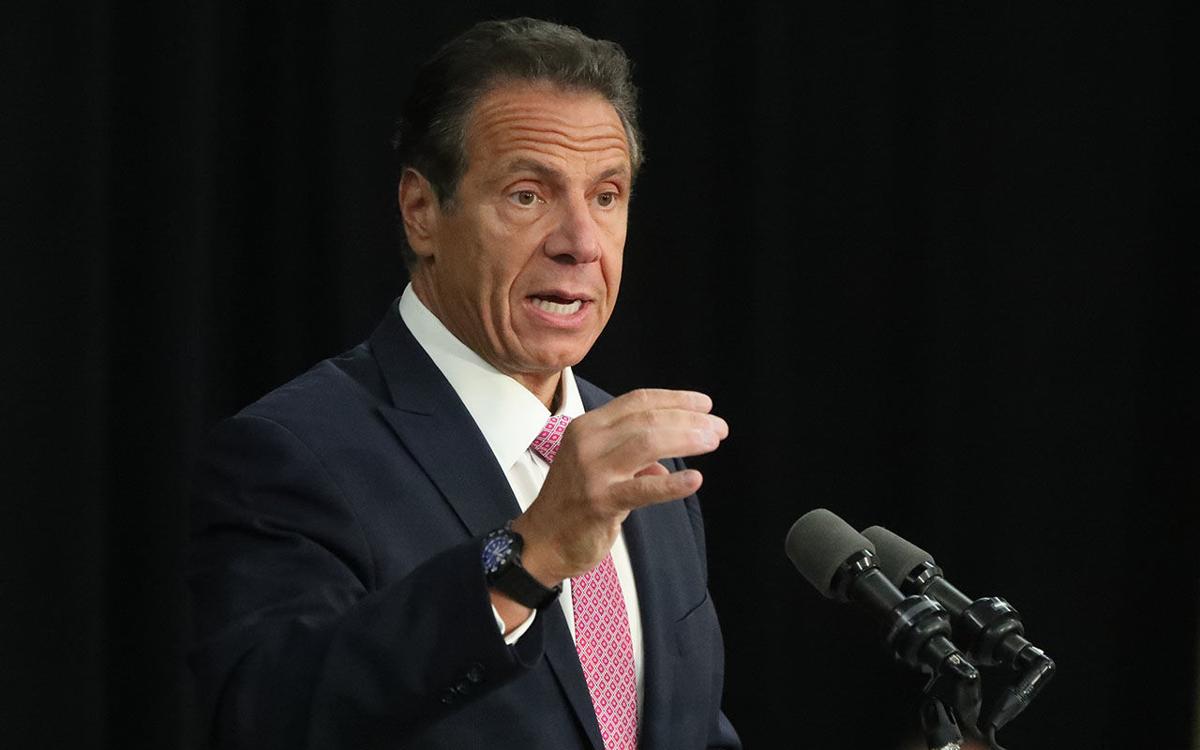 Gov. Andrew M. Cuomo, in his update on the Covid-19 pandemic Wednesday, focused on vaccinations, reopening businesses and the governor's looming 2021 budget, which he said will have more dimensions and complications than normal.
"The budget is more important this year than any budget that we have done and, frankly, it's more complicated than any budget that we have done," Cuomo said.  
The governor noted that, statewide, the Covid-19 positivity rate is 2.41%, but that Western New York has one of the lowest positivity rates in the state.
"Community behavior matters, Western New York was at the top of the scale for a long time, as people remember. Now it's at 1.99%," Cuomo said.
He also noted that hospitalizations, at 4,624, are down across the state, along with the numbers of Covid-19 patients who are in intensive care units at 954, and those who are intubated, at 601.
"Fifty-four New Yorkers died from Covid yesterday. They're in our thoughts and prayers," said Cuomo.
The governor noted that, at some point Wednesday, the state administered its 7 millionth shot of the Covid-19 vaccine, and that Cuomo was one of the latest to receive his shot.
"I got the Johnson & Johnson vaccine this morning. I want everyone to understand, Johnson & Johnson, Pfizer, Moderna, they all work. Take whatever vaccine you can get," Cuomo said.
"We're working very hard at the equitable distribution. We now have 145 community-based pop-up sites; 14 state mass vaccination sites, which are the highest throughput sites," he added.
The governor said the state has opened six mass vaccination sites in cooperation with the federal government.
"Fifty-two churches across the state are now doing vaccinations. We're opening up 16 new pop-up sites across the state this week, including eight new church sites," Cuomo said.
That includes one new pop-up site in Buffalo and one in Wellsville in Allegany County, he added.
"They should do 5,200 shots, those pop-up centers," the governor said.
Cuomo said, effective Monday, the final five yellow zone clusters in the state will be lifted. That means restrictions in all those remaining clusters – most of which are in the New York City area – will be lifted, he said.
In addition, indoor fitness classes will be reopening. That's primarily in New York City, the governor said.
"The gyms were open, but indoor fitness classes were not open and that caused a certain amount of consternation," said Cuomo.
Those businesses, he said, will still be subject to the protocols that have been in place for businesses that are currently open across the state. They include requirements to operate at 33% of capacity; social distancing; sign-in with contact information; scheduling to allow for cleanings and disinfections; and allowing for local health department inspections.
Starting April 5, Cuomo said, the 11 p.m. curfew for casinos, movie theaters, bowling alleys, billiard halls, gyms and fitness centers will be lifted.
However, the 11 p.m. curfew for food and beverage establishments or restaurants, and the midnight curfew for catered events, will remain in effect for the time being, he said.
"We're evaluating both now, and we will have an announcement on that in April," Cuomo said.
Cuomo said the federal government is providing significant funding to New York, but that the funding is not recurring.
"The trick with one-shots is that they don't recur. So whatever you fund with a one-shot, then by definition, once that one-shot is exhausted, there's no (more) funding for that activity," said Cuomo.
As a result, revenue increases would be warranted, he said.
"So we would do a tax increase, and the federal government, in several weeks, may also announce that tax increase nationwide. So trying to anticipate what the federal government is going to do and align it with what the state is going to do is complicated," said Cuomo.
"The conversation is ongoing, but there's a long way from here to there, and there are more dimensions to this budget than normal," the governor added.