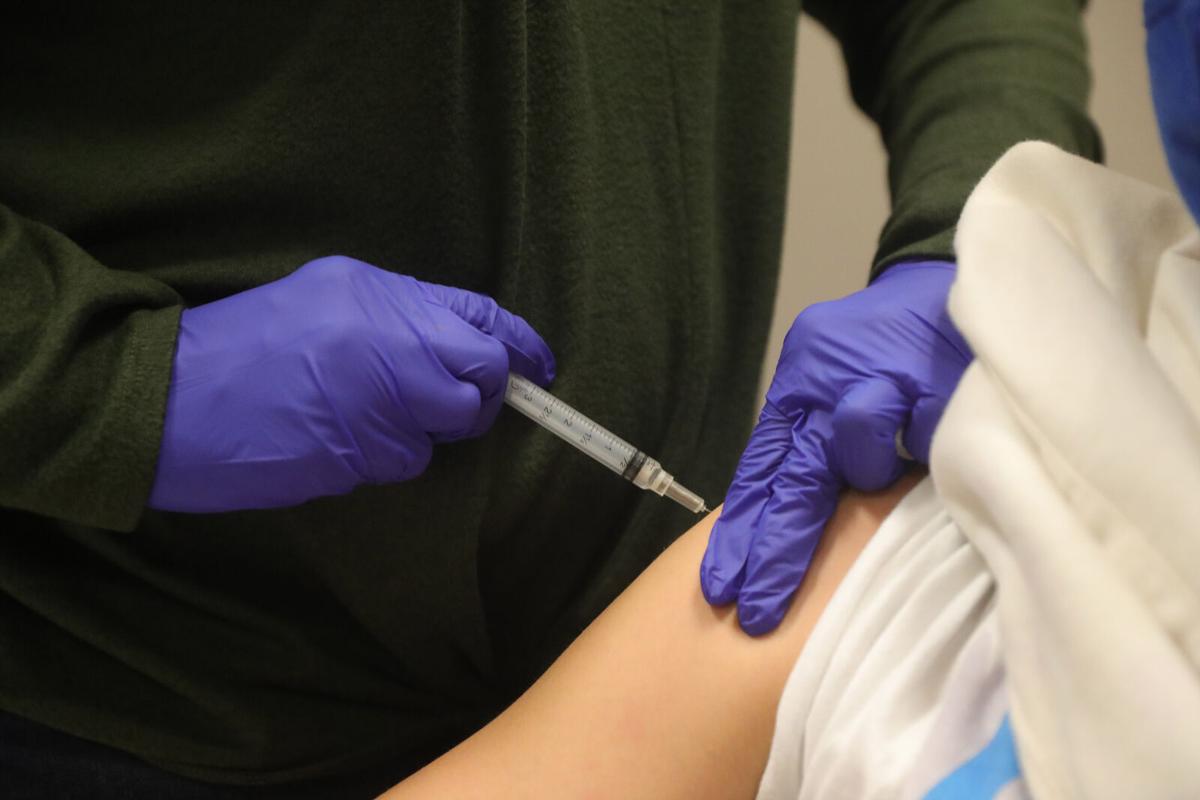 ALBANY – Saying it was time to "get creative" to boost Covid-19 vaccination rates, Gov. Andrew M. Cuomo on Monday said all state university students returning in the fall for on-campus learning must be vaccinated.
"So, today, no excuses," Cuomo said of young people coming up with reasons not to get vaccinated.
Many students already have had at least one shot, despite having access to it only for the past few weeks, according to local higher education administrators.
The order will affect hundreds of thousands of students at the 64-campus State University of New York system, as well as students in the City University of New York system. Private colleges are being encouraged to follow suit.
An hour after making the vaccine order announcement, and during the same news conference at his Manhattan office, Cuomo later said the edict comes with a key caveat: It will happen only if the U.S. Food and Drug Administration gives the full approval for the Covid-19 vaccines, a notch higher than the existing "emergency use authorization" for the three vaccines on the market.
Many vaccination-reluctant people have cited the lower level "emergency" OK as a reason not to get vaccinated. Last Friday, Pfizer and its partner, BioNTech, became the first vaccine maker to apply for full FDA vaccination approval.
"You cannot legally mandate," Cuomo said, without that full federal approval. He believes that will happen before students return to campuses later this summer for the fall semester.
Dozens of colleges around the country already have announced requirements that returning students be vaccinated, including Rutgers, Cornell, Brown, Yale, Northeastern and Columbia.
While many SUNY campuses hosted a quarter or less of their courses face to face in the fall, 87% of classes at Alfred State in Allegany County were in-person.
Cuomo did not state if there would be an exemption to the looming order and whether the SUNY board has to approve the idea. Though Cuomo wields power over SUNY policies, the system does have a Board of Directors that must approve major changes taking place on campuses. Cuomo did not say when the SUNY and CUNY boards will act, but he said they will embrace the idea.
Cuomo again turned to a favorite term he's been using – the "youthful" – to talk about the groups the state is concerned are not taking seriously enough calls for people to get vaccinated. The highest vaccination group: 65 to 74-year-olds, 73.6% of whom have gotten vaccinated in New York. The lowest: 16- to 25-year-olds, which have an overall vaccination rate of 24.7%, the Cuomo administration says. 
Among the other approaches Cuomo unveiled Monday:
• Putting vaccination sites at transit hubs on systems operated by the New York subway system, Metro North and the Long Island Rail Road. People getting the one-shot Johnson & Johnson vaccine will get incentives ranging from seven days' free rides on the subway and two one-way tickets on the railroad.
• Creating a pilot program for large stadiums with special seating areas at home games for the playoff-bound New York Islanders. Half the seats going on sale this week will be dedicated to special areas for vaccinated fans, who will have a 3-foot social distancing rule. Non-vaccinated fans will have to abide by 6 foot distancing rules. All will be required to wear masks.
• Ending a requirement that vaccines administered in New York go to only state residents, meaning a tourist could come to New York and get vaccinated.
The American Council on Education estimated that Covid-19 cost colleges and universities nationwide $120 billion in new expenses and lost revenues so far. 
Cuomo said Western New York, which has led the state in infection rates for many weeks, continues to be a source of focus for the state government. The region on Sunday saw a positive infection rate of 2.43%, nearly double the statewide level and slightly behind the Finger Lakes, which has seen Covid-19 positivity levels creep up recently.
It was not immediately clear how many SUNY students have been vaccinated so far.
Assemblywoman Deborah Glick, a Manhattan Democrat and chair of the Assembly's higher education committee, said the mandate is needed to address a population age group that has not been rushing to get vaccinated and also congregates – on campus and off – in larger sizes than other age groups.
"I think it's appropriate, I think it makes sense and I am horrified at the low rate in vaccinations in many segments of society … This is a pandemic and people are still dying," she said.
The enrollment at SUNY campuses as of last fall was 394,220, down from a year earlier when 415,572 students were enrolled. Hardest hit have been community colleges, where enrollment was down 10% year over year.
As of Feb. 1, 72% of SUNY students were enrolled in online-only learning, 15% in person and 13% in a hybrid online/in-person arrangement, according to SUNY documents.
Less than a month ago, SUNY Chancellor James Malatras, a longtime Cuomo adviser, told Spectrum News that there were no plans to subject students to mandatory vaccines. He said such discussions would not happen until mid-summer when SUNY would have a better idea about vaccination levels for students.
The SUNY chancellor Monday said Cuomo's vaccination requirement, if the FDA gives final okay to vaccines, "will be another step in restoring normal campus activity this fall."
It was also unclear Monday whether Cuomo's order will apply to professors and staff at SUNY campuses, and if there would be any health or other exemptions to the mandate. A Cuomo spokesman did not answer several questions about the initiative.
Some college students took to social media Monday to condemn the Cuomo mandatory vaccination plan. In an interview, Augustus LeRoux, a Syracuse University student and chairman of the New York Federation of College Republicans, said the Cuomo administration is likely to see "a lot of pushback" from some students who see the Covid-19 vaccinations as still experimental until there is full FDA approval.
"The biggest problem is not fear or what it might do, but the fact that you are mandating people without informed consent and where you don't know the long-term effects," said LeRoux, whose group has chapters on about 40 public and private college campuses in New York. He said mandating a new vaccine in order for students to continue their education will be a serious problem for some students.
The SUNY system, starting in the fall of 1990, began requiring students attending state colleges and universities to show proof of immunizations against measles, mumps and rubella.
In 2019, Cuomo signed a law ending the ability of a parent to use their religious beliefs as a reason not to immunize their children against certain diseases and illnesses to attend daycare, preschools and K-12 schools.
Lola Brabham, president of an association of private colleges in New York called the Commission on Independent Colleges and Universities, said private universities "know that vaccination is the safest, fastest and easiest way for us to emerge from the pandemic and resume the in-person academic activities that are the cornerstone of higher education."
Twenty private colleges in New York State have already okayed plans for mandatory vaccinations of returning fall semester students.
A SUNY student organization says students should be involved in the vaccine planning process.
"We're very much in support of a safe re-opening for the fall. Students have lots of questions on the specifics related to vaccine policy, including that for faculty and staff, and look forward to participating in the development of plans sufficiently before widespread adoption,'' said Brad Hershenson, president of the SUNY Student Assembly.