ALBANY – Gov. Kathy Hochul's nominee to be New York's chief judge appears all but certain to be approved, a development that may swing the state's highest court leftward.
The Democratic-controlled State Senate Judiciary Committee on Monday overwhelmingly voted to forward Rowan Wilson's nomination to the full Senate floor. The full Senate confirmation vote is set to occur Tuesday, the final step in the process. 
Wilson, who testified for three hours before the committee, has served as an associate judge of the Court of Appeals since 2017. If confirmed by the full Democratic-controlled Senate, Wilson would make history as the first Black chief judge.
Wilson has been considered one of the high court's liberal members during his years there, including concerning the rights of criminal defendants. On a court that veered more conservative under the prior chief judge, Janet DiFiore, Wilson has been known for writing frequent dissents to majority opinions, and for his talent in writing those dissents.
State Senate Democrats, who killed the nomination of Hochul's first pick for chief judge this year, have argued that the court includes too many former prosecutors and in recent years has disfavored criminal defendants. DiFiore was a former prosecutor, as was Hochul's first, rejected nominee this year, Hector LaSalle.
The State Senate is set to hold a vote today on whether to confirm Gov. Kathy Hochul's nominee to be chief judge of the state's highest court.
Wilson's controversial decision in a recent criminal justice case was the focus of questions on Monday, many from Republicans, but some also from Democrats. One group generally aligned with Democrats, the National Organization for Women NYC, recently came out in opposition to Wilson's candidacy because of a majority opinion Wilson authored last month.
That ruling freed a convicted rapist four years before his sentence was to end. In People v. Regan, Wilson's majority opinion vacated a jury's guilty verdict because, he argued, police and prosecutors for years dragged their feet before pursuing the case. The "constitutional right to prompt prosecution, embodied in the due process clause of our state constitution, was violated," he wrote. 
The victim had repeatedly asked the New York State Police and Lawrence County District Attorney's Offices to take the case seriously; after four years, an indictment was finally filed. Wilson wrote that while the constitution allows "lengthy justifiable delays," it does not allow for "lengthy unexplained or, as here, inexplicable delays caused by lethargy or ignorance of basic prosecutorial procedures."
In a dissenting opinion, Justice Madeline Singas, a former district attorney, wrote that "the majority has only reaffirmed rape culture's pernicious grasp on our criminal justice system."
"Its opinion will not deter this type of behavior by law enforcement, but instead be weaponized against victims and used in hindsight to rationalize closing long-running rape investigations and dismissing prosecutions," she wrote.
Republicans on the Senate Judiciary Committee sharply questioned the ruling, and several ended up voting against Wilson.
"What I find deeply concerning about this case, from my own standpoint, is that the statute of limitations hadn't run," said Republican State Sen. Steven Rhoads. "If the victim had reported the crime four years later, and prosecution had a timely prosecution, that person would still be in jail. But because the prosecution delayed – causing no prejudice to the criminal defendant – the criminal defendant was freed, and the victim is further victimized."
Wilson testified that sometimes, "to vindicate those rights to all of us, you have to do damage to an individual case." He added that because of his opinion, prosecutors may be more motivated to speedily pursue cases and avoid embarrassment..
"Think about the contrary, which is to say, 'You don't have to take rape seriously if you're prosecutor. You can do nothing. You can come into court and say, We can't even tell you why we did nothing,' " Wilson testified. "Either validate that, or not."
Wilson said he would change how the court operated. He noted that the court had heard substantially fewer cases under DiFiore and that it's "very difficult to be a nationally preeminent court of any kind if you're deciding fewer and fewer and fewer cases." 
Asked about how he would generate consensus, given his history of writing dissents, Wilson said he wants to hold lengthier conferences among the justices so that they would more likely compromise. Wilson testified that he did not consider himself either an activist judge or strict constructionist, but rather a "pragmatist."
Vincent Bonventre, a professor at Albany Law School, said in a recent interview with WCNY public radio that, whether or not Republicans agree with his voting record, Wilson is "absolutely brilliant. His resume could not possibly be stronger."
"By the time cases get to the Court of Appeals, there are good precedents on both sides. There's textual interpretations on both sides. The lawyers have good cases on both sides. So the court legitimately could go either way," Bonventre said. "Wilson has typically tilted on the side of the liberal. That is, rights of the accused, and the rights of workers. But it's not as though he's making these things up."
Before serving on the Court of Appeals, Wilson was for decades in private practice as a commercial attorney at Cravath, Swaine & Moore, where he became the first Black partner.
In addition, he was trustee for the Lawyers Committee for Civil Rights Under Law and for the National Center for Law and Economic Justice, and chairman of the Neighborhood Defender Service of Harlem, which provides public defense services.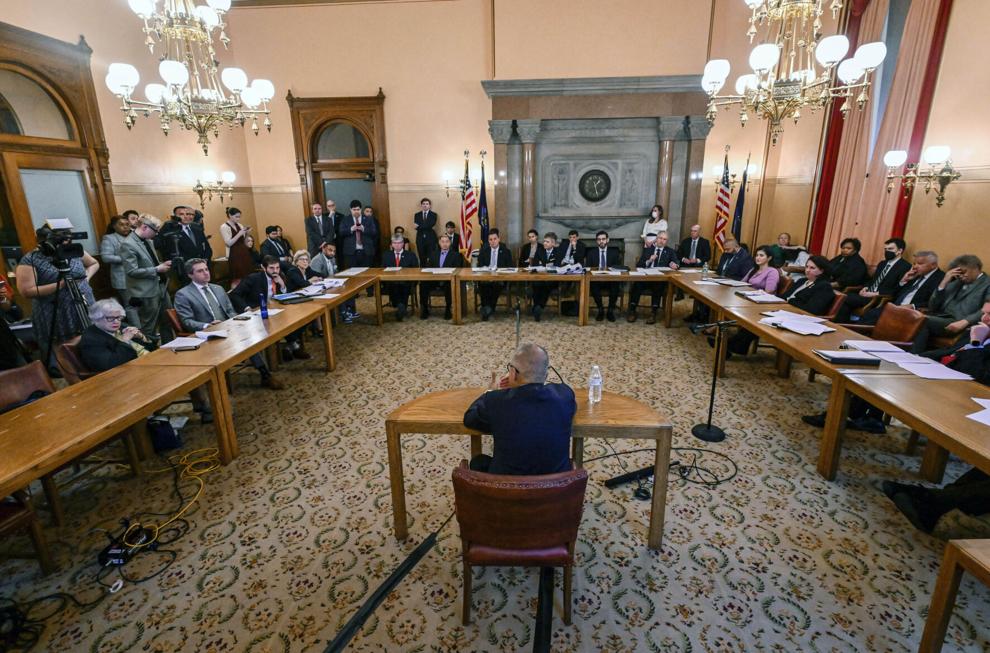 Earlier this year, State Senate Democrats voted down Hochul's first pick to be chief judge, a historic rebuke delivered by members of Hochul's own party. 
In casting LaSalle as too conservative, Senate Democrats focused on decisions LaSalle had made as a state appellate court justice related to abortion, organized labor and criminal justice. Senate Democrats and liberal allies were seeking a chief judge who would swing what they viewed as a conservative, 4-3 majority on the court, led by DiFiore.
This time, Hochul picked a judge with a decidedly liberal record and consulted Senate Democrats in advance. And from the outset, Senate Democrats have been friendlier to Hochul, including rubber stamping a novel approach towards picking Court of Appeals judges. Senate Democrats introduced the bill Hochul sought and it was signed into law on April 10.
Under the state constitution, when there is a vacancy in the court, a 12-person panel is charged with vetting applicants, then submitting a list to Hochul from which she nominates.
But in late March, Hochul put forward a bill that would allow her to nominate one of the court's current associate justices for the chief judge, then avoid a drawn-out process to replace that person. Instead of the 12-person commission having to again vet applicants, Hochul's bill allows her to use the existing, seven-person list from which she'd picked the chief judge. 
On April 10, Hochul nominated Wilson to be her chief judge. And in that same press release, Hochul announced that she planned to appoint attorney Caitlin Halligan as Wilson's replacement as an associate judge on the Court of Appeals.
On Tuesday, Senate Democrats are holding a hearing to consider Halligan. That same day, the full Senate is likely to vote on Wilson's nomination, creating a vacancy on the Court of Appeals. The Senate is then likely to vote on Halligan's candidacy on Wednesday.
Senate Republicans are considering filing a lawsuit arguing that the law bypassing the 12-person commission is illegal.