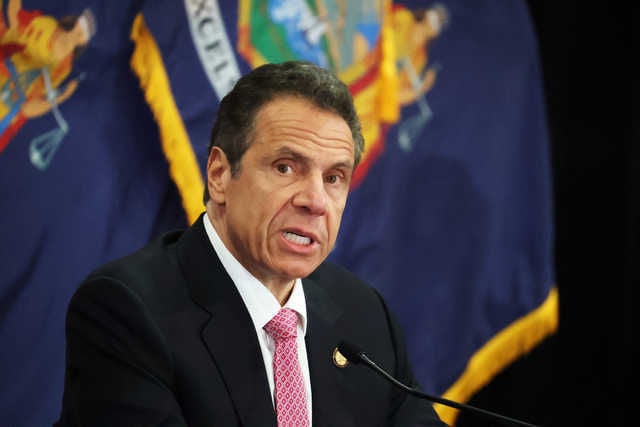 Covid-19 deaths across New York State have fallen to an all-time low, with only three recorded on Saturday, said Gov. Andrew M. Cuomo. Hospitalizations are also at the their lowest in four months, he said.
Cuomo heralded the "great, great news" in a media conference call Sunday morning.
In addition, he said, the state's infection transmission rate has fallen to exactly 1%, which has long been considered the "red line" upper limit against which reopening decisions are being measured.
"What is the rate of transmission you want to stay at? One," he said. "We said that from Day One. That one is one new infected person infects one more. Over one, it's one person is infecting more than one. That what they call outbreak. You don't want to go there." 
Hospitalizations due to Covid-19 have fallen to 637 statewide, also a new low since mid-March, Cuomo said.
In Western New York, hospitalizations remain level and have stayed relatively low, hovering in the 30s since late June.
Despite the positive news, Cuomo pushed back against calls to reopen the state economy more rapidly, citing the need for "constant caution."
"Don't get cocky," he said. "Don't get arrogant. There are still threats out there. You still have the national threat, and then you have the compliance challenge."
He argued against those pushing for New York State to reopen faster.
"We are opening as fast as we can," Cuomo said. "And we are aggressive in reopening because we are at the red line. Well, go over the red line. No, that's when the engine blows, when you go over the red line. That's Florida, Arizona, Texas. Didn't we learn this lesson?"
More than 30 states remain on the tri-state quarantine list for New York, New Jersey and Connecticut. Anyone coming into New York from one of the states on the list is required to self quarantine for 14 days. Cuomo offered no concrete prediction on when states may be taken off the list.
"The formula sets a numeric threshold, and if you're over that rate of infection, then you are on the quarantine list," Cuomo said. "So our list is really just a barometer of the viral spread across the country. When the nation starts to get this spread under control, you'll see that quarantine list shrink."
"Look, we're not happy about this at all. We're Americans," he added. "But we're not going to change the formula. We just need the nation to get the virus under control, the way we did in New York, frankly."
Cuomo also criticized Republicans in Congress for failing to extend the $600 weekly benefit, which expired this past week, for those who are unemployed. And he again urged Republicans to support a stimulus package for state and local governments to prevent drastic cuts to public services.
"There is no economic analyst who will say it's good of the economy to starve the states and local governments," he said.
Concerned about COVID-19?
Sign up now to get the most recent coronavirus headlines and other important local and national news sent to your email inbox daily.