ALBANY – If state government were a carnival and she played the ring toss game, Gov. Kathy Hochul has won the equivalent of a jumbo stuffed teddy bear when it comes to arguably her most important task: keeping the state's finances in order.
With her one-month anniversary as the state's chief executive officer coming up on Tuesday, Hochul has found herself battling an increasing spread of Covid-19, legal and political challenges to her vaccine mandates, and a September deluge from Hurricane Ida that killed 13 people in New York City.
In the state budget, though, Hochul has witnessed a bright spot. Officials last week reported that general fund overall receipts, driven by personal income tax revenues, have come in $2.1 billion higher than projected when the 2021 state budget was cobbled together in early April.
Projected budget gaps two and three years down the road have been shaved dramatically and revenues are now expected to be more than $8 billion higher over the coming four years.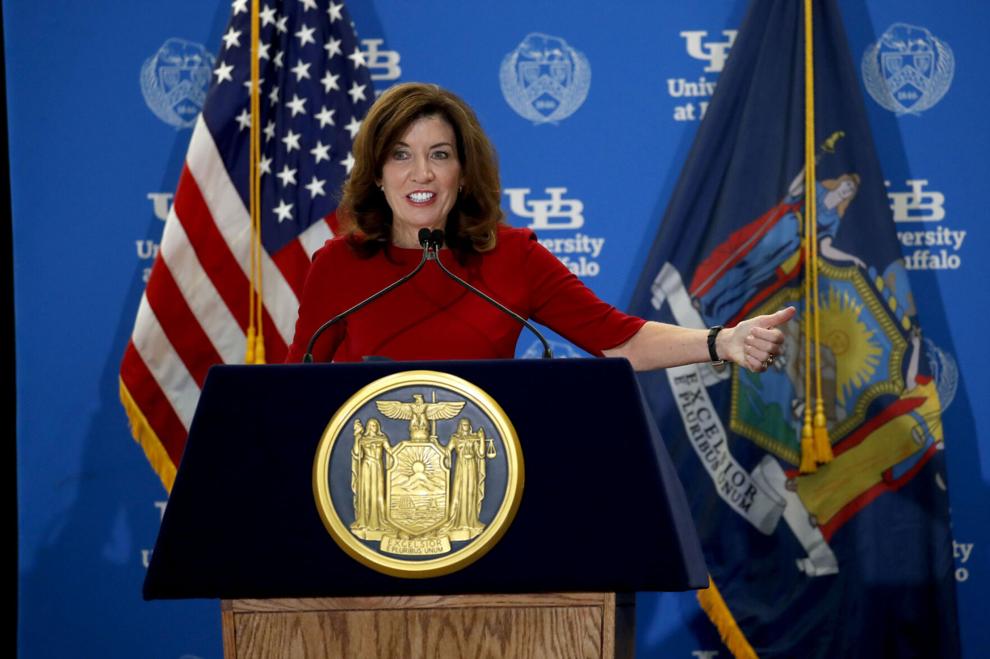 Hochul wasn't governor last spring and she had nothing to do with crafting this year's state budget. But she will take any good fiscal news where possible given the Covid hit on the economy since the late winter of 2020 – especially as she is already actively campaigning every day for a full term that would come her way if she wins the governor's race in 2022.
There are some large asterisks, however, for the $208 billion state budget, the largest in history despite Covid. Chief among them: the unknowable future.
"A snapshot taken today would show the state finances in a strong position: balanced operations and relatively small out-year budget gaps, stronger than expected tax collections, relatively high liquidity and affordable debt levels," Hochul's budget division said last week in reporting, delayed as it was, the results of the first quarter of the state budget's fiscal year – April, May and June.
The report was put out by Robert Mujica, who, so far, has remained on the job as one of the holdovers from the former administration of Andrew Cuomo, who resigned in disgrace last month amid mounting scandals.
But the budget document, closely read by Wall Street credit rating agencies and other fiscal watchers, quickly warned: "Missing from the picture, but of great concern, are the risks and uncertainties created by the pandemic." The report sounded a hope that the state, unlike in the aftermath of the 2001 and 2008 recessions, this time might see "meaningful structural changes" to its economy.
But no one knows for certain.
To that end, Hochul directed higher-than-anticipated revenues be deployed in two major ways in the current budget: $1.1 billion into the state's rainy day and economic uncertainties reserve fund accounts, and $650 million to reduce borrowing by employing a pay-as-you-go approach for certain expenditures.
They were among the ideas promoted weeks ago for the new governor by state Comptroller Thomas DiNapoli, a Democrat, who raised fiscal warning flags – despite the good financial news in recent months – and urged Hochul to increase reserve funds and be more prudent about borrowing. This week, he called Hochul's decisions about what to do with the extra cash "encouraging."
The extra money is coming from economic recovery in many sectors, higher taxes imposed on wealthy people and a historic federal bailout of New York and other states to help relieve fiscal pressures from Covid's impact.
"While the state's fiscal picture is strong, which is an incredible reversal from where we were a year ago, we must act with caution as the Delta variant of Covid-19 continues to spread, threatening our economic recovery. For this reason, I am bolstering state reserves to protect against economic downturn and new costs while creating capacity for the state to meet future infrastructure needs, all critical to protecting New Yorkers and our economy from the ravages of the pandemic and moving New York forward," Hochul said.
Her good fiscal news announcement came not in a speech or press conference surrounded by fiscal watchdogs or lawmakers, but in a pre-9 a.m. news release put out last Wednesday. The report, covering the period ending July 31, should have been released many weeks ago.
The Citizens Budget Commission's Andrew Rein said the Hochul administration was "to be commended" for directing a large amount of the higher-than-anticipated receipts into two different reserve accounts that are meant to help cushion future, unexpected fiscal blows that might otherwise create the need for sudden and large tax hikes or spending cuts.
DiNapoli, the budget watchdog group noted, has predicted that the current year's budget receipts may end up another $3 billion above updated projections. "Even with the deposits outlined in the (first quarter) update, the reserves will total $7.2 billion, still billions of dollars less than what the state should have on hand to help weather its next downturn," Rein warned in a statement last week.
Hochul's budget division last week sought to highlight just some of the uncertainties in the numbers. It noted that the "migration of taxpayers" to other states and the expansion of remote work both "present real but hard to quantify risks to the state's tax base, as well as to New York City and the Metropolitan Transportation Authority." That authority, ostensibly controlled by Hochul, runs the nation's largest mass transit system in the New York City area.
The billions of dollars coming to Albany from Washington as part of the Covid bailout packages will also run out by the end of the fiscal year that begins April 1, 2024, the budget office noted. How New York will reconcile that loss of federal aid is a question many fiscal stakeholders have been asking for months.
Finally, in its last cautions, Hochul's budget office said Covid variants and "extreme weather events" both "have the potential to disrupt the strength and pace of the state's economic recovery."
In a Newsday op-ed last month urging Hochul to be prudent with the higher revenues, DiNapoli said the federal recovery money coming to New York must, as currently planned, be spread out over the full four years and not be used for recurring spending programs of the state.
To do otherwise, many have warned for months, would be to create a future hole too deep for New York to fill on its own. That, in turn, would hit schools, local governments, social services, health care and any assorted programs that rely on state funding.
The Hochul administration said last week that the $1.1 billion being directed to reserve accounts will include rainy day funds to pay for "potential labor settlements" and agency operations that have been hit by budget cuts, $650 million to reduce borrowing costs for capital projects and to fund prior year costs associated with a recent contract settlement with the Public Employees Federation, which represents white collar state workers.
In all, the state projects that personal income tax revenues are now expected to increase by $8.5 billion over the next four years compared with projections made just back in April.
The Empire Center for Public Policy, another budget watchdog group, notes that $5.7 billion of that four-year total is being directed to reserve accounts, but that only $770 million of that will go to the state's major reserve fund called the rainy day account. The majority of the rest, the group said, goes for funding public employee salary hikes from recent labor settlements and for state agency operations. The group said Hochul also set the path for higher state spending for decades to come when she last week lifted a state agency hiring freeze that was imposed by Cuomo last year.
DiNapoli took to Twitter last week to again note that sales tax collections – a canary-in-a-coal-mine barometer of economic health – were up 15% in August compared with the same time a year ago. It was the fifth straight month of higher sales tax receipts.
"That's good news," he wrote. "But local governments must remain cautious. It's still not clear what economic impact infection rates will have."