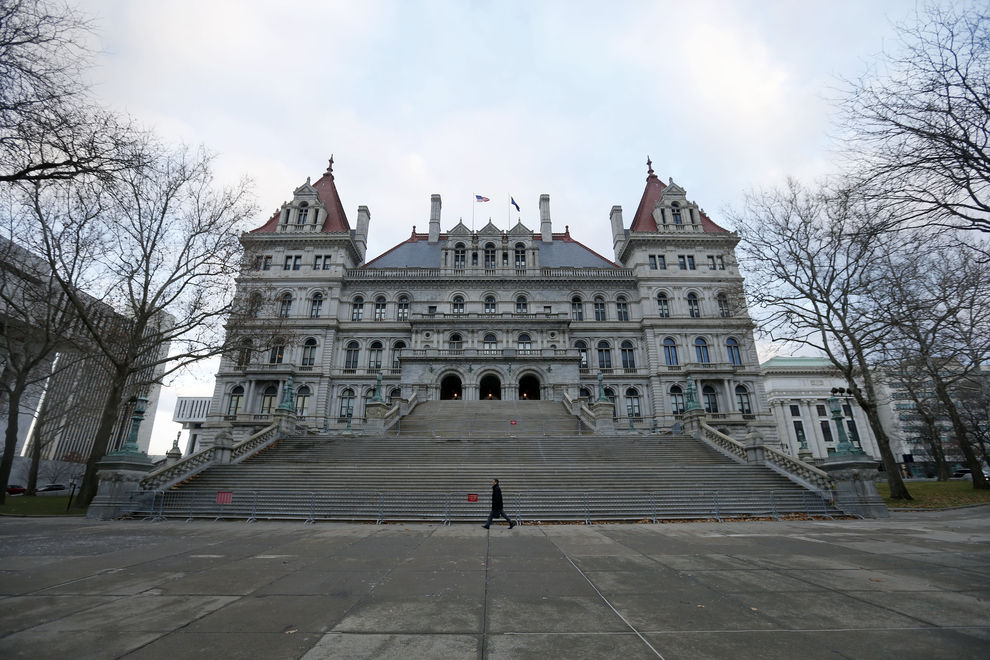 ALBANY – The state budget, already past its March 31 deadline, will be approved Saturday.
Sure it will. Plenty of time.
No way. Key issues are still not resolved, hours and hours of more closed-door briefings are to come, followed by even more hours of floor speeches to pass nine outstanding budget bills. It's a holiday weekend and many want to celebrate Easter. So it will be next week before passage.
And so it has gone, and gone, for several days, according to lawmakers, staff and lobbyists. Consider this your Albany 101 lesson in governmental timing, an elusive creature, as it is every year in the days leading up to approval of what will be a state budget totaling more than $200 billion.
It became clear early Friday afternoon that final budget passage would not be coming over Easter weekend. On Friday, many lawmakers who were physically present for session this past week went home for Easter or the final night of Passover on Saturday. While remote voting is now allowed during the Covid-19 pandemic, some lawmakers' legislative tasks essentially require their presence in Albany.
One such lawmaker: Assembly Majority Leader Crystal Peoples-Stokes, a Buffalo Democrat who runs the floor and other operational activities of the 150-member house.
"I am at home. I do anticipate going back Monday," she said Friday afternoon.
"Things are almost done, but there are a couple of things that need to be resolved," she said of the 2021-2022 budget. She declined to discuss specifics.
Many key issues – from education aid to health care issues – have been resolved and most spending matters are already shut down.
But Democrats who run the Senate and Assembly and Gov. Andrew M. Cuomo have been unable to come to terms on a few not-so-insignificant matters.
At the top of the list: how to pay for the historic spending increase.
Democratic lawmakers want tax hikes on wealthy people and some corporations. Cuomo is OK with some level of taxes on such people and entities, but not at the levels – more than $7 billion in new taxes – that lawmakers are seeking.
On Friday, various sources said they believe a tentative deal had been reached on the tax hike matter, though nothing was put into a bill yet. In fact, by Friday afternoon only 1 of the 10 bills that will compose the budget have been made and the tax hike differences were nearing a tentative deal.
Not at a tentative deal, at least before sunset Friday, were several intertwined gambling-related issues. That means if one of the matters fell off the negotiating table, they all would fall off.
First up is mobile sports betting legalization. Sports betting is permitted in-person at four upstate commercial casinos and Indian-owned casinos only. The idea is to use the casinos as the homes for computer servers that would let online sports bettors place their wagers remotely – or at kiosks at OTBs, tracks and other places – from anywhere in the state, including inside stadiums.
But Cuomo proposed a more limited approach to how many for-profit companies could get involved and far higher revenues going to the state than what lawmakers – and the industry – have wanted.
"We still have a pulse here," said State Sen. Joseph Addabbo, a Queens Democrat who chairs the Senate Racing, Gaming and Wagering Committee and is author of the Senate bill to legalize mobile sports gambling. He said the odds for legalization were at 50-50.
Addabbo said if sports betting doesn't come in the budget, it would be another year and a half before, politically, it would likely get the momentum it now has.
Another late wrinkle was that one approach under consideration could cut out Native American tribes, including the Seneca Nation and the Oneida Nation, from participating. That could, lobbyists say, mean mobile sports betting could be restricted from large areas of upstate – including the Buffalo area – because of exclusivity deals the tribes already have for gambling ventures in their regions.
Addabbo, without discussing specifics, said the Native American issue is being worked on.
Tied to the mobile sports betting is a plan pushed by some to permit up to three new casinos to be opened in the New York City area, where global casino companies have floated offering the state $500 million to $1 billion in upfront casino rights' fees. That battle has an army of lobbyists and millions spent in TV ads to try to get the casino expansion, and produced much finger-pointing about what politically wired companies might get preferential treatment to land a casino deal.
The third leg of the gambling stool on the table: a tax bailout for upstate commercial casinos, including ones in Seneca, Tioga and Schenectady counties. The casinos have underperformed both in revenues and tax payments to the state – compared with what they promised when the casinos were awarded.