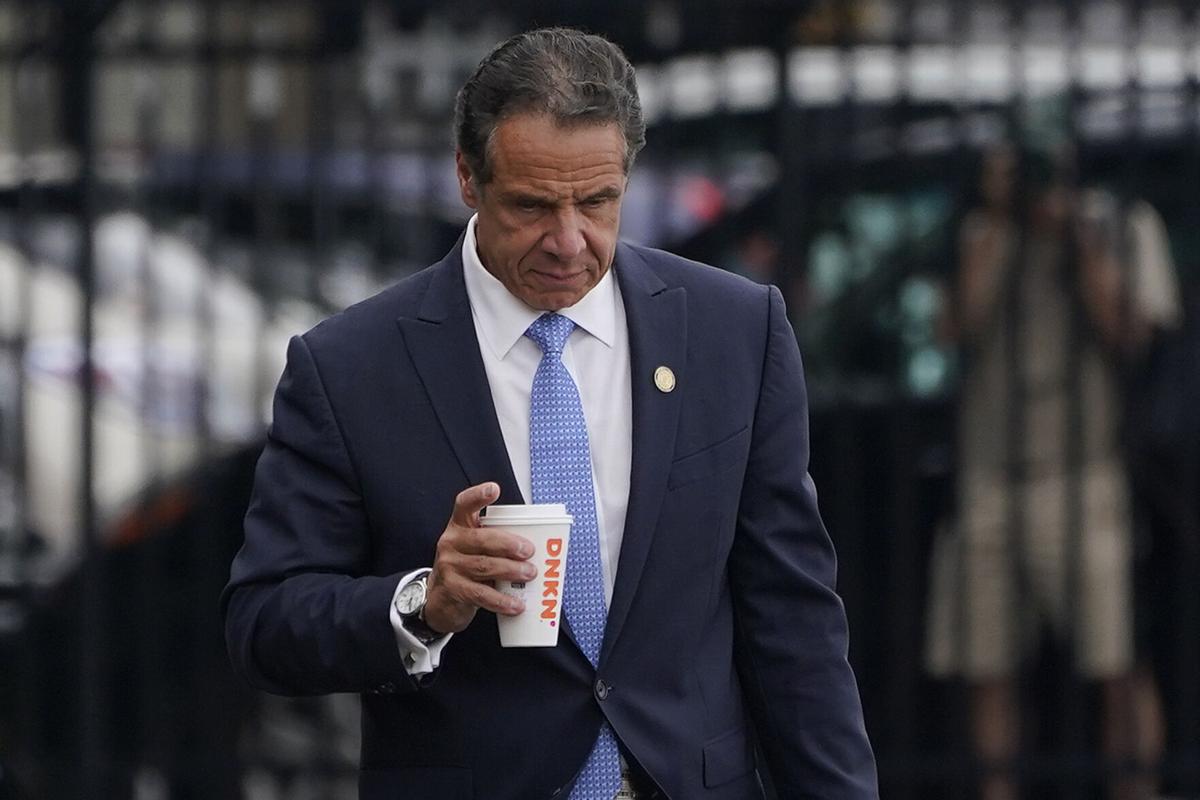 ALBANY – A criminal complaint has been filed against former Gov. Andrew M. Cuomo over allegations that he forcibly groped a state employee at the Executive Mansion in Albany.
Albany County Sheriff Craig Apple, in a written statement Thursday evening, said his department found that there was "probable cause" to bring charges against Cuomo. He said the Albany City Court issued a criminal summons for Cuomo to appear in court at 2:30 p.m. Nov. 17.
Cuomo's lawyer, Rita Glavin, Thursday night said the case brought by the Albany County sheriff amounted to a political hit job against the former governor.
Lucian Chalfen of the state Office of Court Administration confirmed that a misdemeanor charge of forcible touching was filed against Cuomo on Thursday in Albany City Court. He had earlier said: "As this is a sex crime, a redacted complaint will be made available shortly."
A former Cuomo staffer, Brittany Commisso, went public in an August CBS interview with allegations that Cuomo groped her in the mansion, a few blocks from the Capitol. 
A redacted copy of the criminal complaint obtained by The Buffalo News said Cuomo "intentionally" and forcibly touched the victim in the late afternoon of Dec. 7, 2020, in the Eagle Street governor's mansion. According to the complaint, the ex-governor "placed his hand under the blouse shirt of the victim" for the purposes of "degrading and gratifying his sexual desires."
Their investigation cites a variety of documents and records obtained by investigators, including State Police Blackberry PIN messages, state aviation records for Cuomo's travel, state Capitol security card swipes on Dec. 7 and Cuomo's own cellphone messages.
The charges against Cuomo come following an investigation into the matter by Albany County District Attorney David Soares and Apple.
Forcible touching, an A-misdemeanor, carries a penalty of up to one year in jail. To be found guilty, prosecutors would have to prove that Cuomo intentionally and forcibly groped the victim against her will, and that he did so either for his own gratification or to demean the victim.
There was considerable confusion as the criminal complaint surfaced Thursday afternoon.
Apple's office initially would not confirm or deny that a complaint had been filed against Cuomo, but later confirmed the charges in a statement.
Soares, however, said: "Like the rest of the public, we were surprised to learn that a criminal complaint was filed in Albany City Court by the Albany County Sheriff's Office against Andrew Cuomo." He said his office would have no further comment.
The Albany Times Union, which broke the original story about the alleged forcible groping incident, reported Thursday that the charges were filed erroneously, and that no final decision on the matter has been made by the district attorney or Albany County sheriff. The New York Times reported that neither Commisso nor her lawyer were aware that a complaint had been filed. 
Cuomo has denied the allegations made against him by the staffer – and a number of other women who alleged he sexually harassed them. He resigned on Aug. 24 following the revelations made against him in a report issued by New York Attorney General Letitia James, who is now set to announce her plans to run for Cuomo's old job, setting up a Democratic primary against Gov. Kathy Hochul in 2022.
"The criminal charges brought today against Mr. Cuomo for forcible touching further validate the findings in our report,'' James said in a statement Thursday evening.
Glavin, the Cuomo attorney, said the former governor never assaulted anyone, and that Sheriff Apple's "motives here are patently improper."
She said the sheriff's "behavior is no surprise" considering an August press conference he held in which she said he "essentially pronounced the governor guilty before doing an investigation" and for a grand jury information leak she accused Apple's office of being behind.
"This is not professional law enforcement; this is politics,'' she said.