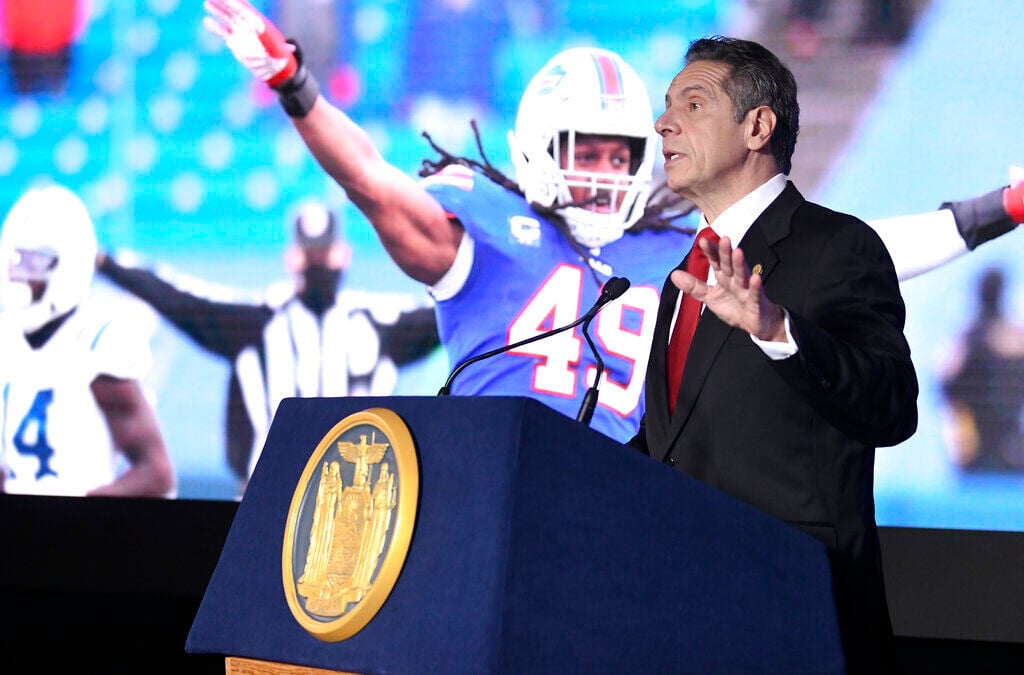 ALBANY – With tens of thousands of his fellow New Yorkers dead from the still-spreading Covid-19 virus, Gov. Andrew M. Cuomo on Monday used his 11th State of the State address to call for a "sense of optimism" for when the pandemic is defeated.
"We see the risk and the peril but we also see the potential," Cuomo said of efforts to lead to rebuild a shattered state economy, including what he called major infrastructure and green energy spending programs.
Covid-19, not surprisingly, took a front row seat in Cuomo's speech.
The governor said he will propose a new public health corps, with 1,000 fellows hired to serve one-year stints. They would be involved in Covid-19 vaccination efforts, and, going forward, would help prepare New York for future public health emergencies. A new effort will also be coming to train and certify a citizen volunteer force of 100,000 people to help the state cope with future health crises.
The governor also talked, as numerous governors have in recent years, of dedicating more state resources to expand broadband internet services. 
He mentioned converting vacant commercial space – something the state has an abundance of after the economic hit this year – into growing New York's affordable housing stock.
And he proposed adding 400,000 low-income people to the ranks of those not paying premiums for health insurance and paying for hardship funding, if the federal government doesn't do so, for immigrants who are in the country illegally. 
The governor kept Monday's address – done virtually without the usual crowd – to just 45 minutes, less than half his 2020 speech and his shortest since taking office.
The speech outlined broad ideas for state initiatives, but provided limited details. The state has a current-year deficit of at least $8 billion, and it was unclear how much money Cuomo's many ideas on Monday would cost.
'Do we move forward or backward?'
Cuomo, who led economic closure efforts last spring as Covid-19 spread at the time, on Monday repeatedly said the state can't afford more shutdowns of businesses. Instead, he said the state will, for instance, press ahead with the nation's "most aggressive" transportation and infrastructure rebuilding program to bolster rail, road, air and housing across the state.
Part of Cuomo's optimism is derived from the new control his fellow Democrats will have in Washington come Jan. 20.  Cuomo believes the Democrats will help with a major fiscal stimulus bill for New York and other states.
The Democratic governor, elected to office in 2010, said a number of initiatives are needed, in addition to defeating Covid-19 and expanding the state's vaccination effort.  Among his priorities: dealing with a short-term fiscal crisis facing the state government, keeping open the state's economy from further closure orders, expanding the green energy sector and seizing opportunities that may be created in a new economy shaped by Covid-19.
New York is at a crossroads, he said, asking: "Do we move forward or backward?"
"It will be the greatest test for government since we mobilized to fight World War II. It will be the greatest opportunity for advancement since post-World War II," he said.
Much of Cuomo's speech hit repetitive themes he's been touching on for months. He again blamed federal health policies for the spread of Covid and said, again, that Washington is responsible for bailing out states like New York whose economies have been hurt by Covid.
Senate Minority Leader Rob Ortt, a North Tonawanda Republican, said he was disappointed Cuomo didn't address what he called the "underwhelming" rollout of the Covid-19 vaccine program. He noted Cuomo also borrowed priorities advanced by the GOP, including not waiting until the vaccine is fully available to reopen the economy and seeking to improve the broadband access. 
Ortt said Cuomo also appears to be holding out too much hope for a big federal bailout by the incoming Biden administration and Democratic-run Congress. "We're going to have to make some tough decisions in the budget," Ortt said Monday.
Assembly Minority Leader Will Barclay, an Oswego County Republican, said he had hoped for more details about Covid-19 recovery plans. 
Ortt and Barclay have been sharply critical of Cuomo's rollout of the coronavirus vaccination program.
Democratic allies of the governor have their own priorities, such as hiking taxes on wealthy residents to bring the state sorely needed revenues – an idea Cuomo on Monday seemed to dismiss, saying Washington should raising taxes on the rich if money is needed to bail out states. "We need to rebuild our economy. We can't just wait for Washington," Senate Majority Leader Andrea Stewart-Cousins, a Westchester Democrat, told reporters after Cuomo's speech.
Cuomo said he will outline the specifics of a new green energy effort by New York in a separate speech later this week.
"Covid is the existing threat, but climate change is the existential threat. New York will be the green energy capital of the world," he said.
The annual address serves as a ceremonial kicking off point for the legislative session, which also sees its first real day of business for 2021 later on Monday.
State of the State speeches are often filled with soaring rhetoric and vague policy and fiscal proposals. Actual details of the Cuomo plans won't emerge until he introduces legislation about each plan or includes them as portions of his upcoming 2021-22 state budget plan for the fiscal year starting April 1.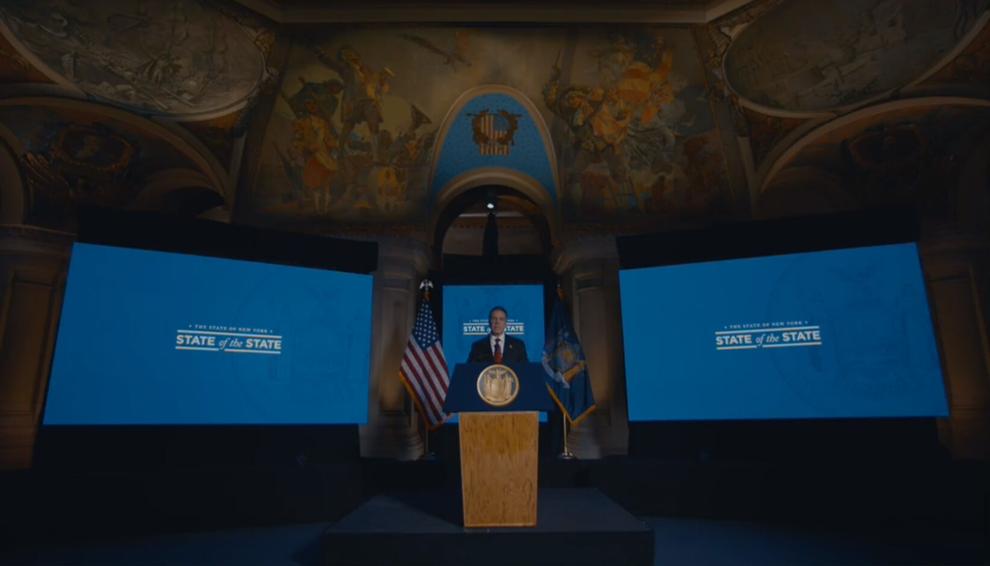 As he does every year, Cuomo is making the State of the State a multiday event, but with a twist. Typically, in a public relations move, he spends the week or more ahead of the speech rolling out proposals,  This year, though, he will follow his main speech on Monday with three consecutive days' worth of speeches on specific topics, such as what his administration might have in mind for a post-Covid economy.  
In the roll-up to Monday's speech, Cuomo announced several other initiatives for 2021, including:
• Mobile sports betting: Such wagering is allowed in-person at four commercial casinos, as well as at Indian-owned casinos, but the real money to the industry – and state – would be in permitting people to place wagers on college and pro sports contests on their phones or computers from anywhere.  Cuomo for years has said mobile sports betting could only be authorized through a multiyear constitutional amendment process. With the state's finances deeply in the red, Cuomo now sees one thing in mobile sports betting: tax dollars, potentially $500 million annually.
• Legalized marijuana: Cuomo said he would again push, for the third time, for the legalization of marijuana, which would include a heavily regulated marketplace that would eventually send Albany a projected $300 million worth in tax revenues.
• Eviction moratorium: Extending a moratorium on commercial evictions until May 1 for tenants who have had Covid-related financial hardships.
• Combating domestic violence: "Reimagining" the mission of a state agency tasked with addressing domestic and gender-based violence to make its work more comprehensive and creating a new state rule to authorize courts to require domestic abusers to pay for such things as a victim's moving costs.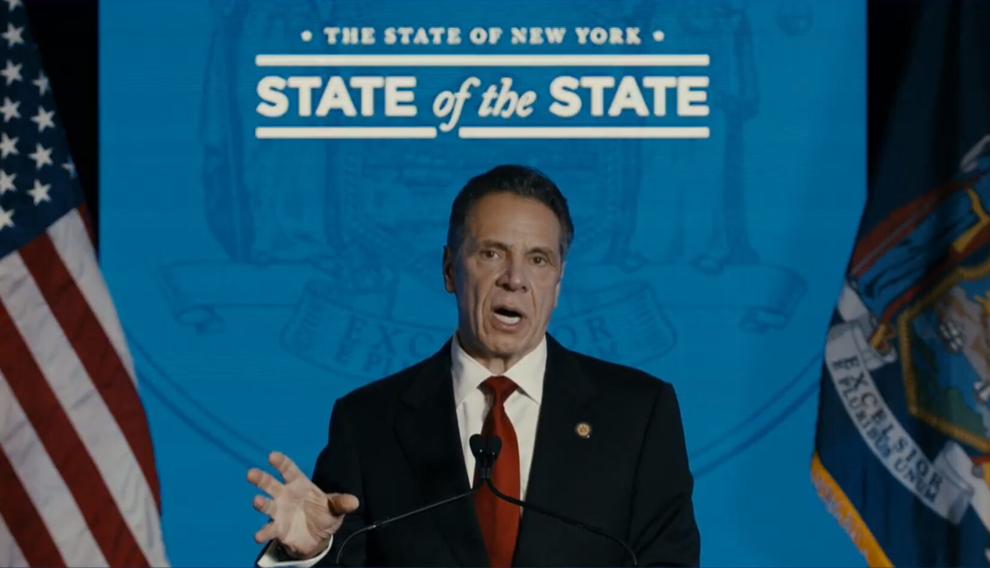 • Health care: Streamlining a series of rules and laws to make telemedicine, which has skyrocketed during the Covid pandemic, easier on a number of fronts for health care providers and patients, and to strengthen investigative powers of a state health department office charged with disciplining doctors and physicians assistants who engaged in misconduct.
• Election laws: Cuomo is also pushing a package of election law changes to address absentee and early voting problems seen in elections last year. The governor's plan includes more hours on weekends for early voting periods. Cuomo – like legislators – is also pushing for the second passage of a constitutional amendment providing for "no excuse" absentee voting. If approved this session, voters statewide would consider the change in a referendum in November.
• Racial justice: Cuomo also said the social unrest seen that has erupted in recent times in America will also get attention this session in Albany. Higher Covid rates and deaths among blacks and Latinos compared with whites, for instance, further exposed racial differences in everything from health care to education, he said. Racial justice, social justice, economic justice" must be "New York's banner to carry in America's post-Covid reconstruction," Cuomo added.