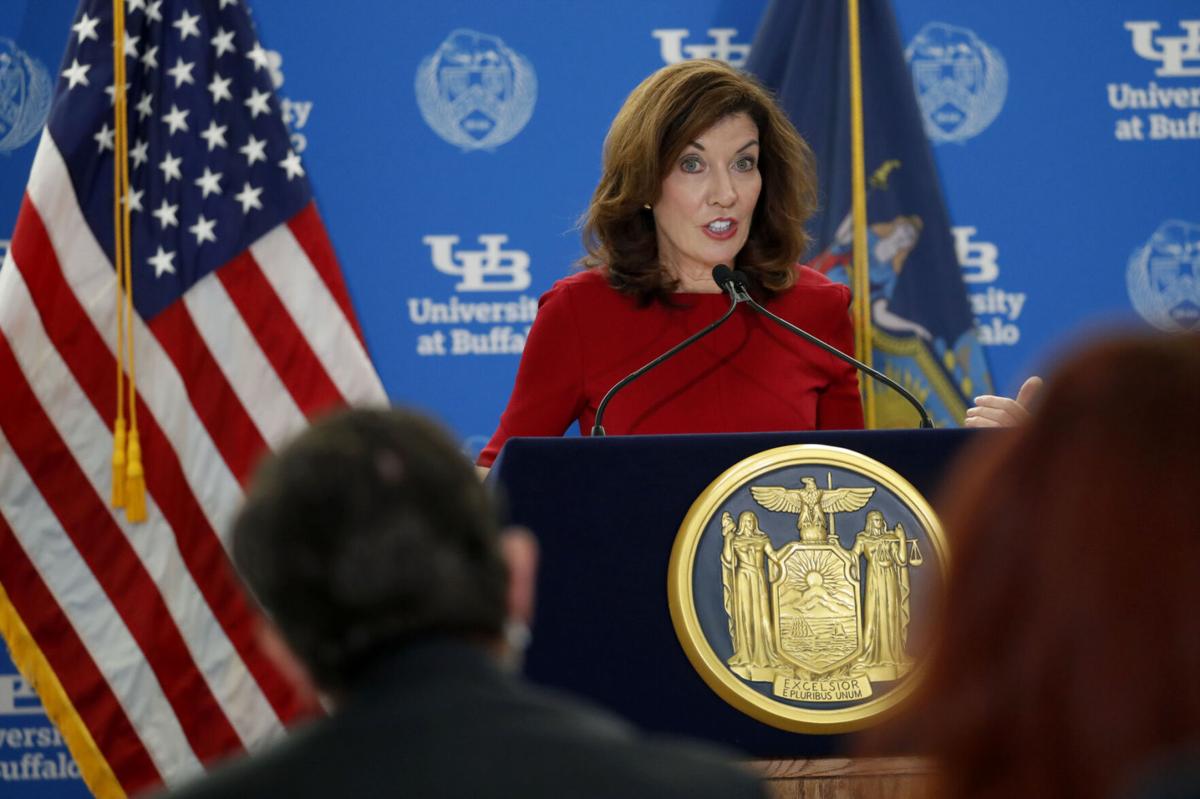 ALBANY – Parents need to step up efforts to get their children Covid vaccinated, Gov. Kathy Hochul said Wednesday, as she did not rule out mandating vaccines for eligible teenagers in New York State.
With schools reopening across the state, only 50% of 12- to 17-year-olds are fully vaccinated. "We have to do better, my friends," Hochul said during a Covid briefing in Manhattan Wednesday afternoon.
For now, though, Hochul is focusing on a new public awareness campaign, pop-up sites and other efforts to get more young people vaccinated at a time when teachers and other school officials are being required to get vaccinated or go through weekly Covid tests.
The Democratic governor said she is aware that many parents are "very, very anxious" about getting their children vaccinated, but added that a vaccine is "the best thing" that parents can do to protect children.
State mass vaccine sites are also set to start reopening in the days ahead and more money will be pumped by the state to local government health agencies, which are the longtime experts in New York to handle public health emergencies.
The governor's announcement came as Assembly Republicans warned Wednesday that the Hochul administration's recent vaccine mandate requiring health care workers to get vaccinated will lead to job losses and reduce health options across the state.
Assembly Minority Leader Will Barclay, a Pulaski Republican, wrote Hochul and state Health Commissioner Dr. Howard Zucker asking them to reconsider the vaccine mandate that commences later this month, saying it will affect everyone from emergency room workers to ambulance drivers.
With as many as an estimated one-quarter of health care workers still not vaccinated, Barclay said the mandate will force the firings or resignations of many key health workers who do not get at least a first vaccine dose by Sept. 27. Unlike some other sectors of the workforce, such as education, health care workers are not being given the option for weekly testing if they choose not to get vaccinated. Hochul during a briefing Wednesday appeared to open the door to letting vaccine-hesitant health workers opt out of the new mandate through regular testing; she did not elaborate.
"These are the very workers who served on the front lines during the height of the pandemic when there was so much uncertainty. We should thank them, not punish them," the Assembly Republican leader and his colleagues wrote Wednesday. They warned that patient care is being risked by an order that will, inevitably, lead to the termination or resignations of some direct care health workers.
Hochul later said she is aware of the staff shortages facing some health care sectors – which she called a looming "crisis," but that vaccines are needed to help get health facilities "back to normal" to protect both staff and patients. She said there is a "tremendous" health risk posed by health care workers who might not know they have Covid and yet show up to care for patients in hospitals, nursing homes and other settings.
The Manhattan press gathering was part pep rally for the new governor, as she invited Senate Deputy Majority Leader Mike Gianaris, a Queens Democrat who routinely feuded with former Gov. Andrew Cuomo, as well as AFL-CIO President Mario Cilento, who praised Hochul's fledgling leadership as governor. Gianaris, Cilento and Assemblywoman Karines Reyes joined Hochul to praise her recent signing of a law setting up workplace safety rules pertaining to Covid.
The statewide Covid positive rate hit 3.72% on Sunday, with an additional 3,851 people being diagnosed with the virus. The number of people hospitalized with the virus rose to 2,415, and at least 31 people died Sunday.
Seven of 10 regions in the state over the past week saw average Covid positive test rates above 4%, with two – central New York and the North Country – topping 5%.
Hochul said she realizes that young people have not been "hit as hard" as adults, especially the elderly, but that the science still does not know the long-term effects on teens and other young people who contract the virus.
"I want to encourage parents to understand the science and the data that should lead them to the same conclusion we all have: that this is the best thing you can do for your child if you want to protect them from this virus," she said in urging parents to get their eligible children vaccinated.