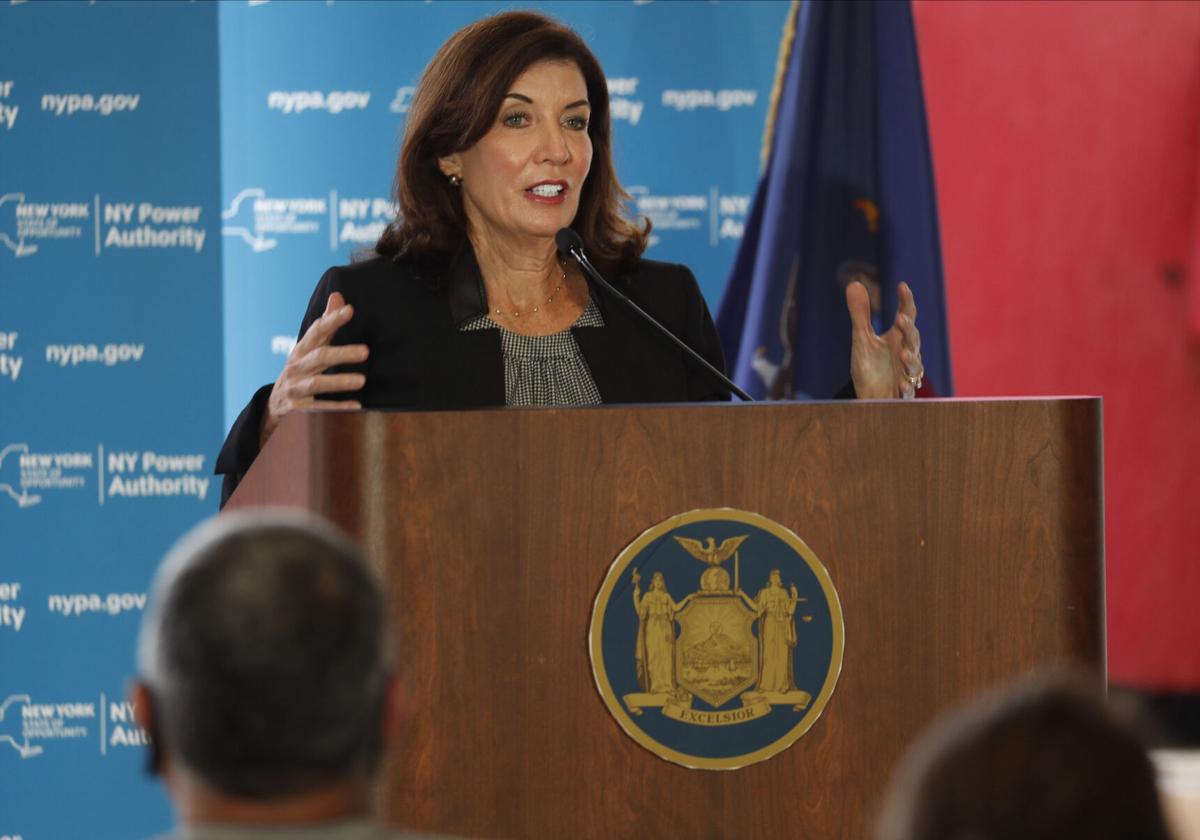 Declaring a state of emergency. Deploying the National Guard. Expediting visas. These are just some of the ways Gov. Kathy Hochul is prepared to address staffing shortages in the wake of Monday's deadline to have all health care workers vaccinated against Covid-19.
At the same time, hospitals, nursing homes, rehab and other facilities are restricting new admissions, suspending elective surgeries and making one last big push to convince workers to take the vaccine.
If necessary, the governor said she will sign an executive order declaring a state of emergency to fortify state and local medical systems. A state of emergency would allow retired and former health care professionals, qualified medical professionals from other states and countries and recent graduates to practice in New York State.
The governor also is considering deploying National Guard members with medical training and working with the federal government to deploy Disaster Medical Assistance teams. Hochul also plans to explore ways to expedite visa requests for medical professionals.
"We are still in a battle against Covid to protect our loved ones, and we need to fight with every tool at our disposal," Hochul said in a press release. "I am monitoring the staffing situation closely, and we have a plan to increase our health care workforce and help alleviate the burdens on our hospitals and other health care facilities."
By first placing unvaccinated workers on leave, Catholic Health and other local health systems are buying more time for those workers to get shots. 
Niagara Falls Memorial Medical Center said it has tried to educate its workers about the safety and efficacy of the Covid-19 vaccine, even offering an employee hotline for workers to speak to a pharmacist who can answer their questions directly. The hospital has also held weekly vaccine clinics.
"These efforts have led to achieving a 90% vaccination rate amongst our employees that we are expecting to raise by the implementation date of the New York State vaccination mandate for healthcare workers," said Alexander Collichio, vice president of human resources at Niagara Falls Memorial Medical Center.
Simultaneously, the hospital has worked to increase staffing.
"We have been aggressively recruiting staff to fill positions to ensure we are adequately staffed to provide quality care to our patients," Collichio said. "All of our service lines will remain open and we will continue to monitor our staffing levels."
At Roswell Park Comprehensive Cancer Center, just 3% of workers are unvaccinated and they are spread out among many departments and roles.
Twenty-nine percent of the nursing home workers in Western New York are not fully vaccinated. Statewide, 25% are not fully vaccinated.
Roswell continues to urge everyone to get vaccinated, "particularly given the special needs of our patients," said Shirley Johnson, Roswell Park's chief clinical operations officer.
"By getting vaccinated ourselves, we help provide a 'cocoon effect' of protection for our patients and everyone around us," she said.
Roswell Park hopes the remaining workers will receive their vaccinations before the state deadline.
"In the meantime, we are preparing by looking at every option we have, including schedule changes and reassigning staff," Johnson said. "Our employees are deeply invested in making sure we are here for our patients, and I'm confident our core services will continue without interruption."
Kaleida Health said it is running through scenarios and reviewing its contingency plans.
"There's not going to be a change in my position," she said of the vaccine mandate for state health care workers.
"Clearly, we are once again in unchartered territory," said Michael P. Hughes, senior vice president and chief administrative officer at Kaleida Health.
Combined, 91% of Kaleida Health employees and medical staff have been inoculated against Covid-19. Worker vaccinations are still trickling in, and the company is hopeful that any impact on operations will be minimal.
"We intend to remain open and provide access to our services across the organization where and when possible, acknowledging that we will see some sort of a reduction in our workforce next week," Hughes said.
Kaleida has received requests for vaccine exemptions based on religious beliefs and said it is keeping an eye on a court case that will determine whether religious exemptions will be allowed.
U.S. District Court Judge David Hurd in Utica has temporarily barred the state from enforcing the mandate on anyone objecting to the vaccine for religious beliefs. The state is now due in court Oct. 12 to explain why its mandate does not discriminate against health workers who want religious exemptions to the requirement. The court postponed its original Tuesday hearing date.
All health care workers at hospitals and nursing homes are to have at least one dose of the Covid-19 vaccine by Monday. Staff at home care, hospice and adult care facilities are to be vaccinated by Oct. 7.
The state Labor Department has said that unvaccinated workers who are fired are not eligible for unemployment insurance unless they have a valid doctor's approval for a medical accommodation. The state's vaccine mandate order does not include any exemptions and does not offer regular Covid-19 testing as an alternative for those who refuse vaccines.