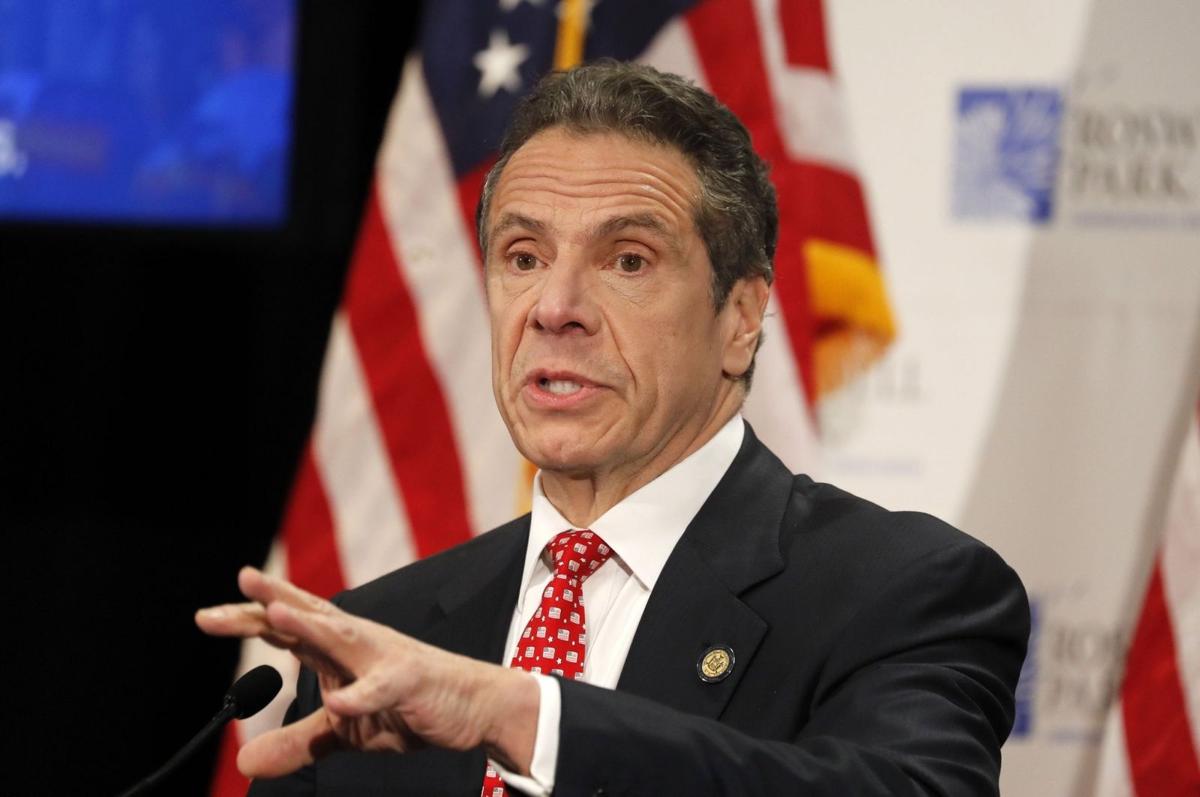 The state's fiscal year is 5 months old and its budget is still sorely out of balance.
With the Covid-19 pandemic well underway at the time, the $177.5 billion budget, used to pay for state government and provide funding for schools, health care and other local functions, was fiscally shaky even before Gov. Andrew M. Cuomo and lawmakers put the finishing touches on it in early April.
Today, Cuomo continues to warn that big cuts are coming if Washington does not bail out states like New York suffering under the economic load of the pandemic.
But the Democratic governor has been making those dire warnings and predictions since last spring. Still elusive are any plans to settle how New York will proceed for the full fiscal year ending next March 31 – with or without help.
The uncertainty has left institutions such as 700 public school districts clueless about their full-year funding levels just as they try to begin a new school year amid a pandemic. It has left cities and villages and nonprofit providers wondering if an initial state funding reduction is going to become permanent.
When is the time for action in Albany to fully deal with a projected drop off in revenues of $14.5 billion?
"It's true that everybody has been holding their breath until they turn blue to not cut the budget … or to do what we can to make Washington deliver like it needs to," said Sen. Liz Krueger, a Manhattan Democrat and chairwoman of the Senate Finance Committee.
"We're getting closer and closer to the 'everything blows up moment.' I don't know how you define exactly what that moment is."
The Cuomo administration said it has taken actions to control costs this year, including lowering state spending by $4 billion by freezing hiring, new contracts, deferring scheduled pay raises and holding back $1.7 billion in aid to localities.
"If the federal government does not act, then the withholdings will become permanent cuts, which will be devastating to schools, hospitals, police and fire departments, along with other critical services, and weaken New York State's ability to lead the national economic recovery as the producer of nearly 10 percent of the national GDP," said Cuomo budget division spokesman Freeman Klopott.
"The big question mark is what happens out of Washington," said state Comptroller Thomas DiNapoli, a Democrat, in an interview.
"There is no clear Plan B if we don't get that additional help from Washington."
The comptroller said New York has gotten about $9 billion in federal aid this year to help with Covid-19 responses, Medicaid and education. "We appreciate the help thus far and that is helping us in terms of managing cash flow," he said. But far more is needed if debilitating cuts are to be avoided.
State lawmakers are gearing up for a potential session in September to maybe address the state's finances. That's heightened talk for new revenue-raisers. Large spending cuts are not a route lawmakers want to take so deep into the fiscal year and so close to election day.
"I get the feeling from my colleagues that they support revenue raising, which is usually tax increases. The general sense from Senate Democrats is that there is an appetite (for raising revenues) because we're in an emergency situation and we need to do something. … We are not supportive of giant cuts to the budget. We didn't think we had enough money in this budget," Krueger said of the fiscal plan approved in early April.
Lawmakers for months have been talking about several tax-raising revenue efforts: eliminating rebates the state now provides on stock transfers; imposing higher income taxes on people with more than $1 million in annual income; and creating a new tax on super wealthy people with more than $1 billion in assets.
And, as always, there could be more borrowing, something Cuomo and lawmakers already did this spring .
For his part, Cuomo dismisses the higher-taxes-on-wealthy push now just as he did during budget talks in March. His argument: The taxes will drive out more wealthy people whose tax payments are needed.
The Cuomo administration recently revealed it has withheld — or cut — $1.7 billion in state aid to localities in May and June. Schools, for instance, in May and June got $324 million less in state aid and grants than they were promised in the 2020 state budget.
The cuts have come across-the-board, which on the surface might seem fair but, given the way public schools are funded in New York State, impacts districts differently.
John Bacheller, a former state economic development official who blogs at Policy by Numbers New York, has calculated the effect of a 20% across-the-board cut on districts. As schools already know, he found such kinds of cuts disproportionately hit low property wealth districts – like upstate urban and rural ones – compared with wealthier districts. Chiefly, it's because poorer districts rely much more heavily on state aid.
Using 2019 data, Bacheller found that a 20% state aid cut in the City of Buffalo would translate to a $4,255 per student cut. In Williamsville, the same percentage cut would mean a $957 per student reduction.
Robert Lowry, deputy director of the New York State Council of School Superintendents, said past state budget-cutting exercises tried to avoid the across-the-board cut method. "Cutting 20% from every district is going to hurt the poorest districts the most," he said.
No one knows whether the cuts that have come so far, and are scheduled to occur again in September when the new school year starts, are permanent cuts or temporary.
The kicking-the-can approach to budgeting has been going on, in the current fiscal year, almost since its start on April 1. Cuomo has been warning that Washington is responsible for helping states and localities shore up their finances. State tax revenues were off $3 billion between April and July, DiNapoli reported.
But now, Congress is gone until after Labor Day and there are mixed signals from Washington about when – and whether – an aid package will be enacted in the partisan-fueled federal Capitol.
"He's climbed way out on a limb. He never expected it to take this long. He thought this would be done in July," said E.J. McMahon, research director of the Empire Center for Public Policy, a fiscally conservative think tank in Albany, of Cuomo.
"He has to start seriously cutting," added McMahon, whose group opposes most tax hike plans out of Albany.
The $1.7 billion in cuts so far carried out by Cuomo are not being labeled as cuts. Instead he uses the term "withholding." That means the state expects to restore the funds before March 31. That will take a lot, either from Washington or in state revenue raisers, in order to happen.
The "cut" versus "withholding" distinction goes beyond Albany wordplay. If Cuomo had announced that the $324 million in reduced aid to schools in May and June were "permanent," or effective for the full fiscal year, then the governor would have been required to formally notify the Legislature of those cuts. That, in turn, would commence a 10-day window in which lawmakers could reject or modify his decisions.
All Cuomo's budget office did, however, was to send letters in July and August to the leaders of the two houses notifying them that certain planned funding to localities had been "withheld," according to the letters obtained by The Buffalo News.
McMahon believes many opportunities have already been lost for fiscal relief. For starters, the budget enacted in April was too large at a time when Covid was already hurting the economy, he believes. State worker layoffs, a route taken by other employers, hasn't happened in Albany.
When all the numbers are sifted, McMahon believes Cuomo needs about $8 billion to balance the budget for this year. If Congress passes a $2 trillion spending package that includes bailouts for state and local governments, that, and other Covid-19 federal relief funding, should solve the problem for 2020.
"The longer you wait, the more disruptive it is," McMahon said, recalling deep mid-year school aid cuts that then-Gov. Mario M. Cuomo, the current governor's father, had to make in 1990 during a recession.
DiNapoli agreed that cuts will be harder to make the longer the fiscal year goes on. But he believes there is still time to await a decision from Washington – and to see if New York's reopening program helps jumpstart the economy.
"At this point, we don't have to make the definitive call," DiNapoli said. Moreover, he said it "would be worse" to permanently cut state aid to localities, such as schools, and then find out such deep reductions weren't needed.
The comptroller also believes state worker layoffs would be a wrong approach when unemployment is already slamming the state's economy.
"You either cut or you borrow or you raises taxes," DiNapoli said of solutions without a big federal aid package. New York's borrowing is already too high, he said, and "I don't think you can only cut your way out of this problem."
The biggest item in the state's local assistance budget: school aid. The more that number gets cut, the more school districts will either have to slash classroom programs, lay off teachers and raid already-raided reserve funds.
Where is the Democratic-run Assembly on all this? Assembly Speaker Carl Heastie, a Bronx Democrat, declined to be interviewed.
But the Senate's Krueger said lawmakers will be fully engaged in any major deficit-closing efforts. She noted the extraordinary budget cutting powers lawmakers gave Cuomo this year to help swiftly deal with Covid's fiscal impacts.
"The lawyers will tell you that the only way for him to cut funding is to follow the path we laid out in the budget deal," she said of the notification and then 10-day consideration period for lawmakers. "That's why he's not cutting yet."
Lawmakers are on the front lines.
"I think every legislator in the state, no matter where they are, gets up every morning and says, 'How are we going to get through this?' " Krueger said. "I don't know how it doesn't haunt you."