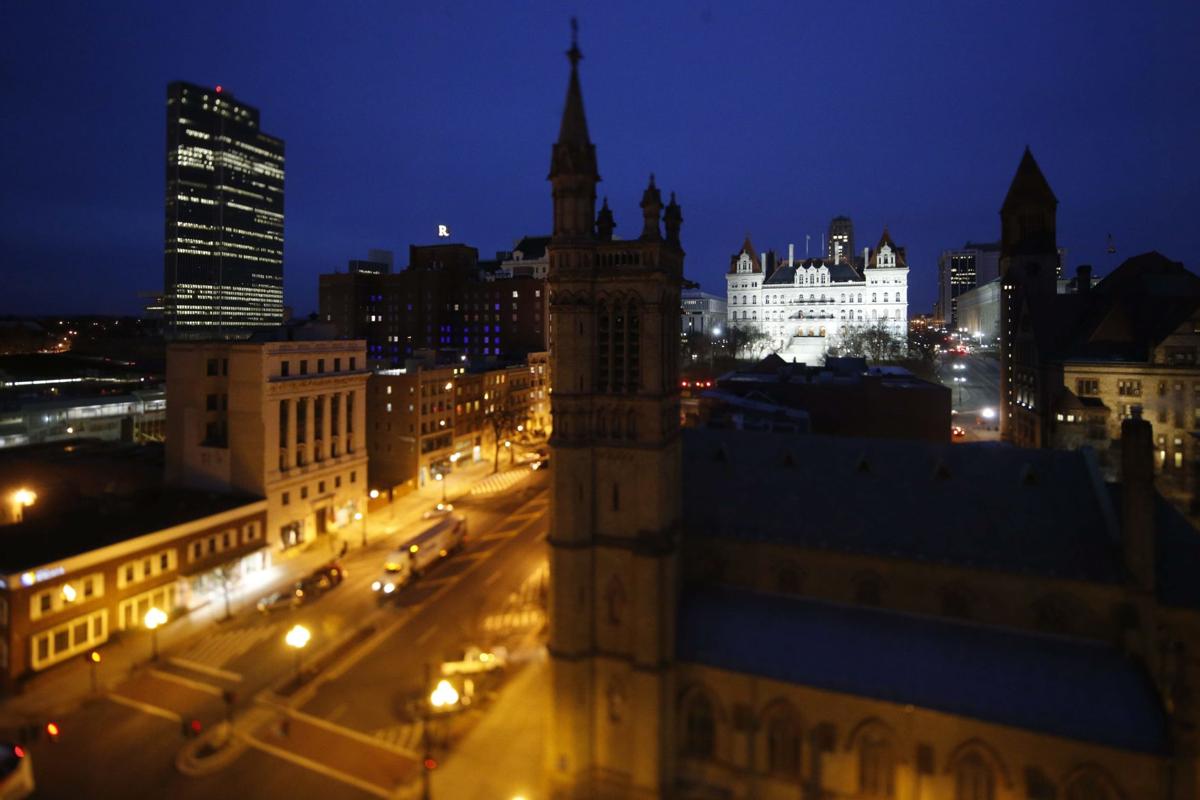 ALBANY – State lawmakers, from either party, are never keen on having to cut spending for popular programs, like education or health care.
Now, though, months of indecisions await key answers: Does the State Assembly and Senate reconvene soon to deal with the revenue falloff that has created at least an $8 billion deficit in the current state budget? And will the solutions involve cutting spending or tax hikes, or both?
There is an obstacle to the answers. It's Nov. 3: Election Day.
It would be extraordinary for the Legislature to reconvene to take up a fiscal package so close to its own elections that could result in things like cuts to K-12 classroom programs or benefits for low-income Medicaid beneficiaries.
In fact, no one in the Legislature is publicly suggesting any of those kinds of cuts prior to Election Day. Nor is Gov. Andrew M. Cuomo in any seeming rush for lawmakers to return.
In fact, under one possible scenario being discussed, lawmakers are mulling passage of tax-raising ideas, targeted at wealthy New Yorkers, and then leaving Cuomo to make the call about what gets cut and by how much.
Still, scheduling a session so close to Election Day is potentially risky business, even if Democrats have a lock on the Assembly and even if it would take a political miracle for the Republicans to take back control of the Senate they lost in the last round of elections two years ago. But neither Democratic majority in the two houses like to lose Democratic colleagues in a general election, no matter their comfort levels of overall domination of Albany.
"Fiscal always means taxes," Hank Sheinkopf, a longtime Democratic political consultant said of budgetary exercises at the State Capitol. "Therefore, coming back to Albany to do anything fiscal always presents a potential danger, and politicians are risk-averse, particularly those in marginal seats."
The Covid-19 pandemic has driven a stake into the heart of state finances. Pre-virus, the budget was on shaky ground, including big out-year deficits. Cuomo has estimated this year's overall revenues will be short $14 billion of what was expected thanks to Covid; fiscal watchers say that number is bloated, but all agree the problem is bad.
Cuomo and lawmakers are still waiting on Congress to bail out New York. It has been a long waiting game, and now Cuomo has suggested the fiscal solutions for the state could wait until after the presidential election determines whether the White House is occupied by someone who will be open to a supersized bailout plan for states like New York.
Even some Republicans are willing to wait a bit more before having to possibly see a session that, they fear, will drive up state taxes at a time when the economy can ill afford to. "We don't have a full picture," said Assembly Minority Leader Will Barclay, an Oswego County Republican.
"I'm still optimistic they will come up with a deal," Barclay said of federal lawmakers and President Trump, who have been stalled since the spring on whether Washington should be giving a big, unrestricted aid package to help balance state budgets.
Republicans like Barclay don't want to see mid-year education aid cuts by Albany. Further, they don't want tax increases, including on wealthy residents who are important drivers of state income tax revenues in New York. That's especially so because, Republicans say, it would be well into next year before Albany could even collect such taxes.
Election clouds fiscal picture
Lawmakers always like to put some road between Election Day and tough fiscal choices. It's why legislative pay increases always used to get talked about every couple of years or so – a legislative term lasts two years – in the month of December, after voters had their say.
In 2008, for instance, in the midst of the financial sector meltdown, then-Gov. David Paterson on Oct. 3 called for lawmakers to come back into special session to deal with a $1.5 billion deficit. The Democrat, however, gave lawmakers a long leash: He didn't call them back until Nov. 18, after legislative elections that year.
In 2020, with a pandemic still well underway, Republicans say publicly that Democrats will push for tax increases and little else if they call a session before the election. Privately, Democrats don't disagree.
"I don't feel they will find the political courage to come back in October," Senator Minority Leader Rob Ortt, a North Tonawanda Republican, said of Democrats in control of Albany.
"But if we do go back, I've seen nothing in their rhetoric that they'll do any cuts. They'll leave that to the governor, blame him and focus solely on tax increases."
The No. 2 Democrat in the Senate offered no apologies for such a stance, and many Democrats were buoyed when New Jersey last week agreed to increase taxes on the wealthy. Cuomo has opposed the idea.
"I can only speak for myself. I certainly would favor taxing the wealthy before cutting schools and hospitals and other important priorities," said Senate Deputy Minority Leader Michael Gianaris, a Queens Democrat. He said Republicans have "misplaced priorities."
Rank-and-file Assembly Democrats are following the state's decaying finances. Assemblywoman Monica Wallace, a Lancaster Democrat, said Washington has an obligation to provide funding to New York given the long imbalance of payments from state taxpayers to the federal government compared with federal payments to New York. "I think it's completely irresponsible," she said of Washington's failure to already act.
But if no federal help comes, Wallace said state lawmakers are looking at "some difficult decisions" that will involve an array of spending cuts, borrowing, early retirement offerings for public employees and tax increases – "but not taxes on the middle class people struggling now, but on the people able to afford it, the wealthy millionaires."
Lawmakers in both parties were quick to point out the power they gave Cuomo to unilaterally reduce spending throughout the fiscal year during the pandemic without the need for approval by lawmakers.
The power has given Cuomo the opportunity to more nimbly react to spending problems , but has also provided political cover to lawmakers who don't have to vote on cuts to cities, schools and nonprofit providers. Cuomo made those cuts on his own this past summer, and more are likely this fall.
The Cuomo administration says those reductions are not cuts, but temporary withholdings of state aid that will be restored if Washington backs a state bailout plan. If not, everyone realizes those cuts will become permanent.
When asked about the Legislature reconvening, Gianaris referenced the "temporary" withholdings that the Cuomo administration uses to define real spending reductions that have already taken place this summer. "The urgency will occur when deferments from the state get manifested in real cuts," Gianaris said.
"We would all hope for Washington to come save the day, but this version of Washington is obviously not going to do that," Gianaris said, adding that officials want to ensure the state has enough revenue to fully operate until, Democrats believe, former Vice President Joe Biden defeats Trump and supports a state bailout package after Inauguration Day.
So a pre-election day session in Albany is off?
"I wouldn't say that. We're evaluating that every day," the powerful deputy Senate leader said. "Schools seem to have momentarily dodged massive cuts, but there are other expressions of pain as a result of what we are going through."
The state has avoided any furloughs or layoffs of state workers. Legislators, instead, have been eyeing an early retirement incentive package to reduce the workforce, especially higher-paid employees near retirement age.
Left-of-center Democrats are singularly focused on tax increases as a solution if Washington fails to financially rescue New York. As they have been all year, they want everything from an income tax on the wealthiest, increased taxes on stock transfers and a tax on second homes owned by rich people in New York City.
Democrats say that private polls show that voters across New York have no problem taxing rich people during the Covid pandemic if it means avoiding cuts to schools and other popular programs. Republicans say it will cause an exodus of people who not only run companies that employ lots of middle-income people but who also pay a lot in state taxes now.
"The old Republican trope that taxing the wealthy to help working people is bad is no longer applicable," Gianaris said last week.
If Democrats call the Legislature back into session, and if they raise taxes or cut programs near and dear to voters, Republicans are ready to pounce.
"Raising taxes would be the worst thing the state Legislature could do. Businesses and families are teetering as it is," said Rob Astorino, a Republican running in a lower Hudson Valley race to try to eject a first term Senate Democrat, Pete Harckham.
"The Senate and the Assembly should come back into session to talk about a massive state restructuring that's been needed for years. There's enough money in Albany, even with the shortfall, to run an efficient and responsive government," added Astorino, the former Westchester county executive who lost to Cuomo in the 2014 gubernatorial race.
Ortt doesn't believe a fiscal session will happen before Election Day. "They've certainly been willing to sit and let the governor make all the hard decisions in the budget. That's why they gave him this power," Ortt said of Democrats in the two houses.
Sheinkopf, the Democratic consultant, said lawmakers should tread carefully about a pre-election session.