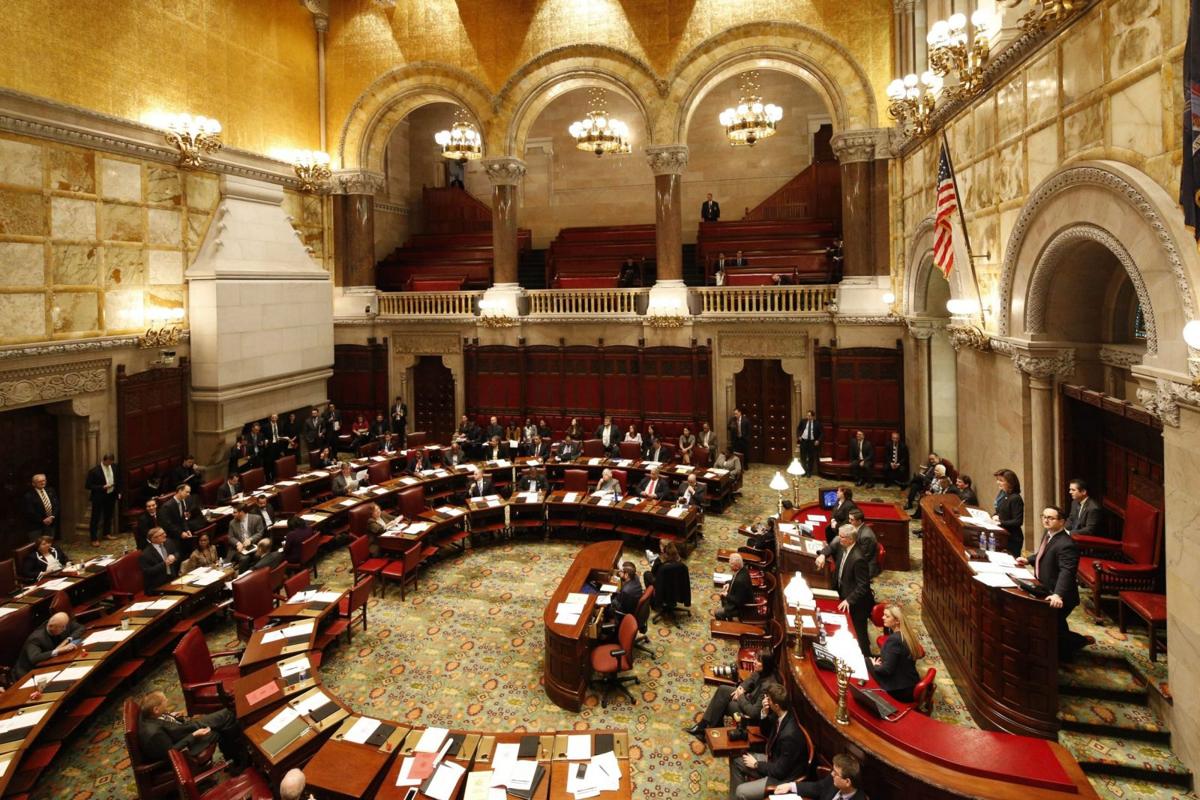 ALBANY – In these confusing times, simple and ever-reliable certitude still exists at the State Capitol: power = money. And lots of it.
Senate Democrats, who resoundingly took control of the Senate chamber in January 2019, are a month away from their effort to make the 63-member house even bluer. They say it's their message and work product that will help their power grow.
Since mid-July, in a year dominated by Covid-19, a battered economy and the presidential elections, the main campaign committee for the Senate Democrats spent $3.8 million, mostly on campaign literature and TV ads and in direct donations to several downstate Democrats. That's $48,000 a day.
The Senate Republicans, meanwhile, managed to spend just $442,000 in the same time period, or less than $5,600 per day. And worse news for the GOP trying to focus on its current candidates: $75,000 of that was spent repaying Catharine Young, a former GOP senator from Olean, who had to take her former colleagues to court to get them to pay back money her campaign lent the GOP central account when she ran the committee in 2014.
"We're feeling very optimistic," said Senate Deputy Majority Leader Michael Gianaris, a Queens Democrat who is also chairman of the Democratic Senate Campaign Committee. He cited everything from gun control to tenant protections as among the accomplishments of Democrats in their first two years in power.
The Republicans offered a different take.
"No amount of money will help Senate Democrats cover up their disastrous policies like eliminating property tax relief, passing dangerous bail reform and who now want to take away private insurance during a pandemic. Senate Republicans have the energy and enthusiasm that will translate into victory on Nov. 3," said Candice Giove, a Senate GOP spokeswoman.
Given the demographics, rash of retirements of longtime Senate Republicans and the campaign money edge, virtually no one believes the Senate will return to the hands of the GOP.
What is at stake: a looming supermajority status for the Democrats. If Democrats pick up two seats, they will attain two-thirds of the seats in the 63-member chamber. If that happens, it puts them, for one thing, squarely in charge with the Assembly Democrats of the 2022 redistricting process, the once-a-decade exercise when all state legislative districts, as well as congressional districts, will be redrawn. Under current rules, a supermajority vote is needed in the Senate to approve that redistricting plan to avoid the issue being dumped into the lap of the state court system to figure out.
A supermajority also affects the bargaining power for Senate Democrats with Democratic Gov. Andrew M. Cuomo. Such status means Cuomo could veto a bill and Democrats could override it. Cuomo vetoed 170 bills in 2019; this year's session work is still unresolved as the Legislature still has not sent Cuomo 162 bills they OK'd earlier this year.
"It means important improvements in our negotiating position," Gianaris said of a supermajority. "The governor has never had a veto override, and I don't know that it would ever become necessary. But just having that math exist affects how everyone addresses the issues."
The Senate Democrats are focusing efforts on retaining freshmen elected in 2018, mostly on Long Island, and adding seats in districts that have been held by Republicans. In Western New York, Assemblyman Sean Ryan, a Buffalo Democrat, is running against Republican candidate Joshua Mertzlufft to become a state senator for the Senate 60th District. That's the district that had been held by Chris Jacobs before he resigned this year to take his new U.S. House post.
The central Senate Democratic campaign committee this week reported it had spent $168,000 on Ryan's efforts. The central GOP campaign account does not, so far, appear to be expending much energy, or any money, on Mertzlufft's candidacy.
The Senate GOP is spending in the Senate 61st District race, between Democrat Jacqualine Berger and Republican Edward Rath III for the seat held by the retiring Sen. Michael Ranzenhofer. The district stretches between the Buffalo suburbs to Rochester. The Senate GOP this week reported allocating about $41,000 on Rath's behalf; Democrats in the most recent reporting period did not report spending yet on their candidate.
That doesn't mean some other group, like a Super PAC that can spend unlimited amounts of money, won't get involved in the Senate 61st or some other contests.
Indeed, many such "independent expenditure" committees are already highly active. There is the one called Safe Together New York that cosmetics heir Ronald Lauder pumped $1.7 million into that is buying ads to try to defeat Senate Democrats downstate.
Walmart heiress Alice Walton, an Arkansas resident, last week wired $800,000 to a Super PAC called New Yorkers for a Balanced Albany, which is tied to a pro-charter school group; the PAC is spending heavily to help Democrats win a couple of Long Island Senate contests.
That's not to be confused with Balance New York, which is Virginia-based, and spent nearly $300,000 on ads to help Rob Astorino, a Republican from Westchester who lost to Cuomo in the 2014 gubernatorial race, win a State Senate seat.
Lyft is in the action with its New Yorkers for Independent Work, recently spending $285,000 on ads to help downstate Democrats and a handful of upstate Democrats in the Rochester area. Stronger Neighborhoods PAC, funded by Airbnb, is doing polling, an indicator of coming help for someone's campaign. Progress NYS, a committee that backs Senate Democrats whose past big donors included billionaire George Soros and the New York State United Teachers union, also spent money in the past week on polling in Senate races. A laborers union pumped more than $200,000 this week into Build New York, another independent expenditure group that is not permitted to directly coordinate with any campaign.
And then there's Upstate Jobs Committee, funded by Herkimer County millionaire investor Martin Babinec. It spent $42,000 on digital media ads to help more than a dozen Senate and Assembly candidates, mostly Republican but a sprinkling of Democratic candidates, as well.
Senate Democrats, now firmly in power, are also attracting big donations from groups that for years were reliable big donors to Senate Republicans, such as groups representing a deep-pocket charter school organization, beer wholesalers and home builders. The Democrats' single biggest direct donor since July: billionaire Manhattan hedge fund investor James Simon, who donated $100,000 a couple of weeks ago, records show.
The Buffalo News: Good Morning, Buffalo
The smart way to start your day. We sift through all the news to give you a concise, informative look at the top headlines and must-read stories every weekday.