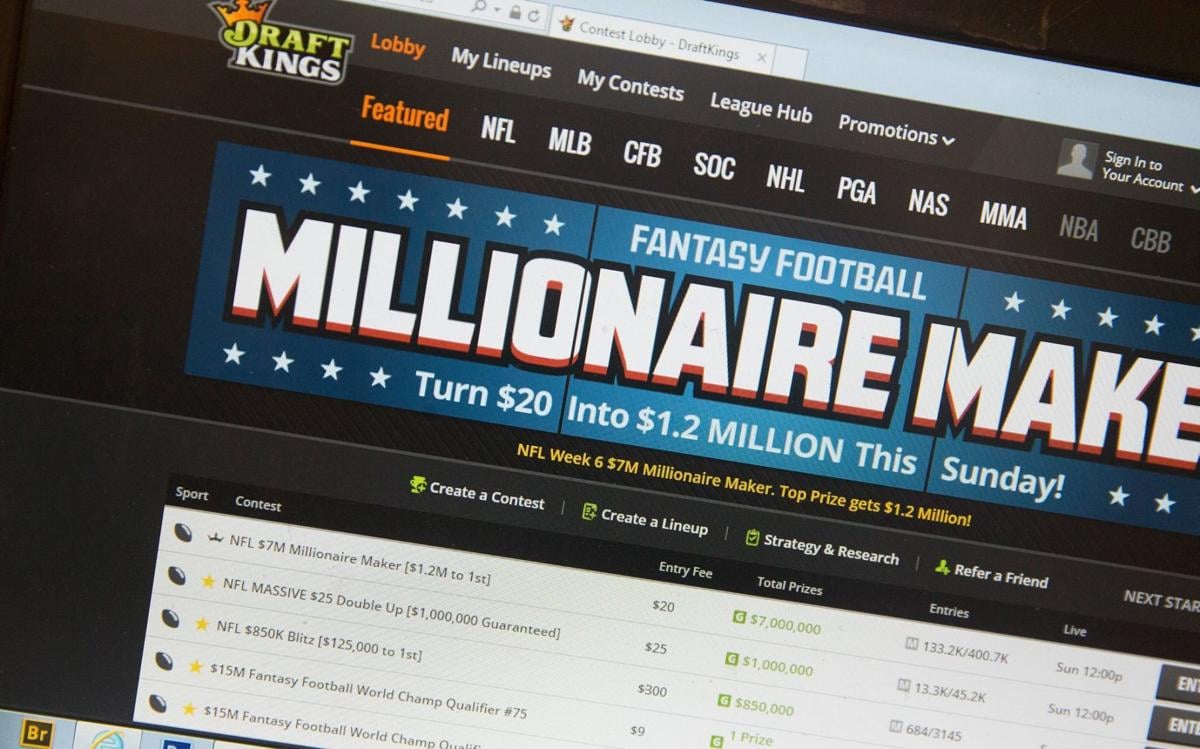 ALBANY – Income tax revenues going to the state have collapsed under the economic plight of Covid-19. Sales tax receipts are off, as are gas taxes, hotel taxes and nearly every other business and personal revenue stream that Albany relies upon to balance its books.
Enter: online sports betting.
Proponents of legalizing mobile wagering on sports contests in New York say this is their time to get the matter settled after years of efforts. And they say it will happen in the weeks ahead when lawmakers might go back into session to figure out how to balance the state's 2020 budget.
"It's going to happen," Assemblyman Gary Pretlow, a Westchester County Democrat and lead sponsor in the Assembly of the online sports wagering bill.
But there are a few problems supporters have yet to resolve, including:
• Lawmakers who believe pro sports leagues and gambling operators will make far too much money under the proposed revenue-sharing plan at the expense of proceeds that could otherwise be going to the state for budget bailout purposes.
"How many times have we heard that gambling is going to be good for state revenues? We OK'd casinos and then they ran deficits," said one lawmaker speaking on condition of anonymity.
• Lawmakers who believe the state is already home to far too much gambling opportunities.
• Gov. Andrew M. Cuomo, who has been steadfast in his belief that such a form of gambling can't just be OK'd by lawmakers, but would need to be ratified during a multiyear constitutional amendment process that includes a statewide referendum of New York residents.
Talks have been underway among various state officials about the potential that lawmakers may reconvene to consider revenue-raisers – another term for "tax hikes" – to help the state close a deficit that is somewhere in the neighborhood of $13 billion. Those ideas, which include various ways to increase taxes on the wealthy and some corporations, are being floated to try to stave off cuts to public schools, nonprofits that provide an array of state services and health care entities and recipients.
All those talks are conditioned on one thing: Washington. What level of tax hikes or spending cuts Albany might need to make in its budget for the fiscal year that already began four months ago depends on the outcome between Democrats and Republicans in the U.S. Congress and President Trump. The more unrestricted federal money that Washington agrees to send to the states, the less states like New York will have to cut or turn to taxes.
That's where mobile sports betting comes in. Sports betting is permitted at brick-and-mortar casinos in New York – which, except for Native American casinos remain closed under state public health rules – but not through online means as permitted in a handful of states, including the border states of Pennsylvania and New Jersey.
Right now, sports betting has its limits. This week, sports betting firms were taking wagers on Major League baseball games, though it is uncertain how long that league might play after the Covid-19 outbreak in the Miami Marlins organization. There were also bets for the restarting NBA. And, there were bets for everything from soccer and darts to table tennis.
The Senate and Assembly reconvened last week in Albany, but did not take up the online sports betting issue. Assembly Speaker Carl Heastie privately polled his Democratic colleagues, but did not move the issue forward.
There are three possibilities.
One: nothing happens this year at all on the topic.
Two: lawmakers take the first step to pass a constitutional amendment, which would have to be voted on again in 2021 before being presented, if it passed the Legislature, to voters statewide in November 2021.
But lawmakers say the deadline by which a first passage measure would be needed for 2020 is Aug. 3 – 90 days before the general election – and there are no plans to reconvene session before then. So, that idea appears dead, meaning the earliest chance the issue could go before voters – assuming two separately elected sessions of the Legislature OKs the idea – would be November 2023.
The third possibility: the betting authorization gets jammed into a revenue-raising bill enacted, possibly, in the coming weeks or months. Lawmakers could legally do that, and then Cuomo could legally veto the idea.
Senate Democrats last year, in a nonbinding political message, approved mobile sports wagering in a one-house budget proposal.
Last week, State Sen. Joseph Addabbo, a Queens Democrat and sponsor of the sports gambling bill in the Senate, said he took it as a positive sign that the Assembly did not take up the constitutional amendment route during its July 20-23 session.
Addabbo and Pretlow, the Assembly sponsor, believe their bill is legal and that a constitutional amendment process is unneeded and a costly delay to getting the betting program in place by the time pro sports and college leagues resume full operations whenever Covid-19 is controlled. They were willing to go along with the amendment idea as a "placeholder" in case Cuomo stuck to his guns and declined to let the issue advance via a change in state statute.
Now, Addabbo said in an interview, "there's a clear path" to including the issue in a potential revenue-raising bill sometime this year. "We're going to need more revenue moving forward," he said of multiple years of fiscal pain the state's finances are expected to experience.
"It was always the Assembly holding back," Pretlow said of his colleagues' rejection of the idea.
But, given the state's finances, Pretlow and Addabbo said they have heard from Assembly Democrats who have softened their opposition.
"In my conversations with leadership, they indicated that it will probably be put in the revenue package … whenever that is,'' Pretlow said this week in an interview.
On Tuesday, a spokesman for Heastie did not comment.
Assembly Majority Leader Crystal Peoples-Stokes, a Buffalo Democrat, said she did not know if there have been any new discussions related to legalizing sports betting through online means. "But I do know that if there's a revenue conversation it will be part of the discussions,'' she said of a possible bill to drive more tax and other revenues to the state.
Asked why, she said: "Because there are a lot of people who like to engage in sports betting."
Pretlow believes he has 86 Assembly Democrats who support his sports plan, though he acknowledged Heastie made it known that the count he did revealed just 69 Democrats were firm yes votes.
Why does that matter? It takes 76 votes to pass a bill in the Assembly, and Heastie – whose party overwhelmingly controls the chamber – never wants to have to rely on any GOP yes votes for bills he lets go to the floor for a vote.
While supporters are confident, some lawmakers speaking publicly and privately were dubious.
"I have no idea whether other people are softening on this. I am not," said Assemblywoman Deborah Glick, a Manhattan Democrat.
"The reality is that there are many other revenue proposals with which I am more comfortable," she said. She added of mobile sports betting: "I don't think that's how we should be closing our budget gap and I definitely think it undermines the game, any game, when people are betting on it then one isn't sure if it's a fair match."
Some in the gambling industry are also pushing another effort to add more betting in the state and bring more revenues to the state: speeding up the awarding of three new full-scale casinos in New York City or nearby locations.
In the mix on the sports betting front is the usual regiment of lobbyists, who are being paid millions of dollars annually by interests with a stake in sports betting being permitted online.
They argue sports gamblers are either taking their money to other states or betting on matches through illegal, offshore sites. They also argue the state is giving up hundreds of millions in annual sports betting tax revenues – a number that won't be likely until, at least, a post-pandemic era takes over and permits full schedules of pro and college sports contests.