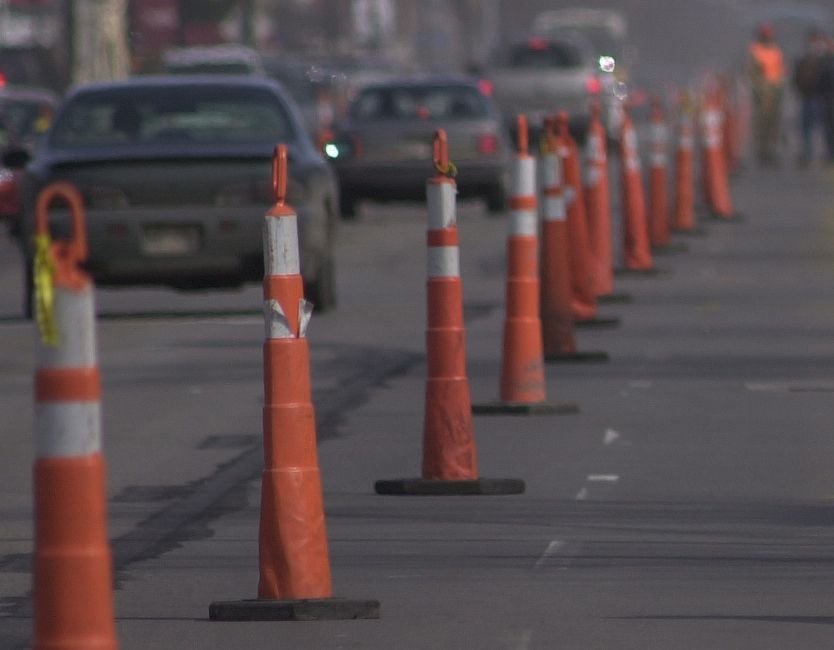 ALBANY – In a glimpse of private negotiations still to come over the state budget, lawmakers used an appearance by Gov. Andrew M. Cuomo's transportation commissioner Tuesday to demand more funding for roads, bridges and mass transit agencies across the state.
The governor's new budget plan calls for cuts or funding freezes in a number of major capital construction programs designed to address New York's deteriorating patchwork of state and local highways, streets, rail crossings and bridges.
Transit agencies statewide are in store for state reductions in funding for their operating budgets. The Niagara Frontier Transportation Authority, like other upstate agencies, faces a 9.4% cut in state funding.
And it all could grow worse if Washington does not come up with a major financial bailout of the state's finances, Cuomo has warned.
The situation left state lawmakers, who have been hearing growing complaints from local officials about the transportation funding situation, insist that the Cuomo administration join the Legislature during upcoming budget talks to add more road and bridge construction and repair money.
"Why are we not prioritizing local roads to a higher degree?" Sen. Tim Kennedy, a Buffalo Democrat and chairman of the Senate Transportation Committee, asked DOT Commissioner Marie Therese Dominguez on Tuesday. He also called the proposed cuts to mass transit agencies "devastating" for riders.
"These are things that are important to our localities and, more importantly, they're needed," Assemblyman William Magnarelli, an Onondaga County Democrat who chairs the Assembly Transportation Committee, told the Cuomo commissioner.
Magnarelli repeatedly raised issues of gaps in transparency. He cited problems getting specific breakdowns by region of the state on road projects and questioned why the state has stopped releasing an annual report on the roads and bridges in states of disrepair.
"The roads and bridges of New York are indeed safe," Dominguez told him. She also defended the state's funding levels for transportation, saying the final upcoming year of a two-year capital program is 33% higher than the last such plan in 2020.
But Kennedy said the final year of the capital plan – which pays for an assortment of infrastructure work – is $300 million less than last year.
Lawmakers also noted Cuomo zeros out a $65 million program designed to help communities repair roads after extreme winters.
Lawmakers said communities are feeling the effects of a long funding freeze by Cuomo of the Consolidated Local Street and Highway Improvement Program, which localities can tap into for road, bridge, sidewalk and other projects they deem important. In his new budget, Cuomo wants to freeze that program again this year.
"These cuts that we're looking to put in on our systems are absolutely unacceptable," Kennedy said of the Cuomo cuts to mass transit agencies.
Despite a multi-billion dollar deficit, Freeman Klopott, a spokesman for Cuomo's budget division, said the state's various transportation funding programs are at record levels, "reflecting this administration's focus on investing in infrastructure to strengthen the foundation of our economy and get New Yorkers working."
The hearing by the Senate and Assembly fiscal committees on Tuesday examining details about the state's $12 billion overall transportation spending was the first such session of the Legislature's turn to question Cuomo department heads on specific areas of the budget. Held virtually because of Covid-19, many lawmakers used their allotted time to ask the commissioner about specific projects in their districts.
The final budget hearing – Feb. 23 – was supposed to be on the topic of taxes. The most anticipated hearing was set for Feb. 3, when state lawmakers were expecting to grill state Health Commissioner Dr. Howard Zucker on the state's Covid fighting efforts – everything from a bumpy rollout of vaccinations to still-lingering questions about how many nursing home residents died from Covid either in the nursing homes or after being taken to a hospital where they died. One lawmaker has floated the idea of issuing subpoenas if Zucker at the February 3 hearing did not reveal the total number of nursing home residents who have died from Covid, including those transferred to a hospital.
On Tuesday night, however, the hearing schedule was suddenly updated online, without explanation, to show that the health budget hearing is being postponed until February 25. 
For an on-time budget, the spending, revenue raising and borrowing plan must be in place prior to the fiscal year start on April 1.