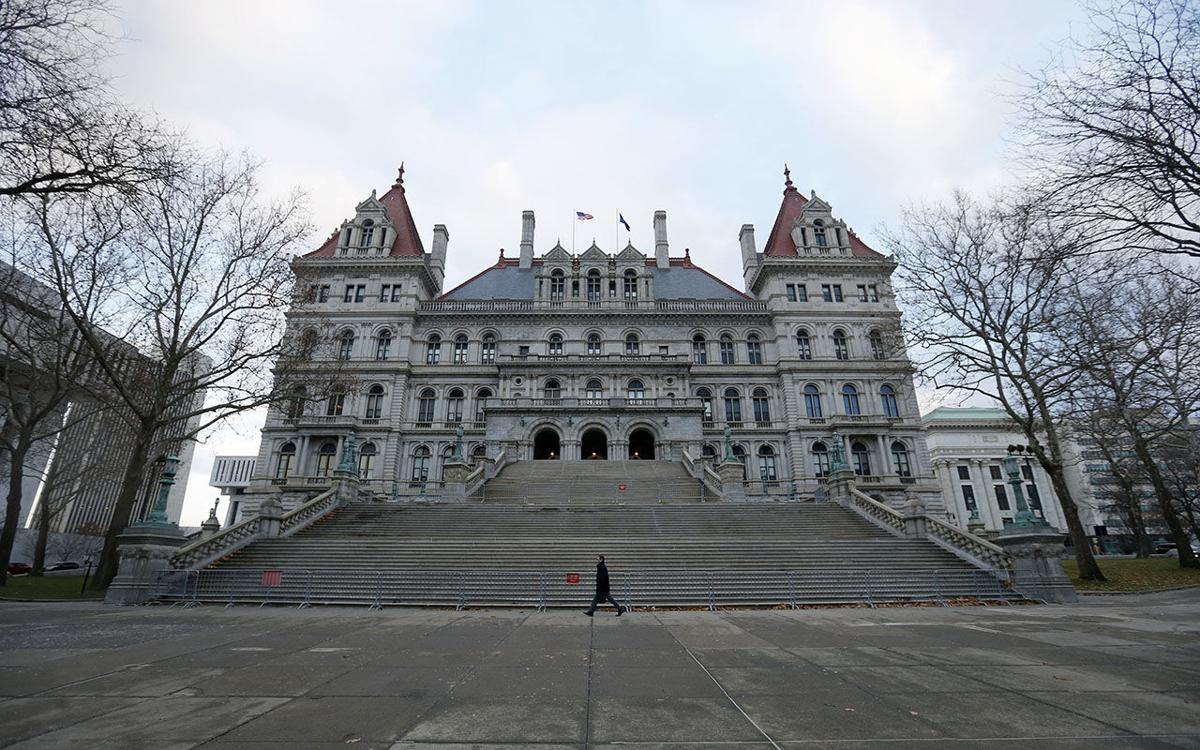 ALBANY – A push is on for New York State to follow in the footsteps of more than 30 other states by offering voters convenient ballot drop boxes as a way to avoid using the U.S. Postal Service or voting in person in the November general election in the midst of a pandemic.
"We've made it so difficult to vote in New York that we're just kind of used to it," said State Sen. Brad Hoylman, a Manhattan Democrat and sponsor of a new bill to authorize the ballot drop boxes across the state.
But, time is of the essence, with two months before Election Day and voting agencies already scrambling to try to get paper absentee ballots out into the hands of voters.
That process commenced Tuesday when the state elections board activated an online portal in which registered voters can request an absentee ballot. The legal reasons for voting by absentee ballot have been expanded this year to include a concern about being at risk of contracting Covid-19 by appearing in person to vote.
The Covid-19 pandemic likely will make many voters stay away from polling sites in November and choose to cast their votes, as they did in June party primary contests, using absentee ballots sent via the mail. But in New York City, 84,000 ballots – or 21% of absentee ballots – were disqualified for one reason or another, including problems with the mail, an issue encountered in other parts of the state to lesser degrees.
Ballot drop boxes have been used by some states for more than a decade. In Washington, the go-to state for drop box advocates, some counties saw drop box usage hit 65% of of votes cast in general elections in 2019, according to that state's Secretary of State office.
Virginia – in a push begun by its Democratic governor in mid-August – last week became the 33rd state to permit some form of drop box ballot voting.
Some Republicans have said the drop boxes could be a dangerous step that invites fraud.
President Trump's re-election campaign is challenging a law permitting the boxes in the swing state of Pennsylvania; he recently said the push for more drop boxes is a Democratic initiative that will create "a voter security disaster."
Senate Minority Leader Rob Ortt, a North Tonawanda Republican, said the idea may be "well-intentioned," but he raised questions about both the expense of the initiative and what he said would be a major task for local boards to find appropriate and secure sites to locate the boxes.
"With two months to go before the election, the state doesn't have the resources to purchase secure ballot drop-off boxes and then pay bipartisan staff to monitor and collect ballots daily," Ortt said, adding: "If they feel safe, voters can cast ballots in person, spread out during early voting days or can request an absentee ballot to exercise their right to vote."
New York State moves slowly when it comes to making major changes in election laws, and this idea would need extraordinary speed to happen at a time when election agencies are already spread thin preparing for the November election during both a pandemic and a presidential contest.
State lawmakers do not have a firm date when they will reconvene session in Albany, though Hoylman believes Gov. Andrew M. Cuomo can – and should – use his executive powers to authorize the use of ballot drop boxes.
There is also the matter of cost. Proponents generally say the best ballot drop box programs average about one box per 15,000 registered voters. That means about 800 boxes in New York, where 11.7 million people were registered to vote as of February. Those are the most current numbers available from the state elections board.
That would mean about $5 million just in the costs for top-of-the-line boxes – a heavy lift given the fiscal hit Covid-19 has taken on the economy and tax revenues. Proponents of the New York push, however, say far fewer boxes could be in place in high-density districts as a way to ensure votes get counted.
The drop boxes typically resemble the return boxes posted outside libraries for receiving books and other borrowed materials. They often are posted outside government buildings and shopping centers or on the grounds of food stores, college campuses and community centers.
But these voting drop boxes, unlike the library book return versions, would generally have to be monitored either in-person or via video cameras to prevent instances of voter fraud and, during busy elections, would need to be regularly emptied to avoid overflow problems.
One of the box manufacturers – Vote Armor, which is based outside Seattle – said the business of making ballot drop boxes has been booming since July, with orders placed by election boards across the nation. Larry Olson, a vice president at the firm, said Tuesday that his company's orders are already full until at least early October.
The company's boxes, in three different sizes that use quarter-inch steel plates and have security designs such as automatic locking doors, cost between $2,500 to $6,000 apiece. The firm has boxes in nine states from the West Coast to Ohio and has new orders for boxes to be shipped soon to Michigan, Iowa and Illinois, Olson said.
Jeremy Zellner, the Democratic commissioner at the Erie County elections board, is not as convinced of the need for the ballot drop boxes this year as the bill's sponsors – Hoylman in the Senate and Assemblyman Richard Gottfried, a Manhattan Democrat, in the Assembly – are.
Zellner said voters who don't want to vote in person can vote by absentee ballot. If they don't want to mail those ballots, he said they can be dropped off – by personally handing them to an election inspector – at one of 37 early voting sites in Erie County, at the county election board's headquarters or at their regular polling places on Election Day.
"Obviously, this year is going to be a more busy election cycle than in the past with the president election, but people should feel very comfortable that they're not going to clog up the postal service because of these different (absentee voting) options," said Zellner, who is also the Erie County Democratic Party chairman.
But Hoylman disagrees, saying the need is statewide, and especially in a year when Covid-19 is still active and the Postal Service has become politicized.
"There is a clamor among voters to have an alternative to the mail system. ... Who wants to cast their vote and not be assured it's going to be counted?" he said.
The Cuomo administration did not have a comment on the ballot drop box measure. "We will review the bill," said Jason Conwall, a Cuomo spokesman.
The Buffalo News: Good Morning, Buffalo
The smart way to start your day. We sift through all the news to give you a concise, informative look at the top headlines and must-read stories every weekday.