ALBANY – Kathy Hochul has a major advantage for herself as she heads into the New York governor's office: She's not Andrew Cuomo.
After nearly 11 years of Cuomo's iron-fisted, combative and threatening styles employed to achieve his goals, an unfamiliar sense of optimism and collegiality is suddenly being talked about by the executive and legislative branches of state government.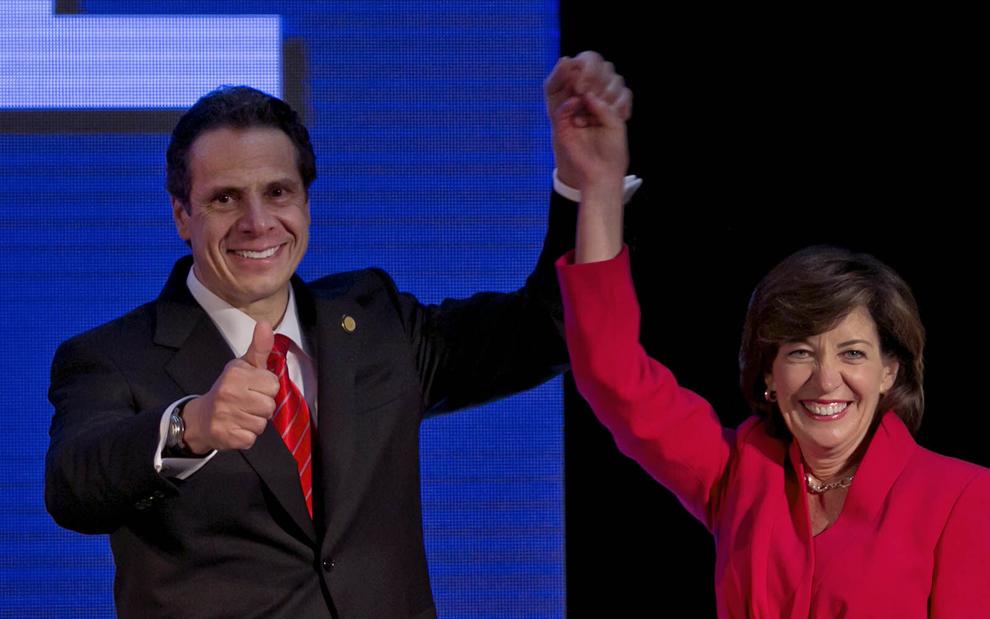 "I believe everybody is breathing a sigh of relief because of the resignation, certainly, and we are looking forward to working with the new governor to really maintain a focus on the people we are sent here to serve," Senate Majority Leader Andrea Stewart-Cousins said.
Hochul, come Aug. 24, joins the Albany's three-people-in-a-room club – which over the centuries had been three-men-in-a-room – with Stewart-Cousins of Westchester County and Assembly Speaker Carl Heastie of the Bronx. All are Democrats, and they will make the final call on major policy and fiscal matters facing the state.
In Cuomo's monthslong downward spiral amid ever-worsening scandals he faced, Albany wasn't just its usual jaded, cynical place, but a place with its tires stuck in the snow. The concept of the separately elected branches of government working together to solve problems was, at best, stalled.
"We were having to constantly deal with the distractions, the newest allegations, the newest denials. There was just so much that took away from what we're supposed to be looking at,'' Stewart-Cousins said in an interview.
Hochul, from Buffalo and set to become the state's first female governor, served Cuomo loyally as his lieutenant governor for most of the years since she first joined his statewide ticket in 2014.
But between what people who know both Cuomo and Hochul have to say, and observations of the two politicians over the years, they could not be more different.
Hochul is a people person. Cuomo is not, and over the years has been uncomfortable meeting with New Yorkers unless at staged, often invitation-only gatherings. People say Hochul not only seeks out ordinary New Yorkers at events, but seems to relish the experiences.
Cuomo's reputation was one of taking advice from only a tiny circle of advisers, cutting many agency commissioners out of key discussions. It got so that many lobbyists over the years said it was no longer worth the time reaching out to commissioners.
Hochul is already talking about engaging levels of government throughout New York, with Democrats and Republicans. That would include a group often ignored or dismissed by Cuomo, as witnessed during so many months of the Covid-19 crisis: counties, cities, towns and villages.
'She understands what we do'
One of the key differences between Cuomo and Hochul: She came out of, and understands, the legislative side of government. She was on the Hamburg Town Board years ago, served as county clerk and was a member of Congress. And she saw the Legislature in action while she presided as lieutenant governor over Senate sessions many times since 2015. It's a job that had her running the floor, listening to floor debates, getting to know lawmakers and let her hear the unique geographic concerns that are addressed by senators.
Hochul's early outspokenness in Hamburg led her down a path that led to government jobs at the county and federal level before she became lieutenant governor.
"She understands what we do, how we do it and I think that will make it easier,'' Stewart-Cousins said of Hochul.
Cuomo, by contrast, had his introduction to Albany serving as the "bad cop" disciplinarian in the 1980s in the administration of his father, the late Gov. Mario Cuomo.
It would help shape not only who he was, but how he would go on to treat state lawmakers when elected governor in 2010. And when his career toppled last week, he found himself alone with no lifelines from lawmakers and their political machines. It was a lesson Eliot Spitzer, before he resigned as governor in 2008, also learned after his nonstop series of battles with lawmakers.
"With all the really good things I think Governor Cuomo did during his time, he didn't have good public relations with the Legislature, and sometimes had no respect for our body as a whole and our constitutional responsibilities. No one wanted to support him because they just didn't like him," said Assembly Majority Leader Crystal Peoples-Stokes, a Buffalo Democrat who headed one of Cuomo's re-election campaigns.
"I'm not sure why he had such a high level of disrespect for the Assembly and Senate, but he did. Kathy is the total opposite. She's a people person, she knows a lot of folks and they know her," added Peoples-Stokes, who has known Hochul for decades.
While there is a natural tension between the governor and the Legislature's two houses, no matter the party, lawmakers say that Cuomo brought it to an unnatural high that had any number of effects, including delay of perhaps important public policies.
Since Cuomo said he is resigning, effective Aug. 24, Hochul has gone out of her way to give deference to the Legislature, including:
• When asked by The Buffalo News if there needed to be a review of ethics standards in Albany in not just the governor's office but also the Legislature, Hochul said she is responsible for the hundreds of thousands of people who work in executive branch agencies while "the Legislature is responsible for the staff and the members of the Legislature."
• When asked by the "Today" show whether the Assembly should proceed with impeachment of Cuomo, she said she does not, as incoming governor, have a role or voice in the matter and that she has "full confidence" in the Assembly to "do what is right."
• On Thursday night, after the U.S. Supreme Court struck down part of New York's Covid-19-era eviction moratorium protections for renters, Hochul took to Twitter to say she is "looking forward" to working with the Legislature on a quick statutory fix to try to undo the court's decision.
• In the mix of people who she is considering appointing as lieutenant governor are several Democrats from the Legislature.
In Cuomo, lawmakers did not just see, as one veteran lawmaker put it, an "abrasive" human being, but also one who blocked idea after idea, such as raising the minimum wage or legalizing marijuana, only then to later embrace them and take credit as the one with the idea. Such is to be expected in high-stakes politics, but Cuomo made it part of his regular diet, lawmakers say.
"I think his world view was if you got things done it doesn't matter how you get there. In politics and many situations, you have to break some eggs to make an omelet. The question is: Do you have to use a hammer?" said Assemblywoman Deborah Glick, a Manhattan Democrat.
Long before Cuomo's departure announcement, he had clearly lost something else with lawmakers: the benefit of the doubt.
New spirit of inclusion in process
Glick has known Hochul for years.
"I would say that she's not only smart and very tough, but she's a compassionate and collaborative leader," she said of Hochul. "I think when people see her they'll find her to be a totally engaging human being and someone who they can relate to very easily."
A Republican from Dutchess County, Sue Serino won't see eye-to-eye on many fiscal and policy items Hochul will advance. But Serino noted the many times Hochul reached across the aisle and invited her to events that Hochul hosted in her district. By contrast, she noted Cuomo never responded to the 30 letters she sent him about the Covid-19 crisis in nursing homes.
The Republican noted Hochul's gender.
"Women tend to lead differently than men when it comes to communications," she said.
"My experiences with her have always been positive. When she is in our community she really listens and I really hope she brings that style to the governor's office," Serino added.
Hochul to skate between moderate, liberal divisions
With Republicans vastly outnumbered in the Legislature, Hochul comes to office at a time when, especially in the Assembly, there is a far younger and far more liberal group of lawmakers. Cuomo was seen by them as harmful to progressive causes and dangerous given how he allegedly treated young women and his seeking to hide the true number of nursing home patients who died from Covid-19 last year.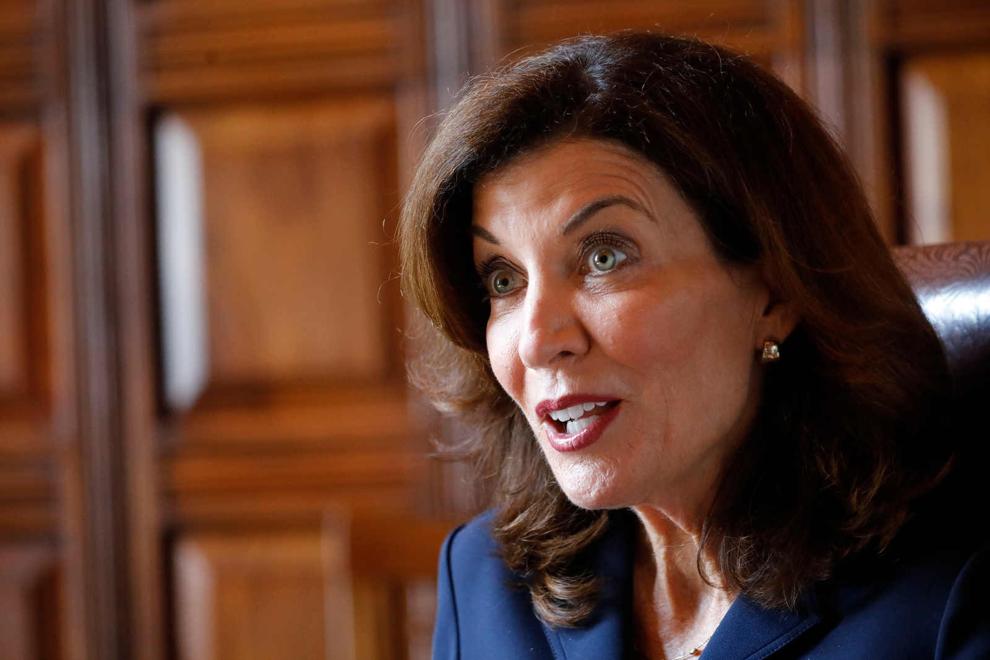 "Any change in the executive office will be an improvement," said Assemblyman Zohran Kwame Mamdani, a Democrat from Queens who is also one of a half-dozen lawmakers who are socialists.
"Cuomo was obsessive about the prioritization of loyalty over competence" in his advisers and regularly "subverted the will of the Legislature" on any number of areas, such as the slowness of helping renters access an emergency pot of Covid-19 funding, Mamdani said.
"She's not Andrew Cuomo," he said of Hochul, "and she has also shown a clear willingness and desire to break with the tradition and behavior and practices of Andrew Cuomo."
Lawmakers see in Hochul someone who will be responsive and willing to listen to opposing views.
"I think that this is a great opportunity for the Legislature. I almost feel it's divine intervention in a way," said Peoples-Stokes, the Buffalo Democrat.