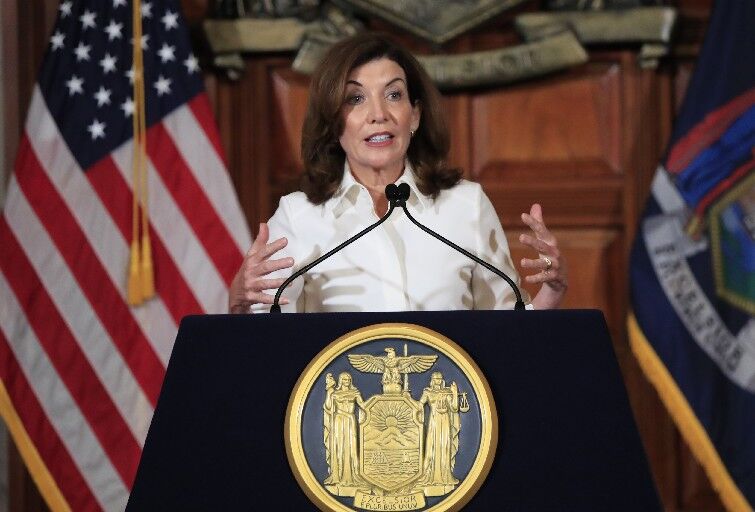 ALBANY – It was a mere bulleted item slipped into the state's daily Covid-19 data tracking release at dinnertime Tuesday.
But the decision by Gov. Kathy Hochul to add the new item – reporting the total Covid-19 deaths since last year in New York as counted by federal health experts – sent a jolt through people who have been in the pandemic response efforts for more than 18 months.
Speaking on MSNBC's "Morning Joe," New York's first female governor reiterated that fighting the Covid-19 pandemic remains her top priority.
For the first time, Hochul publicly acknowledged something her predecessor never would: that 12,000 more people in New York State have died of Covid-19 since the pandemic first roared into the state.
The death count issue has been a subject of concern by epidemiologists and others for more than a year. Though former Gov. Andrew M. Cuomo each day did report Covid-19 data that included statistics from the U.S. Centers for Disease Control and Prevention, he steadfastly refused from the start to use the CDC death count data for New York State.
The result? New Yorkers were led to believe that far fewer people died in the state from Covid-19.
That all changed at 6:10 p.m. Tuesday when Hochul released the day's Covid-19 numbers, an array of information about things such as how many people got tested the day before, the percentage of positive tests, the number of people in hospitals with Covid-19 and a daily death count.
Under her new policy, the state will now report two sets of total Covid-19 death numbers: the state data and the federal data.
"We're now releasing more data than had been released before publicly, so people know the nursing home deaths and the hospital deaths are consistent with what's being displayed by the CDC," Hochul said Wednesday on MSNBC.
"There's a lot of things that weren't happening and I'm going to make them happen. Transparency will be the hallmark of my administration. It's not hard to do. You just get the information out there and address them," she added.
But Cuomo, who got a $5.1 million book deal for himself last year to write about his leadership during the first big wave of Covid-19, refused to budge on the death count matter. About half the states use the CDC number as their formal death count.
The Cuomo administration each day put out total death counts since the first Covid-19 fatality in late winter of 2020 using Health Electronic Response Data System information from the Department of Health. That information included deaths at hospitals, nursing homes and adult care facilities.
Gov. Kathy Hochul pledged a new spirit of cooperation among the levels of government, a booster dose of public transparency and even a "culture" change in Albany.
Not included: people who died of Covid-19 at home, or in hospices or settings such as prisons, group homes and psychiatric centers.
On Monday, a total of 43,415 people were reported to have died in New York since the pandemic began – under the Cuomo way of counting.
When the broader CDC counting system is used, the actual death levels in New York: 55,395.
"I'm a fan of full transparency and accurate data," said Dr. Thomas Russo, chief of the Division of Infectious Diseases in the Jacobs School of Medicine and Biomedical Sciences at the University at Buffalo.
The bottom line: Because more Erie County residents are vaccinated, fewer people are suffering serious illnesses and fewer are dying due to the virus.
Reporting the full sets of data, Russo said, will "help make the public aware of the gravity of the situation and has the potential to help us move forward to do better" in containing the pandemic's spread.
Many health care experts and news organizations have long been using the CDC data, instead of the Cuomo administration's death count numbers. But the Covid-19 death count numbers put out by the former governor each day, as well as reported online by the health department's own public tracking system, had the effect of also confusing residents of the state as to the true fatal nature of the virus.
The Cuomo numbers included deaths only confirmed by a coronavirus test. The federal numbers use death certificates as submitted to Washington by state health departments as a way to have apples-to-apples comparisons across the state – as well as a more accurate total count as to the extent of the pandemic's lethal toll.
"We have always reported lab-tested Covid-19 results. That's what our reporting has always been," Cuomo said earlier this summer in defending the death count matter.
Besides the death count data, the former Cuomo administration was sharply criticized for undercounting Covid-19 deaths of nursing home residents, a number it sharply increased, but only after a report was issued by Attorney General Letitia James earlier this year.
Sen. Brian Benjamin, whose Senate district encompasses Harlem, East Harlem and the Upper West Side, is widely respected among his colleagues and has strong ties to Black leaders in New York City. 
Critics say the undercounting of nursing home deaths had profound impacts on government policies and served to mislead families – and the public – about the extent of Covid-19 in nursing homes. The Cuomo administration, unlike many states, did not consider a nursing home resident who contracted Covid-19 there to count as a nursing home death if that person was, in their final days, transferred to a hospital to die.
It is uncertain what other Covid-19-related data or records might be made more publicly available or in useful formats that the public, or even researchers, can understand.
"We're working to ensure increased transparency and continue to keep New Yorkers informed during the ongoing public health crisis," said Haley Viccaro, a Hochul spokeswoman.
The top Republican in the Democratic-led Senate said Hochul only confirmed what has been known for months about the different death count numbers. Senate Minority Leader Rob Ortt of North Tonawanda said state Health Commissioner Howard Zucker should either resign or Hochul should fire him immediately.
A fiscal watchdog group that has been trying to extract public Covid-19 data out of the state for more than a year called Hochul's decision a good first step.
"But it's only a first step," said William Hammond, senior fellow for health policy at the Empire Center.
Hammond said the state Health Department is still sitting on more than 50 Freedom of Information Law requests the group submitted seeking more information about the state's Covid-19 response, including details about the higher death toll number of 55,000 people. One FOIL was denied just hours before Cuomo left office this week.
"Thanks to Governor Hochul, the state has officially acknowledged that those additional losses total about 12,000. But we know nothing else," Hammond said of additional data the state has so far not released. "Secrecy about pandemic data is both bad public policy and a violation of the Freedom of Information Law. The governor who initiated these bad practices is gone now. His replacement should set a new tone of maximum transparency, especially and urgently with respect to pandemic records."
Richard Azzopardi, a former government spokesman for Cuomo, issued a statement Wednesday saying that the state health department in August 2020 issued an order mandating that presumed Covid-19 deaths be tested to ensure fatality numbers were accurate.