ALBANY – A universal mask mandate will be imposed by the state on all public and private schools as students get to return to classes in the coming weeks, and officials are looking at ways to mandate vaccines for school employees, Gov. Kathy Hochul announced Tuesday on her first day in office.
Seeking to depict an Executive Branch no longer distracted by scandal fatigue, Hochul used a 13-minute video to both introduce herself to New Yorkers who don't know her and to advance new plans to control the spread of Covid, get stalled relief payments to renters and bring what she says a new culture to Albany.
The new governor said the mask mandate, coming as Covid-19 cases, hospitalizations and deaths continue to rise in New York, will be done through a regulatory action and does not need state legislative approval.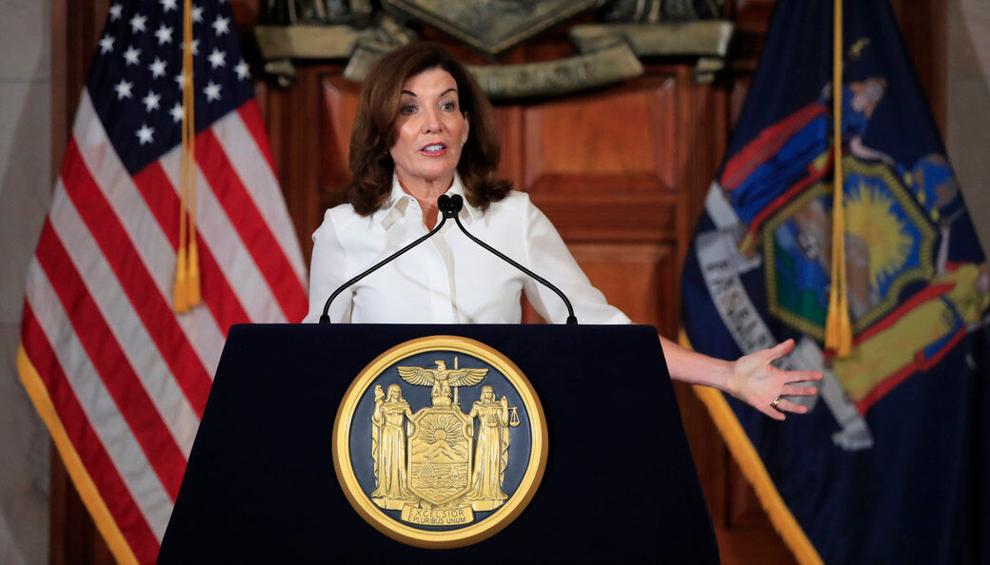 A mandatory vaccination program is not being required immediately, as is the case in the New York City for teachers and staff there, Hochul said, but will be considered based on talks between "education stakeholders" and the Legislature. Unions in New York City are taking legal action to force the vaccine mandate to be subject to collective bargaining talks.
Hochul said her administration will also use $335 million in federal funds for a new Covid testing program in schools, that will be run by local health departments and BOCES agencies.
The Buffalo Democrat said the state will also launch new ways to get already approved – but expiring – rent relief payments to individuals financially affected by Covid. While a state eviction moratorium is due to expire at the end of the month, Hochul said that people who apply and qualify for the rent relief payments will not face eviction for one year.
A new marketing and outreach effort is being launched to help find qualified renters and get them to apply for the financial relief. County-by-county data on rent relief payments made so far will be made public later this week, the new administration said.
The Hochul administration, in office since midnight Tuesday, said a new back-to-school Covid testing program will begin in a partnership with the U.S. Department of Health and Human Services, Rite Aid and BioReference. The program will be aimed at public school students.
After a meeting with Gov. Kathy Hochul, Senate Majority Leader Andrea Stewart-Cousins and Assembly Speaker Carl Heastie used words like "premature" and "more discussions to follow" to sum up what lies ahead.
The mask mandate – applying to anyone entering a public or private school in New York – will be facilitated with the help of nearly 70 million masks acquired by the state government to be provided to students and teachers statewide.
In her afternoon speech, which followed a ceremonial swearing-in ceremony earlier today at the state Capitol, said she wants to focus the state government forward "without distractions" in a way that will result in a "dramatic change in culture and accountability" in Albany.
Hochul's speech came 15 hours into her new administration following the resignation of former Gov. Andrew M. Cuomo, who was brought down by the weight of numerous scandals. His administration was known as one of the least transparent in modern New York State government, and Hochul pledged to change all that.
With Cuomo facing ongoing investigations into allegations he sexually harassed multiple women, Hochul said she is directing "an overhaul" of sexual harassment and ethics policies in the state. For starters, all sexual harassment awareness training will be conducted live, not via computer where people now can "click their way through a class," she said.
Hochul said all state agencies will be required to review and report on their compliance with various state transparency laws. She directed her counsel to devise an expedited process for requests made by the public and media under the state Freedom of Information Law, which critics say the Cuomo administration abused in order to hide public information.