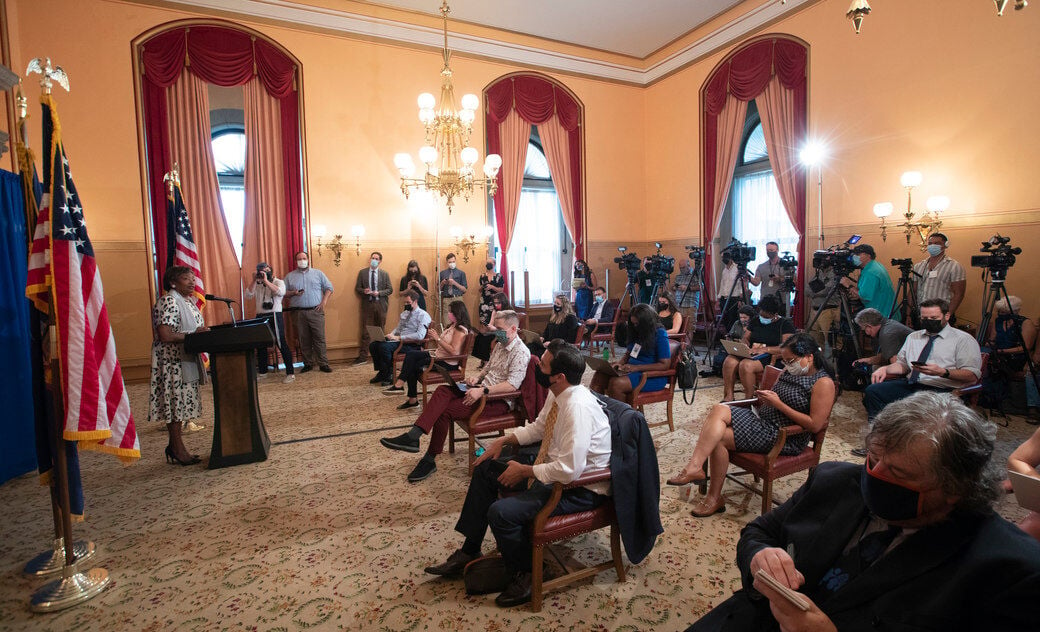 On the day Kathy Hochul took office as New York's 57th governor, her legislative counterparts seemed content to let the spotlight shine on her.
Senate Majority Leader Andrea Stewart-Cousins and Assembly Speaker Carl E. Heastie convened reporters late Tuesday to discuss their morning meeting with the new chief executive, but used words like "premature" and "more discussions to follow" to sum up what lies ahead.
Still, Heastie and Stewart-Cousins seemed to agree with Hochul's assessment that dealing with the possible end of an eviction moratorium as well as problems stemming from a surging Delta variant of Covid-19 in some parts of the state loom as priorities that must be addressed in the first days of the administration.
"No one wants to see anyone evicted during this difficult time," Stewart-Cousins said during a press conference. "We continue to try to figure out the best way to approach it."
The majority leader also called "premature" any thought of convening a special session of the Legislature to address the situation. Ditto for bestowing renewed executive powers on the new governor to deal with questions like mandatory vaccinations for public health workers or teachers.
"These are all extremely good questions that I am not prepared to answer right now," she said. "But we're ready to do what has to be done in order to recover. We can't play around with this Delta variant."
Heastie, meanwhile, conveyed a similar tone. He deflected questions on further Assembly inquiries into the behavior of former Gov. Andrew M. Cuomo, accused in a report issued by Attorney General Letitia James of sexually harassing 11 women. He said he will defer to the proceedings of the Assembly Judiciary Committee.
But he also listed the need for "people to stay in their homes" and assisting business in recovering from the ravages of Covid as top priorities.
"How we get there, we don't know yet," he said.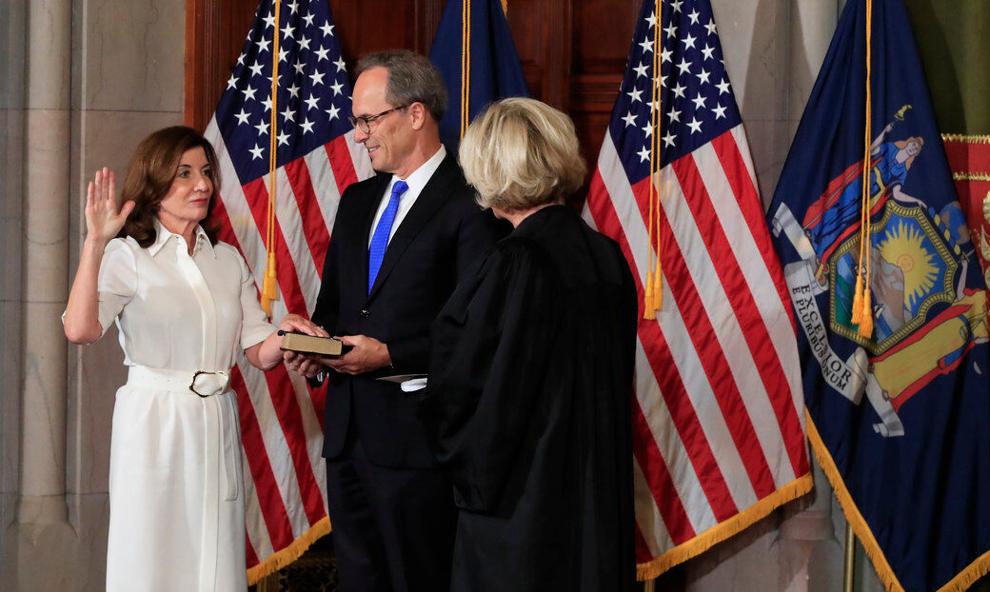 But he did urge Hochul to move as swiftly as possible to name a new lieutenant governor to fill the void created by her Tuesday ascension to the top job.
Both leaders seemed enthused about the prospects of working with Hochul. Heastie said "she has tons of experience," and was impressed by her yearly visit to all of New York's 62 counties.
"I look forward to working with her," he said.
And Stewart-Cousins, when asked if the new governor represented a "breath of fresh air" following more than a decade of Cuomo's authoritarian style, responded in the affirmative.
"It feels good," she said. "It absolutely feels good."