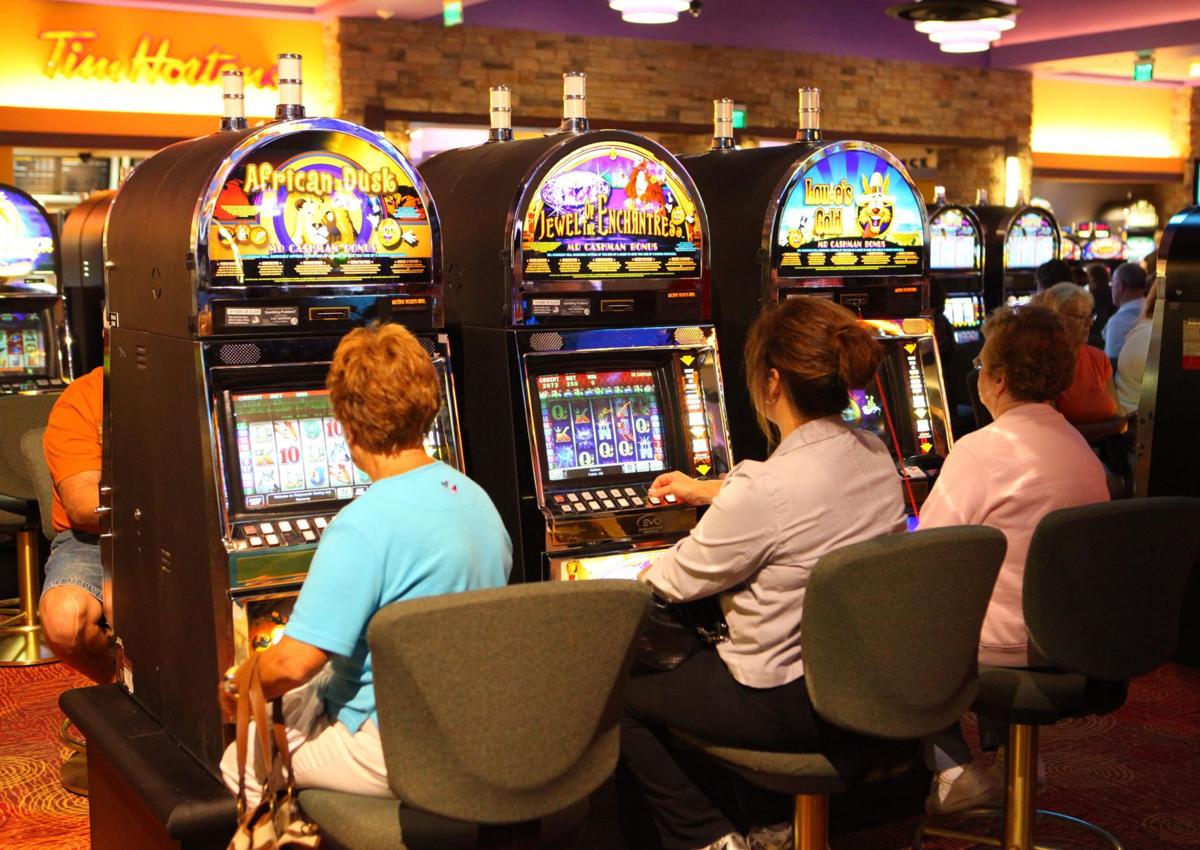 ALBANY – New York's farflung casino gambling industry, shut down since the coronavirus slammed the state in March, will welcome back bettors from Hamburg to Long Island starting Sept. 9, Gov. Andrew M. Cuomo announced Thursday.
The openings will restore potentially thousands of jobs lost to Covid-19 and restart the flow of casino tax money to the state and localities. To what degree, though, is the big question as no one can yet firmly say whether gamblers will drop Covid concerns about people congregating indoors and flock to slot machines.
The reopening of four commercial casinos and racetrack-based video lottery terminal facilities, including at Hamburg and Batavia, comes after the Seneca Nation of Indians this week confirmed a second employee of its Niagara Falls casino recently tested positive for Covid-19. The casino reopened June 18.
The Seneca Nation and Oneida Indian Nation in Central New York joined other casinos in temporarily shutting down earlier this spring, but then reopened on their sovereign territories in June and July with an array of health and safety protocols in place.
The Seneca Nation's Seneca Gaming Corp., which also operates casinos in Buffalo and Salamanca, said Thursday that the first to test positive at the Niagara casino, which was first revealed last month, did not require hospitalization and has since fully recovered. The second case was confirmed this week.
"The health and safety of our guests, team members and their families remains our highest priority, and we wish our team member a full and quick recovery," said David Sheridan, interim CEO and CFO of the Seneca Gaming Corp.
Sheridan said the Seneca-owned casino corporation is "aware that the Erie County Department of Health is involved in the case." Presumably, though the Seneca casino company would not say, the individual resides in Erie County if that county's health department is involved.
The corporation did not directly answer some questions, including how patrons are tracked for contact tracing efforts or the job titles – and how much in-person contact they had with patrons – of the two people who tested positive. Such tracing is done by county health officials, the tribal casino company said.
Exactly what Erie County health officials are handling related to the Niagara County-based casino is uncertain.
"Our department makes public announcements about Covid cases/locations when we cannot identify close contacts through our case investigations. I don't have any information to share about this establishment," Kara Kane, an Erie County Health Department spokeswoman, said when asked whether any Covid cases had been identified at the tribe's Buffalo facility.
The Oneida Indian Nation said it proactively put 60 employees under quarantine since reopening in June, but that none ended up testing positive. No staffer is being quarantined as of Thursday. The tribe also said it knows of no patrons who contracted Covid, including its flagship Turning Stone facility. The tribe did, however, have two casino workers, one of whom was a dealer, test positive for Covid after Oneida casinos were reopened.
The tribe has a number of safety protocols in place, including admission bans on anyone from states that are on New York State's Covid travel restriction list, and it is operating its sports book facility at half capacity and has closed down buffet and concert offerings. It has a contract tracing program with local health agencies, officials said.
The St. Regis Mohawks run the other Class III, full-casino operation on Native American lands in New York; its casino is located in far northern New York in Franklin County. Its casino only opened several days ago for the first time since shutting down last spring; an earlier opening was delayed by a high number of Covid cases in the area.
The experiences of the Indian-owned casinos are important barometers for the non-Indian casino reopenings, serving as a kind of canary in a coal mine for what might be safe – and unsafe – operations that have a heavy draw of gamblers who are older and, therefore, more vulnerable if they contract Covid.
"We are ready and look forward to bringing back our employees and welcoming our guests," Glen White, a spokesman for Buffalo's Delaware North Cos., which operates the casino at the Hamburg Fairgrounds and raceway. Delaware North also runs a busy video lottery terminal casino on Long Island and owns Finger Lakes Gaming & Racetrack in Ontario County.
Delaware North has already reopened casinos it owns or runs in other some other states under capacity restrictions and a company policy that tracks U.S. Centers for Disease Control and Prevention guidelines on sanitization of the gambling halls and protocols like social distancing.
Under the initial order by the Cuomo administration, the four commercial casinos and track-based casinos will be required to keep patron admissions to 25% of capacity. No bar service will be allowed on gaming floors and in-operation slot machines must be separated by 6 feet of space or physical barriers.
The four commercial casinos – the nearest to Buffalo is located in Seneca County – will not initially be permitted to offer table games unless physical barriers, approved by the state Gaming Commission, are in place. Table games are especially labor intensive, meaning employment levels will not be fully restored at the commercial casinos.
Cuomo on Thursday said all the non-Native American casinos must also have special filtration systems in place and that additional state regulators will be on hand to monitor compliance with the reopening rules.
At the track-based video lottery terminal casinos, such as Hamburg and Batavia, additional staff for cleaning and other Covid-related efforts is expected to require a majority of laid-off employees to be offered their jobs back, according to Mike Kane, president of the New York Gaming Association, a trade group for the video lottery terminal casinos. (A video lottery terminal looks, sounds and plays like a real slot machine at the Indian or four commercial casinos, but are hooked up to a central computer run by the state Lottery Division.)
"Our business has been affected similarly to all the others negatively affected by the virus. I don't think any of us will say it wasn't required," Mike Kane said of the casino shutdown order by Cuomo in March.
"We know we're ready and we're happy to be given the opportunity to start up again," he said.
The four commercial casinos provided the state with just under $150 million in tax revenues in the 12 months prior to the Covid shutdown, according to state records. The track-based video lottery terminal casinos, meanwhile, paid New York State more than $900 million in the same period. Both also see revenues shared with local governments. In the case of the Batavia casino, it is run by Western Regional OTB, which is owned by Buffalo, Rochester and counties in the region.
All of those casino revenues stopped when Cuomo order the gambling halls to close in March. Like restaurants and other indoor businesses, casinos face the marketing challenge of trying to convince many consumers, especially the casual bettor who may have moved to online gambling alternatives during Covid, that their establishments are clean and safe places to spend time in.
The tribes also share casino revenues with the state. The Cuomo administration, in its latest financial plan for the year, estimates tribal casino revenues will total $515 million. Most of that, however, Albany anticipates from a resolution to a dispute with the Seneca Nation over revenue-sharing payments the tribe halted in 2017.
The Buffalo News: Good Morning, Buffalo
The smart way to start your day. We sift through all the news to give you a concise, informative look at the top headlines and must-read stories every weekday.